>Ask Spine what's its problem.
So your child isn't in the exam ward, and you don't know what - if any - danger he could be in, assuming things are actually as they seem in this place, which seems to be a whole lot of weird creatures without a whole lot going right upstairs, especially considering the only one with a head so far was nothing but a head and it was broken. You literally have the only whole head in the exam ward. This is nonsense. Why is a spine wearing a hat.

You don't want to waste any more time than is necessary, but morbid curiosity has gotten the best of you, and if these lousy things can talk, surely more than one of them is going to be helpful. Maybe.

So, you are going to humor the spinal column. You doubt anything wrong with it is even going to be the obvious, correct thing, but whatever. What's your problem, flying bent vertebrae. Do tell.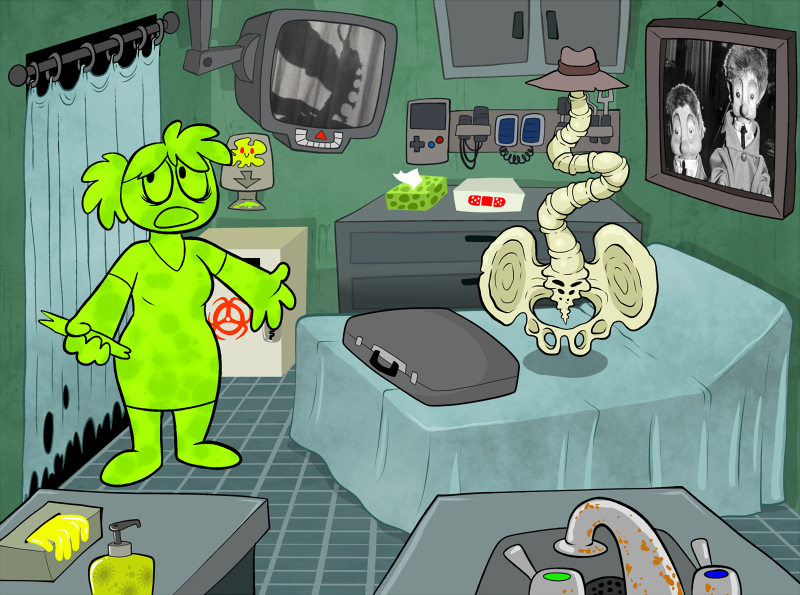 CROOKED SPINE:

OH, the pain! THE PAIN OF IT ALL!

...The pain of sitting on all THESE INCREDIBLE LIMITED-TIME OFFERS!

LORD ALMIGHTY, WILL NOBODY RELIEVE ME FROM THE BACK-BREAKING DUTY OF HOLDING ONTO ALL THESE ONCE-IN-A-LIFETIME BARGAINS!? IS THERE NO RESPITE, NO BACKING OUT FROM THE TORMENT OF CARRYING SUCH A BROAD SELECTION OF BRAND-NAME QUALITY PRODUCTS AT BLOWOUT PRICES!?

BUY NOW, AND YOU'LL RECEIVE NOT ONE, NOT TEN, BUT TWO COMPLIMENTARY GIFTS AT ALMOST NO EXTRA CHARGE TO YOU, THE VALUED CUSTOMER. THESE TORTUROUSLY AGONIZING DEALS HAVE TO BE SEEN TO BE BELIEVED!