>Look for the Fogger
With the monster temporarily blinded, you dart between its thorns, taking care not to step on its "children" in your bare feet, and find the can of fogger lying in a pool of mucus.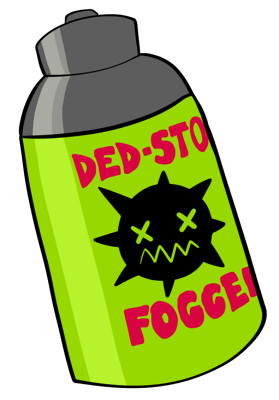 It's a one-use product, exactly like a cockroach bomb, but some liquid still sloshes around inside when shaken. How to use it? She certainly wasn't affected by the bulk of the gas in the exam room...



KIDNEY STONE MOTHER:
WHERE ARE YOU?! I CAN SMELL YOUR RANCID FLESH-GREASE.

WHEN I'M THROUGH WITH YOU YOU'LL KNOW WHAT THE INSIDE OF YOUR GALLBLADDER TASTES LIKE.