>Engage Conversation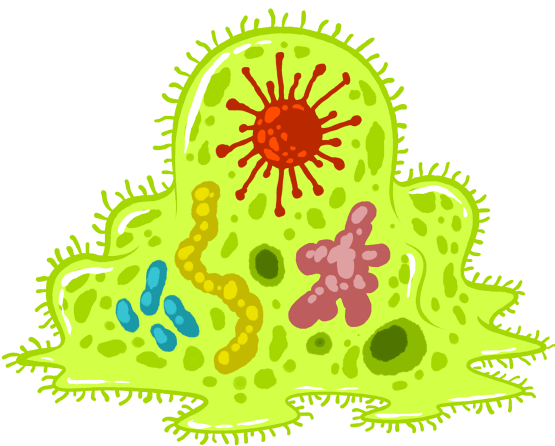 YOU:

Uh, hi there?



ZOE:

Hm.

Zoe undulates, bubbles a little, and flips another page in its book. It at least doesn't set off an alarm, or make a lunge for you or anything.



YOU:

Sorry, I'm...new around here. Can I ask you a few questions?



ZOE:

Mmmhm.

Zoe's pulsing, red nucleus bobs once. Maybe that's a nod. It flips another page.



YOU:

Myyy...friend...is having a baby, but I'm not sure where to find the maternity ward, exactly? Heh.



ZOE:

Zoe makes no sound, but points a rather petulant tentacle back the way you came, and flips another page.



YOU:

Oh, right, silly me...someone, uh, locked the door, though? Seems to need some kind of...password? Do you know who could help with that?



ZOE:

Hmph.

Zoe's nucleus bobs in an arc, like a rolling eye. It thrusts another, even more petulant tentacle at Dr. Phage's office door. It proceeds to release air from somewhere, sounding very much like an exasperated sigh.



YOU:

Oh...yeah. Haha, real piece of work, that guy, right??



ZOE:

Zoe "rolls" its nucleus again, then turns another page in its book, forcefully and impatiently. You're not sure if it's showing agitation towards phage or your ongoing questions. You can't really keep up this phony attitude much longer.



YOU:

......Alright, look.....do you have family?



ZOE:

Zoe puts its book down, and rotates a little. You can't actually tell if it's turning more towards you or not, but it silently "nods" its nucleus again.



YOU:

I have a son, and the doctors have him...somewhere. They won't tell me where, or even why we're here, so I'm trying to find him myself, and get out of here. Whatever that entails, will we have an understanding?



ZOE:

Zoe "nods" again, rotates back around and returns to its book, gently turning the next page.



YOU:

......Thank you. Only one more question, I promise...are there any more "people" around? I mean, things like me?



ZOE:

Mmmm-hm.

Zoe doesn't "look up" from her book again, but casually gestures towards the blank, dirty white door.