>Continue conversation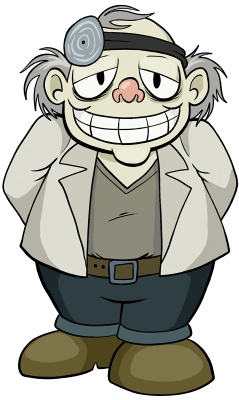 YOU:

What??! What do you mean a "pickle?!" What are they doing to him!!!?




DR. MAN:

Oh, well, I don't doubt they're doing their best to treat whatever condition they've diagnosed him with, but you can't expect just the average neurosurgeon to know how to treat, say, an octopus. Not even the best of the field. Heh.




YOU:

I thought you said regular humans have been healed here?!




DR. MAN:

Oh, heh, they healed, yes, they weren't always healed by the staff, though that has also certainly happened. Throw enough against the wall, as they say.

They are the best in the perception range, but the range is vast. Even they can understand only fragments, and only from their own respective sub-ranges. I'm afraid they simply wouldn't know one of our flu vaccines from a needle full of mercury. Can't blame them, really; that's precisely what works for a Vogooz or any patient out of the quasi-acoustic zones.




YOU:

How do I get into the maternity ward?! You work here, can't you do something?!




DR. MAN:

Ha, ha. I'm afraid you will need the pass code from...an individual. Yes. A fine upstanding individual I cannot rightfully complain about, but whom shall also remain nameless. Unfortunately, well, I can't say for certain how cooperative anyone on staff may be. They likely believe you warranted a quarantine for your own safety, and, ah, I'm afraid it would be my professional opinion against theirs. I, heh, haven't much authority outside my humble little sector. I specialize in patients fresh off the paraviolet zone, not a high priority to the rest of the facility, but fundamentally similar in many ways to you or I.

If you can bring him here, I can give him an examination of my own. We can proceed from there.