>Ponder an Escape
You don't really care if you keep coming back or not; you plan to do as little dying as possible, and you were never a big fan of being slowly dissolved. Your feet are really starting to sting on the spongy floor.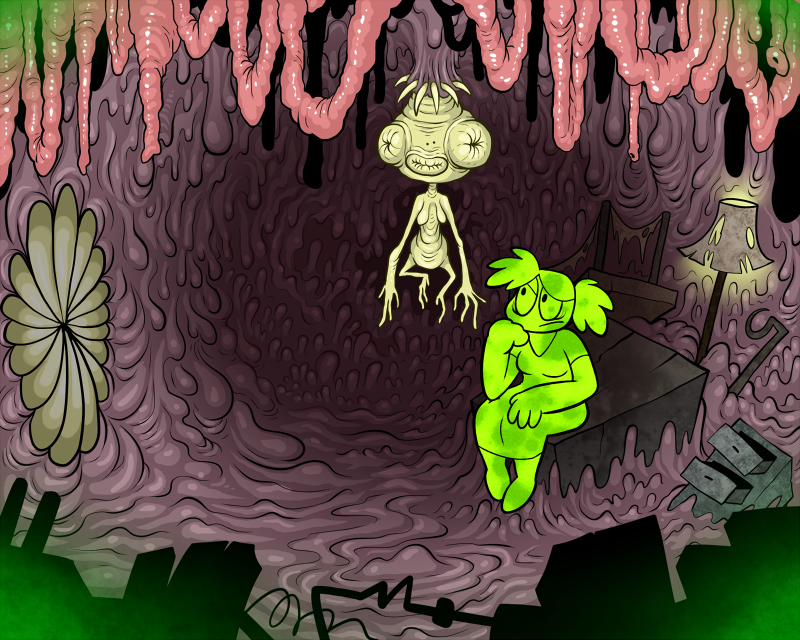 YOU:

So...I don't suppose you could tell me how long I have before, um, the soup thing, huh?




LEXIS:

Fifty, maybe sixty layers, I'd say.




YOU:

I have no idea what that means.




LEXIS:

A whole lot more "time" than you've been here.



Lexis puts an exaggerated, patronizing emphasis on "time," as though mocking the very concept.



YOU:

....Can I ask what happens to, uh, the leftovers? The waste?




LEXIS:

It comes back out the same way it went in...doesn't yours?




YOU:

Sure, why not.

....How do you feel about polyps, by the way?




LEXIS:

Stomach polyps? Well, I don't smell any, thank goodness, but we aren't fans, to put it mildly. Now, a colorectal polyp, mmmmmmm.....smooth and sweet. Fatty, too. Goes straight to my waist, just the way I like it.



You could swear, for a moment, that you hear something hiss like a cat from the general vicinity of where your tote bag tends to manifest.



YOU:

You know, funny thing...Ora said she had no idea what you were.




LEXIS:

Well, her brain's not what it used to be, not that it was ever stellar...she can't even remember she has a name half the time. About all she used to remember was the cafeteria food, before somebody hilariously trashed the place. It was all she ever talked about. "Lexis, will it ever be Sloppy Joe day again?" .... "Mysterious voice with no name I'm aware of, do you think they're having sloppy joes right now?" ...."Mom, where are my legs?"....haha, what a big dummy!