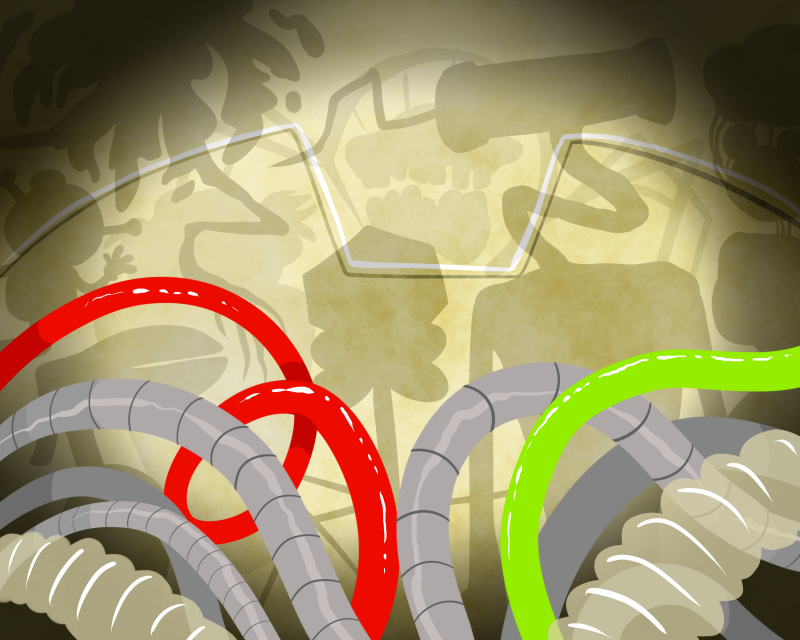 ???:

That's one juicy-lookin pooch. When's lunch?




H.M. PHAGE, T.E:

...Are you SURE that's what it is? I thought their "dogs" and their "offspring" were two different things?




???:

It's the grey range, doc. It's all dog. All of it. Delicious.




???:

...In, ahh, your perception, perhaps. The grey is more subjective than the true perception ra-




???:

Oh, here we go, Mr. Theory of the Day Calendar.




???:

The, ahh, word you intended was "hypothesis," but there are no mere hypotheses; all that can be imagined already must exist in one perception or another, or, ah, nothing else could exist that would ever conceive of it, In fact, the, uh, grey itself may serve as-




???:

WHATEVER, GUYS. Just fill its holes in. Or drill it some holes. Drill it some holes and fill them in. It'll be fine.




???:

Didn't it come in with it'ssshhh progenator? Why don't we jusht shtick it back where it came from? Problem ssssholved.




H.M. PHAGE, T.E:

We don't even know what to call this problem yet, do we? If we were dealing with a husk shuffler or something from the pseudoseething, we could at least work backwards from its slime warble and trace its bore patterns, but this is unprecedented. This is independent of the thing's very core.

It could spread. It could have already spread and we would never even know. Keep watch for suspect activity.

...Remember your oath.







???:

CURE, CONTAIN OR ERASE.




CURE, CONTAIN OR ERASE.




CURE, CONTAIN OR ERASE.




CURE, CONTAIN OR ERASHE.