Conversation Mode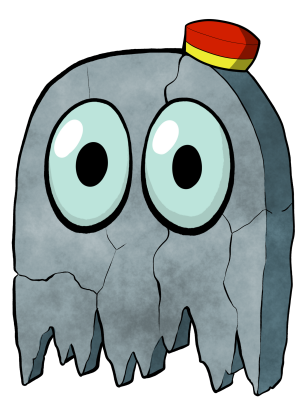 YOU:

Oh, uh..I'm...looking for something.




STONE SLAB:

Well, we've got an awful lotta something's, here. Real weirdies. Leg-havers. Kinda like you, legs!




YOU:

...How much "like me?"




STONE SLAB:

I dunno, the stiffs all look alike to us anyway.

...Like a paycheck! Haha!!




YOU:

Um...heh.



You really don't know for sure what you're looking for. Thankfully, you've seen enough evidence that your son isn't here, and you're not letting yourself doubt that just yet.



YOU:

So...anyway...someone sent me here with a weird key. I thought it would open that red door, but I never did see a lock, it just sort of vibrated a little and-




STONE SLAB:

Whoa, whoa, you don't mean a red keychain? Who trusted you with THAT?!




YOU:

Uh...




STONE SLAB:

Nevermind. Not my business. Not like you coulda stolen it or anything...I know what you're here for.



You're not sure how to respond without raising suspicion. Luckily, he doesn't push any further.

The hall takes a few sharp twists, but nothing too difficult to remember. The walk is long, the worms are becoming more abundant, and the dead silence - broken only by your footsteps and their soft, moist seething - is beginning to get to you.



YOU:

So, uh...pretty big morgue for a hospital...




STONE SLAB:

There's that "a" again. You're from the grey zones, aren't ya? I knew they had their quaint little pseudohospitals, but morgues, too? Guess there's always more leakage than you suspect.




YOU:

I still don't really get what any of that means. Nobody will explain it to me.




STONE SLAB:

Yeah, you wouldn't, and they probably can't. Don't worry about it. Stick to what you think is normal and you'll be fine. For me, The Morgue is normal. We all belong to our own respective Class 9 autoperceptual omnimaterial repeating concept spirals, like The Hospital, or The School, or The Sewer, or The Hand Factory, or The Frog Hotel. Watch out for that one. Yeesh.




YOU:

...Uh, right...

This might be a personal question, but...are you....alive?




STONE SLAB:

Everything's alive. What else is there to be?




YOU:

Er...something dead? Right? I mean....that's what a...the morgue is for, isn't it? It's full of dead things.............right?

...Please?




STONE SLAB:

A body's just a bunch of different stuff in one place, legs. All that changes is which parts eat and which parts get eaten.