You decide to explore a little more. There's no way around the cliffs to the East, but to the West, the river picks up abruptly and plunges into the jagged bone valley below.

The worms follow.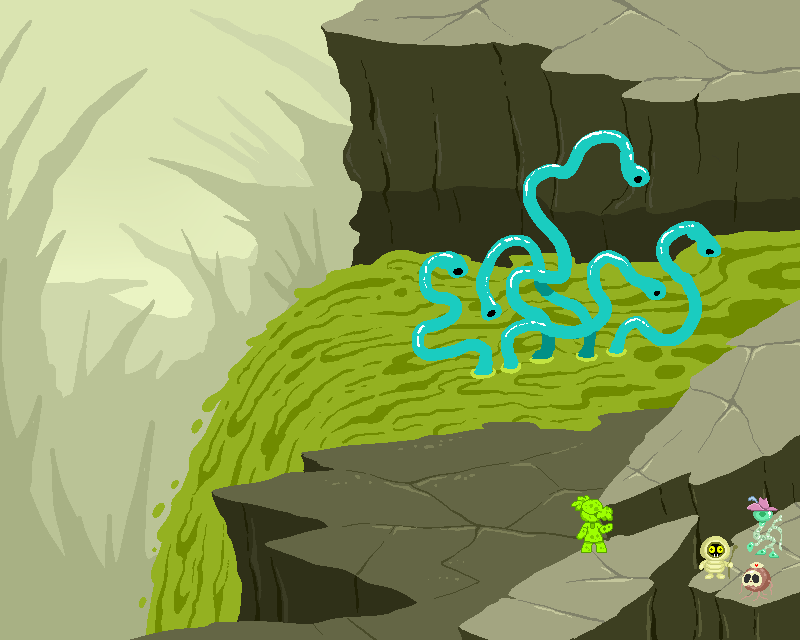 YOU:

What if we made a bridge, then used that worm repellant on it?




CELIA:

Then the bridge itself, at the very least, won't be eaten any time soon.




YOU:

Can we put the attractant on something, and distract them?




CELIA:

Rapidworms are rapid. It's doubtful they can be distracted for long, unless something can draw them away in a hurry.




YOU:

Maggie? Staph? Do you have any ideas?




STAPH:

Not unless you need some broken biomatter mended.




MAGGIE:

I can direct small swarms of dipterites, o' course!




YOU:

Swarms of what?




STAPH:

The reproductive stage of Myiasites. You were there when Magatha was reborn into roughly sixty million of them!




YOU:

Can we put the attractant on those?




MAGGIE:

The stuff's pretty toxic. They'd probably croak right quick, and serve as nothin' but a quick appetizer fer our vermiform antagonators here. Mighty tasty, though! Not just as a base fer marshmallows!




YOU:

Marshma.......?!

....