The fly-filled membrane does a jaunty dance, a few flips and a series of stretches.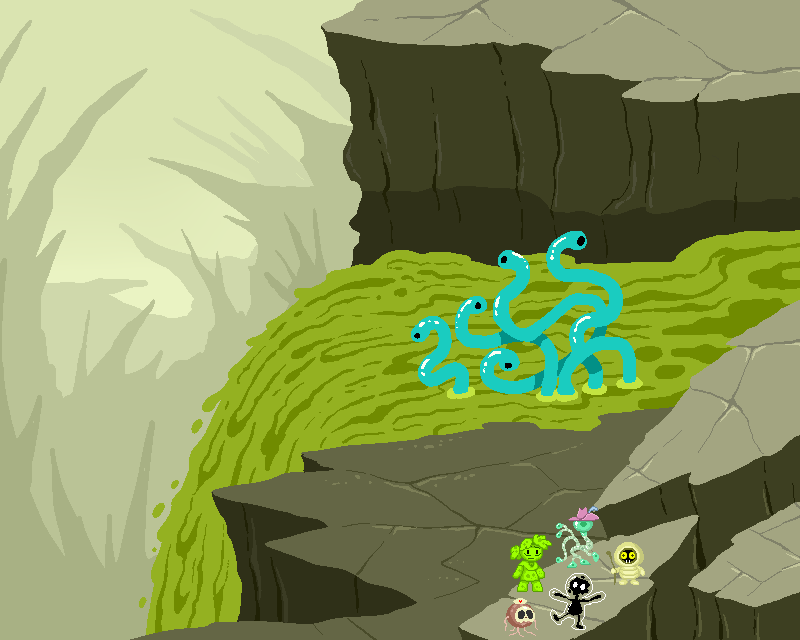 FLY DUMMY:

WOWEE! ALL THIS "BEING" SURE IS NEAT-O BEANS!




YOU:

Uh...why is it doing that...




FLY DUMMY:

OH, WOW, HEY THERE! YOU'RE PRETTY MUCH MY MOM! WOW, THANKS FOR HAVING THE IDEA OF ME AND ALL, EXISTING'S REALLY SOMETHING ELSE! WHAT CAN I DO FOR YA, WHILE I'M STILL A THING??




YOU:

UH...NOTHI-




MAGGIE:

We just need ya to take a plunge offa this here pusfall an' get ate up by some rapidworms, on accounta our friend here's powerful attached to this here particular mortal coil!




FLY DUMMY:

HAH! OLDEST TRICK IN THE BOOK! NOOOOO SWEAT!




YOU:

Now, wait a minute...are you like, a PERSON? Is this okay?!




FLY DUMMY:

I AM NOW, SURE! THANKS TO YOU GUYS! THEN I'LL JUST UTTERLY AND PERMANENTLY CEASE TO BE ON ALL PERCEPTUO-CONCEPTUAL LEVELS, NOOOOO SWEAT!




YOU:

JEEZ, no! We can think of something else!




FLY DUMMY:

AWWW, C'MON, MOM! OTHER MOM IS COOL WITH IT!




YOU:

C...can you just not call me that...it's kind of persona-




FLY DUMMY:

OH! NO SWEAT! HOW'S "MOTHER?" "MAMA?" "MOMMY?" IF I'M ONLY EVER GONNA EXPERIENCE THIS "SELF" THING FOR A FEW MOMENTS I CAN AT LEAST HAVE THE COURTESY TO GET THAT RIGHT, HAHA!




YOU:

No, it's not that...it...I just...

...Why does this WORK this way!? We didn't need to bring something to life!




STAPH:

Oh, dear...you're still not understanding...everything works this way. You work this way. The "self" you experience is only one possible composite interpretation of interactions between many neurons, they in turn a temporary arrangement of molecules with dreams and ideas of their own.

Why, get enough of you greys in one room and there's a consciousness entirely distinct from its components. I had a lovely chat with one over tea during an internship, until of course the movie let out, initiating the break down of my good chum's definition sphere and disintegration of its conceptual parameters back into compartmentalized, unentangled individual perceptoids.

Anything we use to cross this river is going to be part of a being to someone, whether or not our perception spheres overlap. Everything you are and everything you do brings perceptoids and conceptoids into and out of existence...it's just natural.




FLY DUMMY:

YEAH, WE ALL GO SOONER OR LATER ANYWAY! IN MY CASE, SOONER! HAHA! MAY AS WELL GO OUT IN STYLE! ...HEY, IS THAT A RAFT? YOU OUGHTA LAUNCH ME OFF THAT THERE CLIFF, THAT'LL GET THEIR ATTENTION!!!




YOU:

...Can somebody pull over and let me off the universe for a minute?




MAGGIE:

Course we can't, ya goof! We ain't no moths!