BATTLING GHASTLY PHYSICIAN WORM (L7)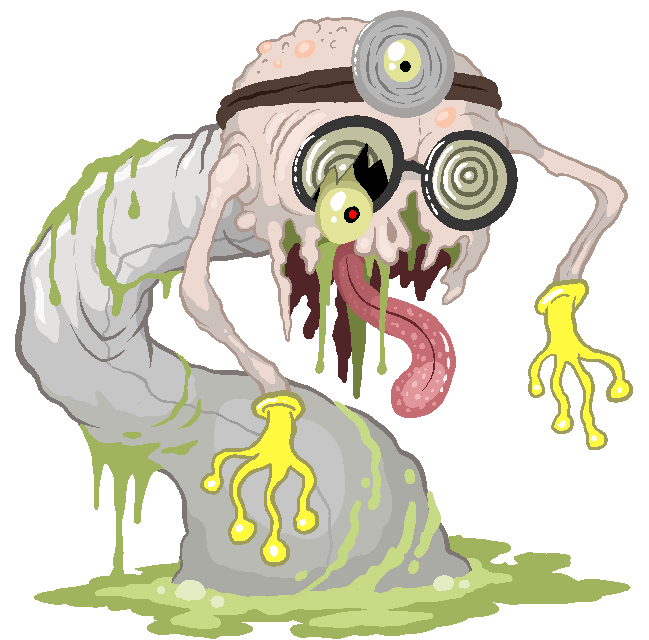 YOU SHIELD MAGGIE

Maggie cannot be targeted this turn - and all damage to yourself will be halved!




CELIA USED BURGLE!

1D20+5 result: 14! (SUCCESS!)

Dashing past the decrepit creature, Celia shoots a tendril under its lab coat with blinding speed, pulling out a small object.




ITEM STOLEN: MUCUS VIAL

Restores all health to one party member out of battle. Delicious, too!




STAPH BOOSTS MAGGIE!

Cellular tissue surges from Staph's cilia, bulking up Maggie with a sort of secondary skin. Weird! Maggie looks pretty big now! +1 to all rolls this turn!




MAGGIE ATTACKS WITH FLYTNINGBOLT

STRIKE ROLL: 8! (SUCCESS!)

Maggie spouts some latin and waves her staff in a circle. A jagged stream of flies crackles out of the darkness and surges against the heinous monstrosity, inflicting upon it the idea of electricity. This is slightly stronger than usual at the moment because Maggie is currently bigger, of course.

DAMAGE ROLL (WITH +1 BOOST): 12, 6, 19, 14, 16, 7, 21, 10, 9, 2 (8 DAMAGE!)




GHASTLY PHYSICIAN WORM IS HIT!
"OhHh M-m-Myyy!!"









ENEMY TURN:

GHASTLY PHYSICIAN WORM USED "HEALTH TRANSFUSION"

The monster's tongue fires from its slobbering maw like a chameleon's, latching onto GROSS WORM: FELL BARBARIAN, and begins to LEECH AWAY the IDEA OF HEALTH.

DAMAGE ROLL: 6,10,11,12,8,6,19 (4 DAMAGE!)




GROSS WORM IS HIT!
AUUUUGGGHHH IT'S
MOIST!!!
!!!


Fortunately, you are only taking HALF DAMAGE this round!







GHASTLY PHYSICIAN WORM REGAINED 2 HEALTH!
"AhhhHhhH! HhhHheALtH! sS-s-WeEt, RrrrRRrreFf-f-rEsHiNg h-h-HeAltH!!!"