You hastily exit the reeking abode of the gaseous worm. It still stinks somewhat in the outer chamber, but the fumes seem to disperse quickly throughout the caverns.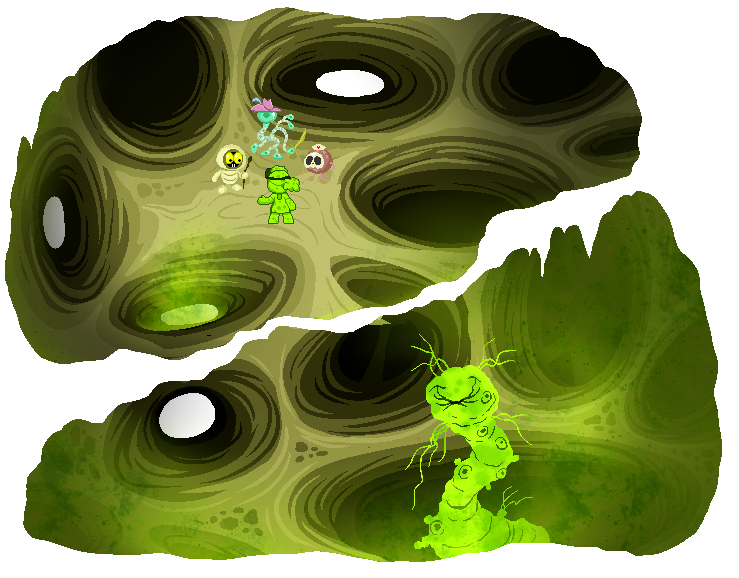 STAPH:

Are you alright to continue, world?




YOU:

Yeah, I think so...

Actually...didn't you say earlier we might need an explosion?




STAPH:

Yes. If I can trust the vibrations, explosive force should shatter or at least loosen that polyp blocking our way.




YOU:

Couldn't that cause a cave-in?




STAPH:

It shouldn't. The polyp is hard, dry and desiccated. The surrounding cavern is a more yielding material. Compare striking a dried bone versus striking a knot of leather.




YOU:

The "feverworm" thing, was that really on fire? It's kinda hard for me to tell what's what around here.




STAPH:

Yes, it communicates the concept of a fever with its literal flame.




CELIA:

Worms and their pretentious bloody symbolism.




YOU:

So...we just need these two worms in the same place, right?




STAPH:

At the very least, we need this one's gases to build in the polyp's chamber, then we can worry about igniting them.




YOU:

Can we put the rest of the worm attractant on the polyp?




STAPH:

It wouldn't spread far enough through the tunnels - it would dissipate first, like the gases in here.




YOU:

What if we put it on something else, and used it as a lure?




CELIA:

How about yourself? Feverworms favor things about your shape, with the...things on top.




MAGGIE:

Heads!




CELIA:

Yes! Those!




MAGGIE:

I've got one too!




CELIA:

Yeah, you're both pretty gross.