BATTLING UNNECESSARY SURGERY WORM (L12)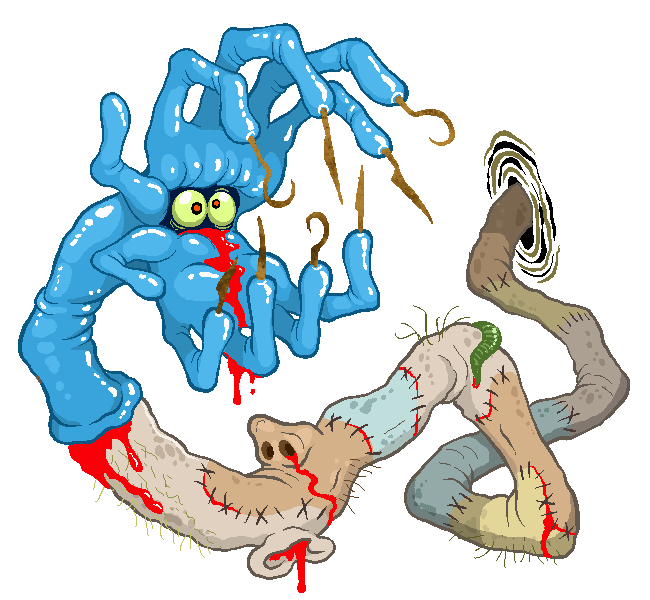 STAPH BOOSTS YOU!

You feel gross and uncomfortable as bacterial matter flows over your body, but you feel pretty strong. You get +1 to all rolls this turn!




CELIA USED BURGLE!

1D20+5 result: 23! (SUCCESS!)

Celia manages to find a single particularly loose object on the monstrosity...




ITEM STOLEN: RUSTY SURGICAL HOOK

Rusty, but still strong and incredibly sharp.




YOU SWING YOUR +1 AXE!

STRIKE ROLL: 17 (SUCCESS!)

DAMAGE ROLL (WITH +2 BOOST): 4, 11, 4, 22, 18, 12 (3 DAMAGE!)




MAGGIE ATTACKS WITH FLYTNINGBOLT

STRIKE ROLL: 18! (SUCCESS!)

The worm is blasted by a river of insects embodying the idea of lightning. Its metallic components appear to draw the blast, but its oily latex covering appears to absorb much of the effect, -1 to all damage rolls.

DAMAGE ROLL (WITH -1 PENALTY):
4, 7, 6, 3, 10, 11, 16, 19, 14, 13, (4 DAMAGE!)




L12 UNNECESSARY SURGERY WORM:
F-ff-f-eeE-Ee-EE-Ll-sh-sh-sh-sh g-g-g-g-Oo-oO-O-o-d-d-d-!!!!













ENEMY TURN:

UNNECESSARY SURGERY WORM USED "FIELD ANAESTHETIC"

The creature clasps its fingers together, coils up its body for a moment and propels a mighty fist straight into MAGGIE.

DAMAGE ROLL: 2, 19, 12, 13, 18, 5, 5, 10, (7 DAMAGE!)



MAGGIE HAS PASSED OUT!