BATTLING UNNECESSARY SURGERY WORM (L12)

ROUND II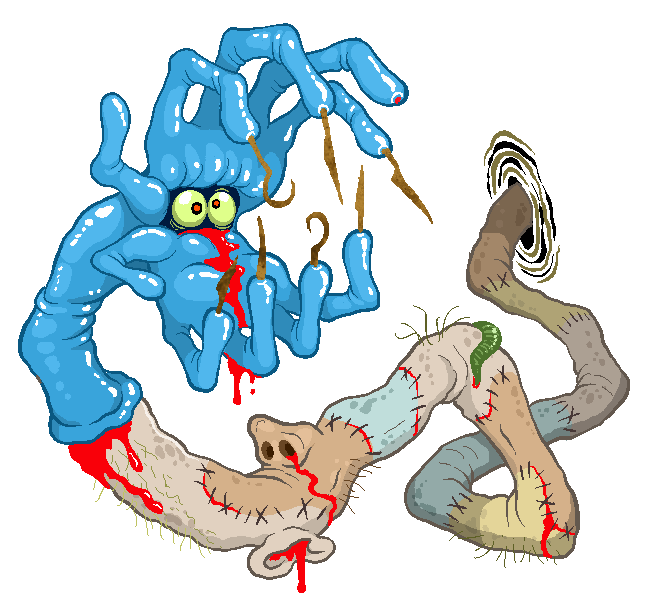 STAPH HEALS MAGGIE!

Staph transfers a portion of her biomass to Maggie's body, filling in wounds and replacing damaged tissues! Staph loses four health!




CELIA SLASHES WITH HER +1 SWORD!

1D20+1 result: 8! (MISS!)

Celia misses completely, but segues into a rolling maneuver and a triumphant "HAAA!" to make the whole incident look planned.




YOU SHIELD MAGGIE!

Maggie will take no damage this turn! Damage to yourself is halved!




MAGGIE ATTACKS WITH FLYERBALL

STRIKE ROLL: 20! (CRITICAL SUCCESS! +1 TO DAMAGE!)

A ball of flies condenses out of the air, slams into the worm and scatters. The worm suffers the concept of fire damage.

DAMAGE ROLL:
10, 2, 6, 3, 11 19, 13, 18, 21, 12 (5 DAMAGE!)




L12 UNNECESSARY SURGERY WORM:
quit SshSHhquirming! I need to borrow a sh-sh-shhhkin graft!!













ENEMY TURN:

UNNECESSARY SURGERY WORM USED "SCALPEL DANCE"

The creature's huge, blade-tipped fingers writhe wildly, striking around the room. Damage will be divided as evenly as possible among all targets!

DAMAGE ROLL: 5, 2,, 7, 9, 16, 13, 9, 15, 12, 18 (8 DAMAGE!)




GROSS WORM IS HIT FOR 2 DAMAGE, AND TAKES 2 FOR MAGGIE!
Good thing you are only taking HALF DAMAGE this round!







CELIA IS HIT FOR 2 DAMAGE!







STAPH IS HIT FOR 2 DAMAGE!































L12 UNNECESSARY SURGERY WORM REGAINS HEALTH!
During its scalpel dance, the monster sews shut some of its own wounds and patches its burns with stolen hunks of tissue. Missing one of its SURGICAL HOOKS, the process suffers a -1 penalty!