STAPH:

...world? MISS WORLD?! HELLO!?!




YOU:

W...wha...?



You blink a few times, head swimming, and take another look around the hellish landscape of your own twisted doppelgangers...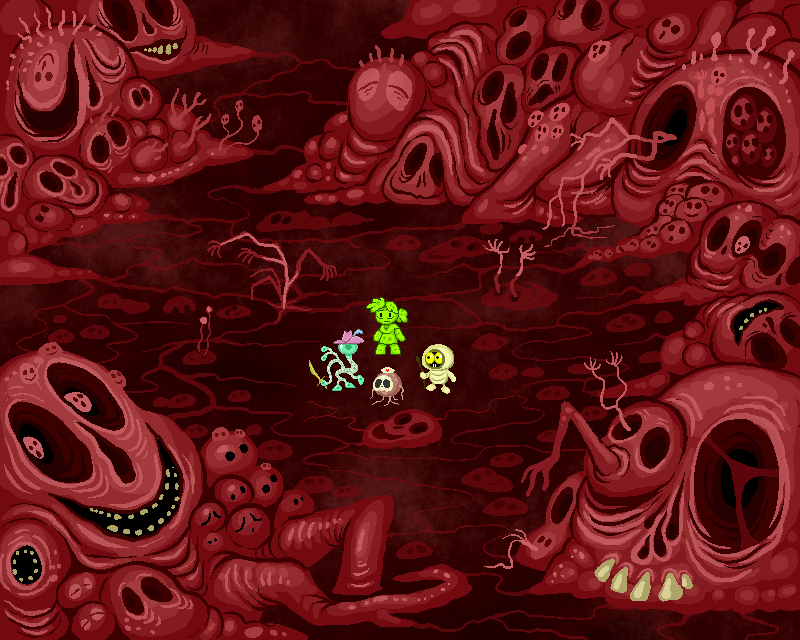 Weren't they all just looking at you?

They don't even look alive, now. Where you thought you saw a sea of gleaming white eyes, there are only shrunken, decayed sockets...



YOU:

Sorry...it's...it's a little much...even after what I've already seen...




STAPH:

Oh no, don't apologize, dear! I'm sure we're all stricken, this place is gorgeous! And the fragrance...I can scarcely believe what I'm smelling!




MAGGIE:

So it ain't just me, is it? It shouldn't even be possible, but my sniffers ain't not never lied!




STAPH:

Indeed...

...The growth in here is unmistakably post-mortem.




MAGGIE:

I ain't think it's all the same post, neither.




STAPH:

I think you're right! Varying stages of cell-death! Do you know what this could mean!?




MAGGIE:

That it's an ongoin' process!!!




STAPH:

Dying off almost as fast, but...you feel the vibrations, too? Cells are replicating themselves beneath our feet! New growth pushing old growth to the surface!

Maggie...are you thinking what I'm thinking?




MAGGIE:

...That we've done been presented with this here rare opportunity to taste early-stage cell-death what only our great, great grandrotters woulda known like?




STAPH:

Well, there's a bit more to it than that, but yes. Also that.




CELIA:

I could go for a bite myself.




STAPH:

I do believe it is half past picnic time.




YOU:

W-what?? Wait a minute - you can't be serious!!