Backed by a seemingly endless swarm of molecoids, the shady protozoan aimed her fully-loaded zappitator...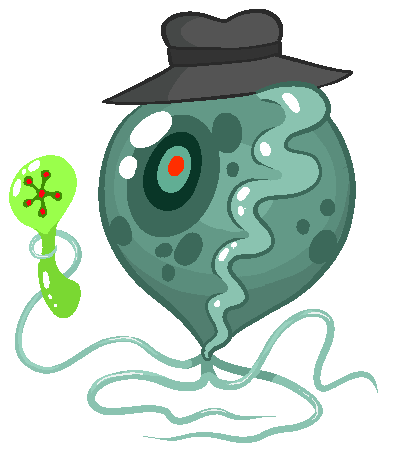 STAPH:

What is the meaning of this?!




TRICHIA:

Just business, Doctor. I'll be delivering the anomaly to Balmer.




STAPH:

We were to bring it to him anyway! Did he not agree to lift the quarantine and send Miss World back to the hospital?!




TRICHIA:

There wasn't any quarantine. Nobody cares what happens to an E-class biozone. He just wanted to rope another non-employee into free grunt work, like the rest of his "junior explorers." Me? I'm contractually entitled to a nice, fat bonus if I'm the one who brings it in. Thanks for leading the way, not to mention bringing down whatever that just was.




STAPH:

What makes you so sure he won't just fire you on the spot for your interference?!




TRICHIA:

Please. He already thinks you're bloodthirsty monsters. He'll only believe the part where I valiantly thwarted your plans to keep it all to yourselves.




STAPH:

You don't even know what "it" is, nobody does!




TRICHIA:

Ah, no, that's another lie, sorry. He's got a million of them...like the one where he'd destroy something that valuable just to save your throwaway little world, or the one where he'd ever let an inexplicably branchinating grey-zoner leave his jurisdiction unprocessed. I'll need you to hand that over, too.




STAPH:

Absolutely not. We'll go down fighting first.




TRICHIA:

After a fusion I'm surprised you have the energy to stand. You know as well as I do that you can't outmaneuver a zappitator even at your best.




STAPH:

You haven't seen Celia in action!




TRICHIA:

Ah, yes, about that...




CELIA:

Don't-




TRICHIA:

Great intel, fungus. I'd offer you a partnership if I thought you wouldn't stab me in the back, too.

You know, like these people who trusted you. Couldn't have stabbed anyone who trusted me in the back better myself. How does it feel to be so backstabbed by a professional-grade backstabberer, Doctor?




CELIA:

...You are a colossal b!7<#, Trich.




TRICHIA:

Yes, but one with a big, whopping pile of money waiting for her. Just like yours. You can afford at least an E-class all your own, now...you could even snag this one when it goes to market, no ugly bugs or bacteria to dirty up your fairy-tale kingdom.




STAPH:

...C...Celie..??




CELIA:

...sorry...I just...




TRICHIA:

This is getting tiresome. You and the grub can go on home and either accept relocation or die with the worms.




STAPH:

We will do no such thing.




TRICHIA:

Option C, then...