You feel better after a while, the seemingly impossible being's hand on your shoulder feeling bizarrely human. It gives you plenty of time to compose yourself, and doesn't speak again until new questions occur to you...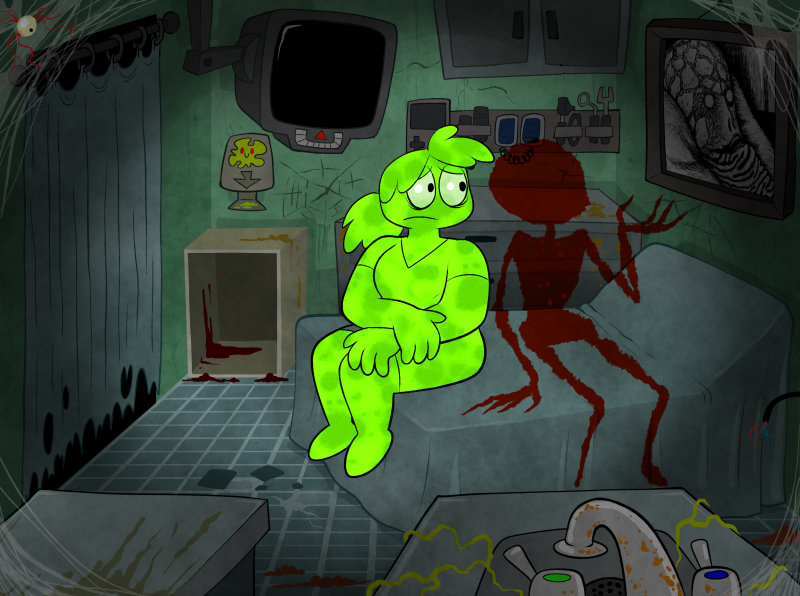 FERN:

What if...what if I just tried to talk to Phage? I only did once...and then that chatter in my head always screamed at me to stay away from him.



BLOODSTAIN:

It's probably right, I hate'ta say. Best case scenario, he has ya contained in yer room again, maybe ups security until he can run some more tests on ya...and considerin' his grasp of clotwalkers, you mightn't even come outta that in one piece.

Worse case scenario, he has ya purged, reconfigured or transfusionated for yer lack'a cooperatin', and that's lookin' a might likely considerin' how discombobulated the lil' guy's been actin. Well, more'n usual at least. Reckon he ain't had all the same lights upstairs since the Hospital started weakening.



FERN:

...Do you think my son's the reason for all this?



BLOODSTAIN:

Who can say. Sometimes there ain't even such a line between a cause n' a symptom. Alls I know is they're still lettin' patients in, but they ain't seem to be lettin nothin' back out agin 'til they've got this figger'd out. Couple patients gettin' "discharged" here n' there...but if ya ask me, they're just hidin' em someplace else in the facility, don't want nobody panickin, right? They're lucky they got fishin' spots so juicy or I'd really raise some heck.



FERN:

Sounds familiar. Dr. Balmer had my, uh, "biovessel" on lockdown while they hunted some "anomaly," the thing that's got an army of dead me's creeping around now. God this is messed up. Everything. I think I liberated a people in my own dead body. Is that...is that normal? Is that just the kind of thing people go through?



BLOODSTAIN:

Aw, Fern, ain't nothin' "normal" bout nothin'! Not nowhere, not no how! This here perception range is infinity big, and some of us're pretty sure the range still ain't the only thing there is. Wherever ya come from, most stuff out there ain't gonna make none perfect sense to ya.



FERN:

So...it's not just me? Everything is a bonkers horror show?



BLOODSTAIN:

Sure! Ya' can't help that, we're all bonkers here!



FERN:

What do you think I should do, honestly?



BLOODSTAIN:

Honestly? Just what ya' been. They may have fine intentions, but it ain't none right to keep ya' from yer kin...an' if the doctors are really goin' as off-kilter as the Hospital, it just might be up to us patients to figger things out. Ya' knocked that jive turkey Balmer down a few pegs, didn't ya? Reckon yer capable o' quite a bit more n' ya' even realize.

Tell ya what, Fern...this crusty ol' stain ain't what it usedta be, but I'll keep my sensorators peeled for anything important, and I'll do what I can to keep the staff outta yer room while yer about. Ya' need to talk or even hide out a while, I'll be here.



FERN:

...Thank you...you might be the most genuine person I've met in this place.