>Ask The Doctor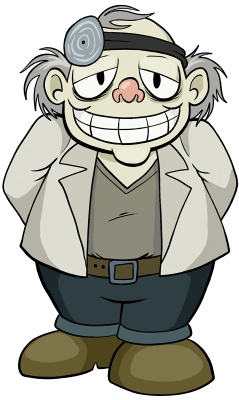 DR. MAN:

So, then, something troubling you, Fern?




FERN:

Uh...you could say that, yeah.

I just got back from the inside of my own dead body.




DR. MAN:

Ah, yes, biovessel intra-shift. Marvelous technology. Everton didn't give you too much trouble now, did he?




FERN:

Ever-? Oh, right, Balmer. The uh...blender?




DR. MAN:

Embalming machine, actually.




FERN:

THAT'S what he was!? I wondered what a big juicer had to do with...ugh...now I just feel stupid.

Yeah, he gave us "trouble." He turned into a dolphin and tried to eat the universe. Or something.




DR. MAN:

Mmmmm, yes, sounds rather like the sort of thing the brash lad might get up to.




FERN:

We'd found some...thing...some red thing. I don't remember what they called it, but I think it's what brought my corpses back to life. I can't believe I'm saying this.

Didn't you say you came from "Virginia?" How can you be so...so okay with this place?




DR. MAN:

Mmm, well, I am a trained physician, yes, it is my business to maintain an air of professionalism.

Of course, branchination is not so rare among the grey as most believe. You might be quite surprised to learn how many individuals you likely encountered across your lifespan who knew neither the same world nor even the same you that you are so familiar with.




FERN:

Yeah, that's okay, there's some things I'd still rather not know...but I found this book? It's weird and all but it doesn't seem that hard to grasp the gist of-




DR. MAN:

Mmmm, Fern, that is a material for young things. Quite young. It is roughly as representative of branchination as a singular colored block with a letter "B" carved into its surface would be representative of the collected works of Kafka and their sociological significance.

Do not trouble yourself with these irrelevancies. Have they brought you closer to your goal?




FERN:

Well...no...I just...I want to understand what's wrong with us...why we're here, why they're so afraid of his illness...

I could swear this place has only gotten worse since I showed up...now there's little bag guys running around...




DR. MAN:

Ahh, yes, Molly has been stretched quite thin as of late. She does her best, of course.




FERN:

...She didn't look like she was doing a whole lot of good for that Spleen guy...




DR. MAN:

Ah, well, Miss Curdle is nothing if not persistent. If her charge is not improving, she will likely repeat the prescribed treatment until she observes either recovery or termination. Recent patient response has been...unorthodox...to our treatments...and with the rest of the staff's hands so full, it may be she is caught in another of her behavioral loops.




FERN:

"Unorthodox"...yeah...a bloodstain told me things weren't working righ, and that they weren't even letting anyone back out of the place, that it was in some kind of quarantine.




DR. MAN:

Hm. Is that so. I must say I received no such memo. Quite the contrary. I have been informed that my own patients were already discharged.

Curious.

How curious.

Thank you for your information.




FERN:

I heard you fought against that...unexister thing...I feel like I should thank you.




DR. MAN:

The device is...unethical. Yes. That our fine staff were so quick to consider such an option, well, I must say, it is quite unlike them. Quite unlike them indeed.




FERN:

Doctor, please...are you sure you don't know anything more about my son? Anything at all?




DR. MAN:

Mmm, no, not my department. I have personally seen neither the patient in question nor the facility in which he is presently contained.




FERN:

I get the feeling the only answers I'm going to get are from, er...from that...other doctor...the little-




DR. MAN:

What..."other" doctor?




FERN:

Er, no-one! Just, hypothetically speaking, if I needed to break into a certain somebody's office...




DR. MAN:

...Oh. Of course. Well. Hypothetically speaking, a certain somebody's office does not open from the outside for any joker with the right key. One would have to bypass the door entirely, or have it unlocked from within.




FERN:

I see, well...something else bothering me, do you know what happened to "Ora?" Next door to you?




DR. MAN:

Oh, hm, I'm afraid not. It was my designated break period. I dipped into the sub-black for a quick gleamenating and awoke to find quite little left of the sorry thing.




FERN:

What...what exactly was she, anyway?




DR. MAN:

Ah, well, you know, it's quite the jungle out there.




FERN:
...Right...
Well...another thing...do you know much about
this guy
?

DR. MAN:

Mmm, as I said before, patients come and go. I cannot say I am familiar with this case. Assuming he was ever located and detained, his treatment would have continued.