>Enter the Computer Room
You hurry up the staircase and into the door with the computer sign on it. You're not sure you can even navigate whatever passes for a computer around here, but it could be your best bet at finding out why you're really here.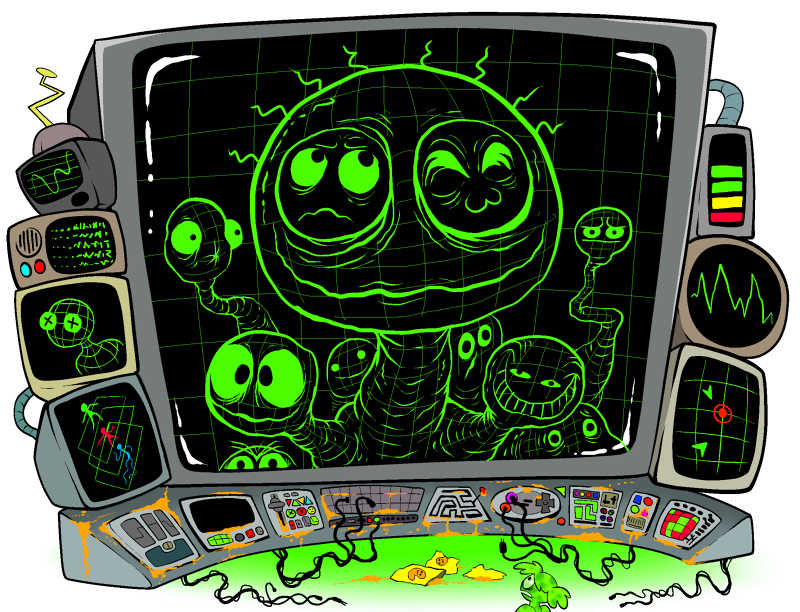 The room is huge, yet dark, hot and cramped, almost entirely taken up by the titanic computer system. Grotesque faces warp and multiply in the primitive looking, green and black display while tangled cables tap away at hundreds of keys, switches and dials.

...This awful thing is going to talk to you, isn't i-

COMPUTER:

WELL, WELL, WELL. LOOKS LIKE THIS CHEAP BUTCHERSHOP FINALLY CAVED.

......COULDA BEEN BETTER LOOKING, BUT ANYTHING BEATS HAVING TO DEBUG -YOURSELF- ALL DAY.

....YOU...

-ARE- THE NEW DEBUGGER, RIGHT?

...NOT, I DON'T KNOW, GOSH, MAYBE LIKE SOME SORT OF IDIOT GREY ZONE VERMINOID WHO THOUGHT THEY COULD JUST BARGE ON IN WHILE I'M DEBUGGING WITHOUT EVEN KNOCKING FIRST AND HYPOTHETICALLY SPEAKING BETTER HAVE AN INTERESTING ENOUGH EXCUSE IF IT DOESN'T WANT 120,000 VOLTS OF ELECTRICITY TO TEAR THROUGH ITS GREASY LITTLE NERVOUS SYSTEM, YEAH?

GOLLY JEEPERS WOULDN'T THAT EVER BE THE SILLIEST. THING.



Nothing in this damn place can ever just not be a monster, can it.