The first human patient you've ever seen...or what certainly looks like one...keeps a twitchy grip on a handgun not yet pointed in your direction, but he looks equally prepared to either use it a second time or run screaming in the other direction.

His entire body glows an unnatural, brilliant blue, flickering intermittently like an oversaturated television. Strange, splotchy shadows bubble and flow across his surface as if cast by unseen, moving objects.

...Is that why everything keeps calling you "green?" Is this how you look?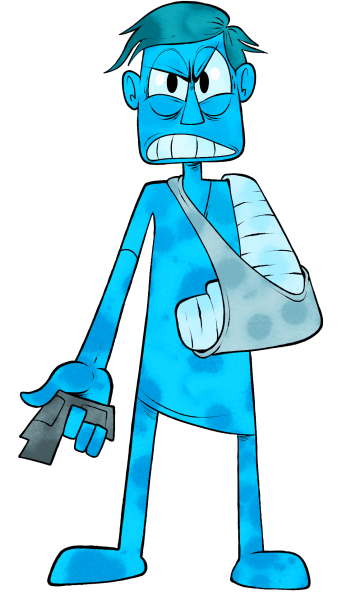 BLUE GUY:

...D...date...QUICK.




FERN:

W-what? I...




BLUE GUY:

DATE. DAY AND MONTH. JUST NAME ONE. A PERSON CAN PICK SOMETHING THAT MAKES SENSE.




FERN:

Uh?! Wh-...august...fffourth??!




BLUE GUY:

......

...Good enough. For now.

Stay out of my way and I'll stay out of yours.




FERN:

I'm...I'm sorry...I just...I've never...




BLUE GUY:

...seen another human patient, yeah, they've always said that.




FERN:

..."They?"




BLUE GUY:

Other people. Probably a dozen by now.

...No, I don't know why you're here.

No, I don't know what a "layer" or a "gel chute" or any of that crap is.

And no, I don't know how to go home...not that it matters. They all get better and get sent home.




FERN:

...What!? They do?




BLUE GUY:

THEY do. Yeah.

Most of them.

You may as well go on back to your room and wait it out.




FERN:

...I'm not sure I can...

I'm sorry...just who are you?




BLUE GUY:

Ugh. We're gonna do this? I'm Jay, and you're don't tell me, I don't care. Good enough?




FERN:

...Jay...please...I'm sure you've been through a lot here, I know I have. Maybe we can help each other.




JAY:

Unless you can make a sandwich that doesn't laugh the whole way down, I've had more than enough "help," thanks.




FERN:

...Can't I just-




JAY:

Badger me with stupid questions? Sure. Fine. Just don't slow me down.