You decide to follow "Jay" around a while and find out what he knows. It's obvious he'd rather you didn't, but you can't pass up an opportunity like this...and it's not as if he's given you many reasons to care what he thinks of you.

You decide it's best to avoid any direct, personal questions about his situation...but what to ask first?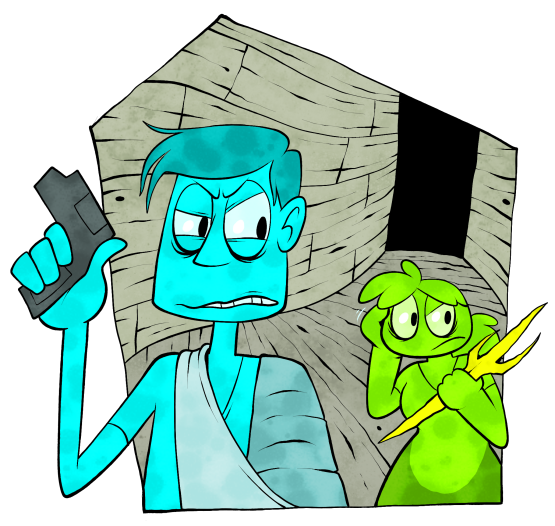 FERN:

So, uh...just where are we right now?




JAY:

The plank maze. That's what I call it, anyway. The door you came in used to be a supply closet.




FERN:

"Used to be?"




JAY:

The maze took it a few wake-ups ago. I assume you have those too, everyone does.




FERN:

Y...yeah... they keep...remaking me or something.

...What do you mean the maze "took" it?




JAY:

It's been growing as long as I've been here, eating rooms, linking them up in weird ways. You can still find the original closet a ways back, but nothing in it makes sense anymore.




FERN:

...Weird...of everyone I've spoken to, none of them have mentioned this place...




JAY:

They don't notice it. It's like a dead zone. The "doctors" have stopped coming around since it took my room, but the slobs seem to flock to it.




FERN:

"Slobs?"




JAY:

Yeah, the thing I shot. I've been trying to figure out where they come from, and how the same ones keep coming back again...sometimes you can track the local pests back to a source, like a "nest" or a "mother," and take 'em out for good.




FERN:

I...I see...

So uh...what about these other people you were talking about?




JAY:

There's not much to say that you wouldn't already know. They just wake up here, sick or hurt or just out of their mind.

Most of them heal up again, no thanks to the butchers. You let any of these things try to "treat" you, yet?




FERN:

I was...kind of afraid of what that might entail.




JAY:

You should be. Most of the others had to take care of themselves until they healed up naturally. I don't know why I'm different...every wake-up it's the same broken arm.

The maze is the first good luck I've gotten. I'd rather stay lost than let those things touch me again.




FERN:

...We might have the same problem...I still don't even know what's supposed to be wrong with me, but I've woken up again a half dozen times that I know of...




JAY:

Awwww, that must be rough. I gave up counting in the thousands.




FERN:

...Jay...I... ...Look, I've spoken to a few...people... who say the Hospital used to work better...they say maybe it can be fixed...




JAY:

Oh? You believe what a big heap of snot tells you? No wonder I had to waste a bullet saving your fat ass.




FERN:

MY F-!? ...That was ONE shot! I've dealt with plenty more than that wimpy thing!!




JAY:

Sure, grams.




FERN:

...