>Head back to Crash.
You decide to question the computer about a few things. You exit the break room and step into the lobby, only for a malformed shape to lurch forth from behind the East staircase...
AN L7 SLOB ATTACKS!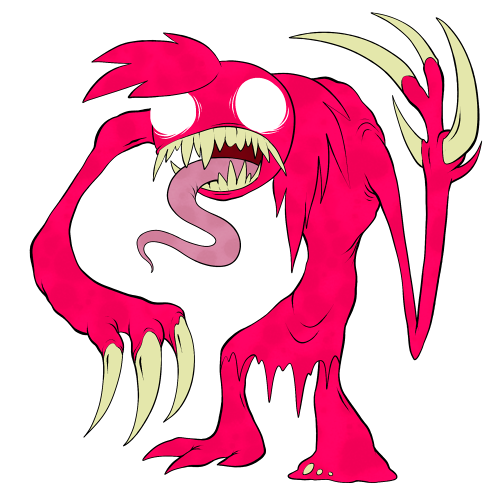 You don't really want any trouble...some of your best friends live in one of these things...boy that's a weird thought.

Unfortunately, the "slob" as Jay so conveniently dubbed it is approaching fast, claws and teeth bared as it gibbers and snarls.
CHOOSE YOUR ACTION!
FERN (L11) - ATK:6












>UNLEASH POLYP

FERN USED EVIL COLORECTAL POLYP!

You're not sure why, but your mind is insisting that the weird little polyp creature can help in this situation.




RAMBLIN' EVIL COLORECTAL POLYP:

YIKES! This thing's almost as ugly as you! Lemme get a bead on it...yeah, it definitely wants to eviscerate you, sorry, and it's probably not gonna let you get away. It's REALLY into the whole "eviscerate you" thing.

Give it a few good thwacks and it'll probably slink off to regenerate. Not electroconductive but pretty dang flammable, if only you had anything flame-based...not a colon I'd risk moving into, frankly, B- at best.

Good luck!




FERN:

That's it!? That's all you do?!




RAMBLIN' EVIL COLORECTAL POLYP:

Hey, some polyps charge for a good telecolonalysis.



The monster rears back with a gurgling snarl and swings its two misshapen limbs.
SLOB USED DOUBLE SWIPE!

STRIKE ROLL: 4 (MISS!) 10 (MISS!)



You've dodged just in time!

RAMBLIN' EVIL COLORECTAL POLYP:

Yikes, that was a close one, huh? Anyway, I'm goin' back to bed. Have fun.





FERN SWINGS THE KIDNEYBLADE!


STRIKE ROLL: 12 (HIT!)
DAMAGE ROLL: 6, 4 8, 8, 14, 10



SLOB LOST FOUR HEALTH!







SLOB USED DOUBLE SWIPE!

STRIKE ROLL: 3 (MISS!) 14 (HIT!)
DAMAGE ROLL: 3, 7, 11




FERN LOST ONE HEALTH!






YOUR OPPONENT RETREATS!
The "slob" emits what almost sounds like a bored and frustrated huff, wavers for a moment, and scurries back where it came from - a torn-open hole in the wall under the staircase. Something about the black hole makes you shudder, more than even the plank maze itself.