>Enter Computer Room
Still sore from that monster attack, you enter Crash's chamber with your best "unamused" face.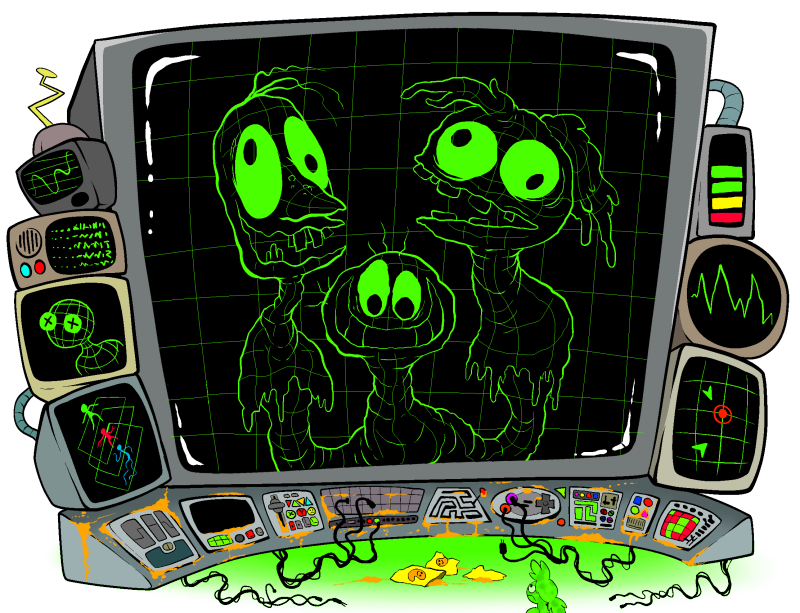 COMPUTER:

BACK SO SOON, PITSTAINS??! HEY LOOK, IT'S YOU! "BLAH BLAH BLAH, I'M ALL FULL OF BLOOD! HOPE NOBODY DROPS IT ON THE GROUND!!!"

LOL




FERN:

Yes, Crash, I can see that.




COMPUTER:

AND THIS GUY! WHAT A CHARMER, RIGHT?!

"HEY FEMALE THING, HELP ME HIDE A BODY"

"OH, MALE THING, ANYTHING FOR YOU!!! I LOVE MURDER!!!"




FERN:

Come on! What else could I do!? The guy knows how to kill me for good...and you obviously knew he could, too. That's why you didn't tell me about him, isn't it? You just wanted to see what would happen!




COMPUTER:

AWW, DON'T BE A SPOILSPORT! I'M JUST MESSIN WITH YA, GUTBUCKET!

I SAW YA SWIPE A HUNK OF OL CATHY! I COULD PUT HER IN FOR A RESTRUCTURATING IF YOU WANT...BUT IF BLUEBIRD SEES HER BACK IN ONE PIECE, HE'S PROBABLY GONNA KNOW WHY.

DUDE AIN'T A FAN OF THIS PLACE, TO SAY THE LEAST, OR ANYBODY HE THINKS MIGHT BE WORKIN' AGAINST HIM.



FERN:

...So if you've known about Jay, why doesn't anyone else? Shouldn't you have put out some kind of security notice, or something?




COMPUTER:

IF I COULD DO THAT WITHOUT A DIRECT ORDER FROM MEDICAL STAFF, I WOULDN'T BECAUSE I DON'T CARE, BUT ALSO I CAN'T DO THAT WITHOUT A DIRECT ORDER FROM MEDICAL STAFF.




FERN:

...What about me, then, with the staff card?




COMPUTER:

HEY! WHOA!! THERE'S AN IDEA! YOU SURE ARE SMART!!

JUST SAY THE WORD AND I CAN PUT SECURITY ON HIGH ALERT FOR A DANGEROUS, GREY-ZONE PATIENT SNEAKING AROUND WHERE IT SHOULDN'T BE, WIELDING AN UNAUTHORIZED WEAPON AND POTENTIALLY INTERFERING WITH HOSPITAL PROTOCOLS...SOUND ABOUT RIGHT, BUTTERCUP?