...The computerized entity continues playing with its crude, digital puppets, floating around his monitor like a bored child rolling around a floor strewn with toys.

Its previous suggestion is a rather poorly disguised threat.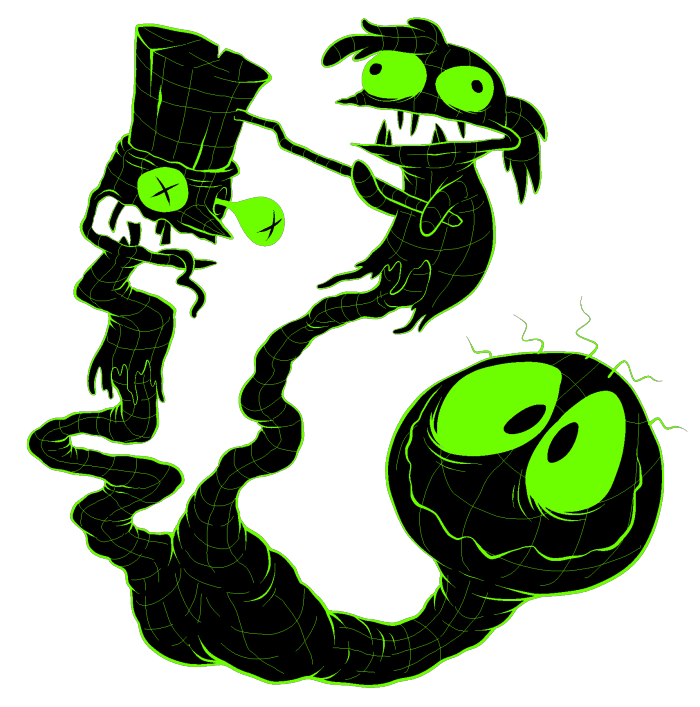 FERN:

...Yeah, nice try, but I'm not that gullible.




COMPUTER:

COULDA FOOLED ME.

FIGURE OF SPEECH OF COURSE, I'M FOOLPROOF.




FERN:

Uh-huh, sure. Who is the "security" around here, anyway?




COMPUTER:

...EVEN LAMER THAN YOU, ACTUALLY. I'LL BE HONEST, AS FUNNY AS IT MIGHT BE TO SEE THE ZONAL ANTIBODIES PURGE YOU AND THE CRUNCHBERRY BACK TO HYPOTHESES, THEY'D PROBABLY SHUT DOWN MY FAVORITE INFOCHANNELS AND SWEEP THE PLACE FOR ANY OTHER SERIOUS STABILITY THREATS, ALSO KNOWN AS ANYTHING FUN IN ANY WAY.

I'M NOT A FAN.



FERN:

Well, that's somewhat comforting, at least.

Know anything about that growing "maze," by the way?




COMPUTER:

OH YEAH, AIN'T THAT SOMETHING? SOME SORTA CONCEPTUAL BLIGHT. HAPPENS ALL THE TIME IN ISOLATED, EPHEMERAL POCKETS, BUT IT'S NEVER GOTTEN THIS BIG.




FERN:

Is that why they have the hospital in some sort of "lockdown?"




COMPUTER:

YES AND NO. THEY KNOW SOMETHING'S WRONG, BUT STAFF PERCEPTION IS TOO INTERTWINED WITH THE ZONAL CORE TO FULLY GRASP DEAD ZONES LIKE THE MAZE. IT'S KINDA LIKE...WHAT'S THAT THING THAT'S ALWAYS KILLING YOU GREY SCHMUCKS?




FERN:

...Cancer?




COMPUTER:

YEAH! THAT! IT'S LIKE THAT! IT'S EATIN AT THE HOSPITAL'S CONCEPT FROM THE "INSIDE" BUT THE DOCTORS ARE TOO BUSY WITH THE SURFACE LEVEL, SO TO SPEAK. NORMALLY THEY'D HAVE ALREADY NOTICED DEGRADATION THIS BAD, BUT THEY'VE GOT A LOT ON THEIR PLATE LATELY. BE FUN TO SEE HOW NASTY THIS ONE GETS BEFORE THEY CATCH ON.

...OR MAYBE IT'S JUST TIME TO PULL THE PLUG ON THE WHOLE ZONE. NOW THAT I'D LIKE TO SEE.