You're getting interesting stuff out of the computer, but you're getting increasingly sick of its shenanigans. Its juvenile puppet show keeps escalating in violence, but more than anything, it's just sort of trite.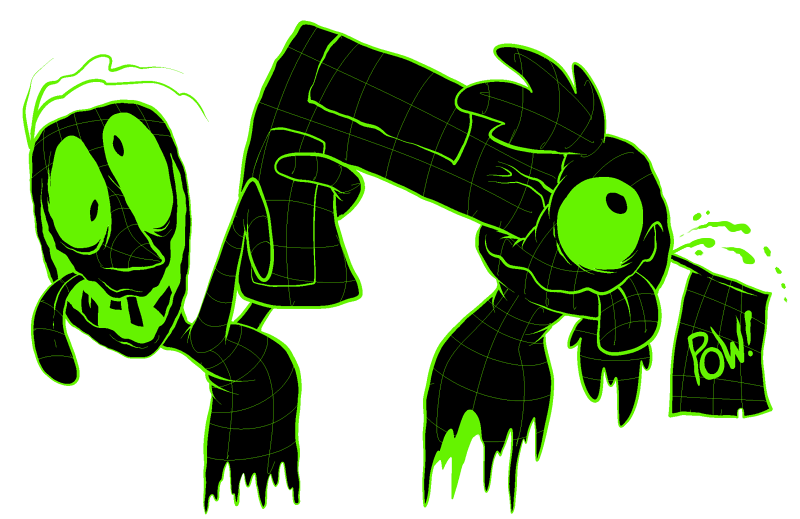 FERN:

So, Crash...what else can you tell me about Jay?




COMPUTER:

SEARCH ME, STINKNUGGET. NOT LITERALLY. DON'T SEARCH ME. CREEPS ME OUT.

GRAPE APE'S FILES ARE A MESS. EVEN BEFORE THE MAZE TOOK HIS RECOVERY ROOM, HIS DATA WAS GIBBERISH. THE HOSPITAL REMEMBERS HIM ENOUGH TO HAVE HIM PATCHED UP AND SENT BACK TO BED WHEN HE CROAKS, BUT WHATEVER HE WAS IN FOR AND WHATEVER THEY WERE GOING TO DO ABOUT IT IS JUST GONE, KAPUT, PROBABLY BY WHATEVER BLANKED YOUR CODE, GREASY. I CAN TELL YOU IT WAS PROBABLY MORE COMPLICATED THAN THAT BUM ARM OF HIS.

IT'S ALMOST LIKE SOMEBODY KNEW HOW TO BREAK THE VERY ALGORITHMS GOVERNING THIS DUMP...LIKE SOMEONE HACKED ITS O.S. AND DELETED A FEW SYSTEM FILES. NEAT, RIGHT!? SICKOS AFTER MY OWN HEART.




FERN:

No. It's not "neat." You're saying someone, or something, is deliberately keeping him trapped here in some infinite medical treatment loop, along with me and who knows how many other patients.

The treatments themselves aren't working right, the doctors are apparently flakier than usual and the place is getting eaten by building-cancer...this has gotten so much bigger than my son and I...I get the feeling we're not going home unless all this is fixed...but why am I the only one who seems to both know and care?!




COMPUTER:

WHO KNOWS. PRETTY FUNNY THOUGH. I JUST WISH I'D THOUGHT OF IT FIRST.



FERN:

...I'm sure you do...so, just how much of the staff has Jay, uh, "buried?"




COMPUTER:

EH, COUPLE DOZEN I GUESS.



You're barely paying attention, but puppet-you appears to be eating puppet-Jay's computer generated intestines.



FERN:

You "guess?" You're a computer.




COMPUTER:

AND THERE AIN'T NOTHIN LEFT'A THESE LOSERS BUT STINK. THEY ROT AWAY AND SO DOES THEIR DATA. SO DOES THEIR MEMORY. LUCKY BASTARDS.




FERN:

...So nobody tied to the Hospital notices, or can notice.

How many staff are left, then?




COMPUTER:

WITH 'CATH OUTTA COMMISSION? GUESS IT'S DOWN TO SPAGHETTI-FACE AND MOST OF THE IDIOT SCISSORS.




FERN:

...And where is Tori right now? I've never even personally seen her.




COMPUTER:

HAHA. SURE YOU HAVE. WHERE ISN'T THE OLD BAG? IF YOU MEAN WHERE MOST OF HER ATTENTION IS DIRECTED, SHE'S BEEN HACKING AT PATIENTS ALMOST NON-STOP IN THE SURGERY PITS SINCE HER LAST MEETING WITH BOW TIES.

YOU COULD PROBABLY BARGE INTO HER OFFICE UPSTAIRS WITH THAT CARD OF YOURS AND SHE'D BARELY BLINK, NOT THAT YOU'LL FIND MUCH IN THERE BUT THE SKIDMARKS SHE CALLS "ART."




FERN:

I see...do you have anything else helpful?




COMPUTER:

I CAN SHOW YOU WHAT YOU N' THE JAYBIRD WOULD LOOK LIKE MAKING OUT.



>You Have Left