The computer continues to toy with its gruesome simulation of your death. You know that can't be how it happened, you're not stupid.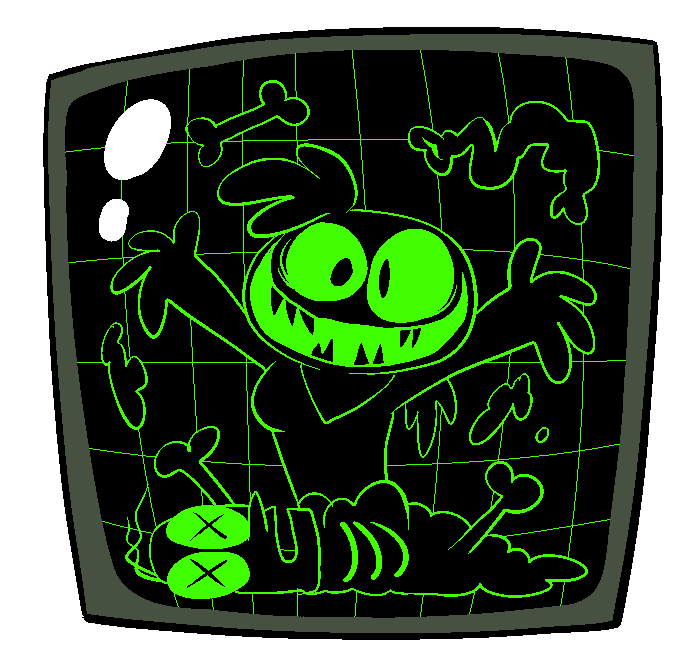 ...But the image jogs your memory. The pain of her slashing you, again and again, surges back to your mind.

JAY:

...Crash...what the hell did she do to me...




CRASH:

OH MAN, WHAT DIDN'T SHE? THEY'RE GONNA BE MOPPING YOU UP UNTIL THE CHUTE KEDS BLOOM.

HER BUDDY DID A NUMBER ON YA, TOO!




JAY:

...her...her buddy?...




CRASH:

YELLOW, PRICKLY, BURNS YOUR JUICEBAG LIKE A SON OF A FROG.



God, you remember now. It was one of those...kidney stones. She...she SENT it after you...

...What kind of person gangs up with monsters on a fellow human being? There has to be some explanation, hasn't there?

JAY:

Crash, I know you're full of it...but what else can you tell me about what's-her-face.




CRASH:

AW, HECK, DON'T TAKE IT FROM LIL OL' ME, HOW ABOUT SHE TELLS YA HERSELF!?




TOTALLY WHAT FERN HAS ACTUALLY SAID:

"JAy wAS a mistAKe."

"DoEs ANYBODY acTuALLy liKe JAY?"

"I wAs hoPing JaY miGhT be rEdeEMaBle, but hE cAn dRoP dEaD"

"tHe oNlY gOoD tHiNg aBoUt JaY iS hIs SuFfeRiNg"

"leTs MaKe hIm KiLL hImSeLf"



You know Crash is still mixing truth and half-truth, but you also know you were minding your own business...that you specifically told her to leave you alone...and that she snuck up behind you with some giant, jagged shard of something. That she brought out a damn monster like her personal attack dog.

You were hoping you wouldn't have to keep getting your hands dirty.

JAY:

...Where is she now, Crash?




CRASH:

HMMMM, WELL, I AIN'T GOT A CLEAR FEED IN THE VAULT, BUT...SHE'S PRETTY MUCH RIGHT WHERE YA LEFT 'ER. SHE'S STOOPED OVER WHAT'S LEFT OF YA...DANG, I CAN'T TELL MUCH BUT I CAN TELL THIS IS ONE SICK PUPPY.

LISTEN, JETPLANE; YOU KNOW I MESS AROUND WITH YOUR HEAD, YEAH, BUT YOU ALSO KNOW IT'S SOME OF THE ONLY FUN I GET TO HAVE IN THIS CRAPCASTLE, AND I GOTTA BE HONEST, YOU CAN'T WIN THIS ONE. AIN'T NO GARDEN VARIETY GHERKIN YOU'RE DEALING WITH HERE; REMEMBER THE BIG PISS ROCK?



You shudder. Of course you remember. You remember the nightmare of agony every time the "mother" kidney stone caught you again. You never stood a chance in hell. You've spent every wake-up here in abject terror that the thing will finally find your roo-

CRASH:

IT'S DEAD, JIM. I MEAN PERMA-DEAD, KAPUT. GREENBEAN DID IT. FIRST THING ON HER HIT LIST, BROUGHT IT DOWN LIKE A PATHETIC SACK OF...WELL, YOU.

YOU KEEP YOUR DISTANCE. MAD DISTANCE. YOU'RE JUST DAMN LUCKY YOU DIDN'T TELL HER HOW BURYING WOR-OHHHHH, WAIT, YOU DID. YOU TOLD HER EXACTLY THAT. YOU COMPLETE AND UTTER CLOWNWRECK.




JAY:

...I...oh...oh god...




CRASH:

WELP, HAVE FUN! IF YOU'LL EXCUSE ME, I'VE GOT SOME SERIOUS...



The screen goes black, silent.