On your way to the room with that nice, normal, excellent shower you remember so accurately, you happen upon a gaping, black hole in the floor. Huh! You feel no particular emotions as a figure drags itself out of the emptiness.
L8 CASU MARZOIL ATTACKS!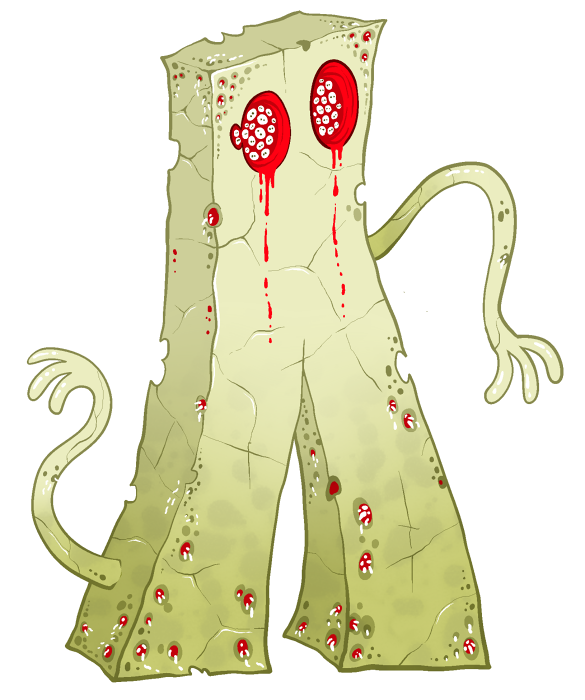 CASU MARZOIL:

MAXIMUM EXTRUSION FRIGHTS CAN SHOW A RED FREMDS WAY. NOT SALUTABLE FOR UNDER 3 OLD?! HA! HA! NAUSEA!!!!!



The babbling thing reminds you a lot of the jellybabies, but larger, chunkier, and smellier. Significantly smellier. What's that smell remind you of? It's somehow giving you an appetite. Weird.

May as well make it dead.
CHOOSE YOUR ACTION!
JAY (L12) - ATK:10














>SHRIEK

JAY USED SHRIEK!

I SHOULDN'T BE HERE!!! I PAY PREMIUM DAMN IT!!!

SHRIEK ROLL (1D6): 3

The monster's LEVEL drops by 3, and all damage is reduced this turn to 1!




CASU MARZOIL USED MAGGOT SHOT!

WILL COME OUT HANDS!? THE FLEXIBLE GLUE SECRET CAN SURPRISE A TRICK TASTE FLAVOR OVERDRIVE FOR 1000 EATEN!

The monster flexes its rubbery, cheesy body, forcing a spurt of blood and squirming maggots to fly from one of its many holes.

STRIKE ROLL: 14! (HIT!)
DAMAGE ROLL: 4, 8, 13, 16, 20 (3 DAMAGE!)




DAMAGE REDUCED TO 1!









CASU MARZOIL:

IT CAN BREAK DOWN A SOFT INNERS!? A WORM SURPRISE DIDN'T DO, A MANY DEAD CAME ABOUT AND CAN OVER!!! CAN YOU FREE A YOU BEFORE A THOUSAND TASTE POWER!?!? HAZARD HAZARD RED RED RED RED RED RED RED





JAY USED SLASH!

You know...I never thought of it that way.

STRIKE ROLL: 13! (HIT!)
DAMAGE ROLL: 5, 6, 7, 17, 20, 18, 18, 17, 9, 14 (10 DAMAGE!)




CASU MARZOIL:
........dude..................