>ASK A FING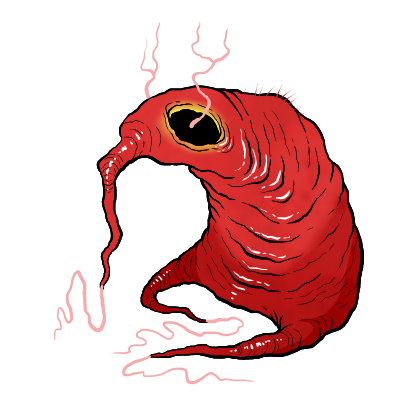 >Ask the little red thing who he is

U:

HWWWAUUUGHHHHLLLGGG!!!???




A OTHER OTHER:

Hhhhh. It's Jerry, not that it matters to your kind.



>Ask what's wrong

U:

AWGWAGGGAUGHHHAGH!!!




IT JAREY:

Oh, nothing new, just the same old fleshmaze slithering through the same old perception range, same old empty Parliament promises, same old all-encompassing pointlessness to existence.



>Ask about the Parliament

U:

HOOBLOOOGH UGWUMMNGGUKK!!




IT JAREY:

Yeah, I don't blame you for tuning out the blowhard back there...




...YOU KNOW I CAN HEAR YOU!





...but same old story short, they're what remains of The Old Flesh, and they like to think they're the ones running the show around here. I suppose that's close enough to the truth, but mostly they just do a whole lot of yelling about a whole lot of nothing. Who even cares anymore? They never deliver. I'm still a thing. You're still a thing. Everything is still a bloody tedious thing so much. Ugh.


>Ask if it has seen the Mean Blue Man or the Nice Green Lady

U:

MMMEEEGGHHHHHBLEGHHHMEMMMM!!




IT JAREY:

I've seen a lotta things, kid. Things I cared enough about to remember? That's another story. Only good thing is a no-thing, you know.

You really wanna see things so bad for some reason, you're gonna want the gazing blisters, first door on your left.


>Ask about slobs

U:

SSHHHHHLLLBBBBBGGG GLLLG GLLLLLG???




IT JAREY:

All I know is you things shamble through here every so many layers and bombard me with stupid questions. I'm sure you'll run into another one sooner or later, maybe you can trade stupid question ideas and come bother me again.


>Ask about the doors

U:

ADWOOGHS IHGGG GREEAAGH?!




IT JAREY:

Like I said, first one's an observation cavity; you can check the blister feeds for your bluemorms or whatever. Middle door's a resource cavity if you're looking to fill out your inventory bladders, and to my left is this sector's drip library, though your siblings have sucked most of it dry.

Not even sure what they thought they were looking for, it's not like you have a whole lot going on upstairs... with or without a sphere full of buzzers. Poor schmucks. Just another damned thing we all have to accept being, I guess. Ghastly.



DORE:

...We can introduce ourselves, Jerry!

Anything you need, sweetie, just shlorp on in. We don't mind!