>USE THE BANK, INQUIRE ABOUT ITEMS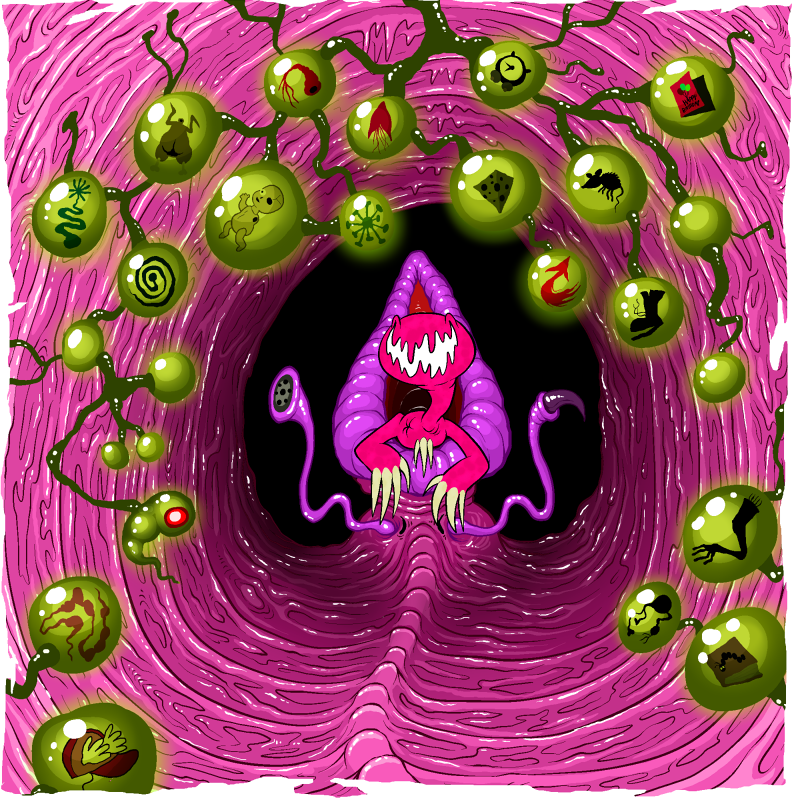 ZZZZ ZZ Z ZZ:

...EXTRACTING WASTE MATERIALS...RAKING IMPURITIES...CRYSTALLIZING...CRYSTALLIZING...CONGRATULATIONS, YOUR WASTE CHANNEL HAS BEEN ESTABLISHED. YOUR NET WASTE VALUE IS 402 EXCRETION CRYSTALS.



IT BUBLUB:

PLEASE ATTUNE YOUR VIBROPITS AND/OR OLFACTORY CILIA TO OUR PRODUCT CATALOG AT YOUR LIESURE.



MANIPULATORY APPENDAGE: 100EXC

DEXTROUS FLESH PROTRUBERANCE FOR NON-DESTRUCTIVE MATERIAL INTERACTIONS.



NAVIGATIONAL MEMBRANE SHARD: 44EXC

CEREBRAL IMPLANTATION ZEROES IN ON DIRECTION OF DESIRED CONCEPTUAL MANIFESTATION.



FLUNCHENATING BLIB: 17EXC

ESSENTIAL TOOL FOR THE SIMULATION OF BLIB FLUNCHEONS.



IMAGED PULP FLAP: 100EXC

PRIMITIVE, INDIRECT COMMUNICATION TOOL FOR SPREADING THE GLORY OF THE OLD FLSH TO THE MOST UNDERDEVELOPED GREYSPAWN.



FUNCTION UNKNOWN: 1EXC

FUNCTION THEORY: MODULAR CRANIAL EXOSHELL FOR GREY RANGE ORGANISM, POSSIBLY "DACK."



FUNCTION UNKNOWN: 1EXC

RESEMBLES STREAMLINED PULP FLAP. FUNCTION THEORY: IMITATION PULP FLAP TO DISTRACT PREDATORY GREY ROAMERS.



UNKNOWN FUNCTION: 1EXC

ODOROUS ORGANIC MASS, HOMOGENEOUS MATRIX. FUNCTION THEORY: GREY ZONE WEAPON.



INERT CORPUS: 1EXC

CORPUS OF UNIDENTIFIED BIOFORM. NONFUNCTIONATE.



UNKNOWN FUNCTION: 1EXC

REVOLTING NONFLESH MATTERCLOT. SCREAMS INTERMITTENTLY. FUNCTION THEORY: INTERROGATION MECHANISM.



INORGANIC EFFIGY: 1EXC

OBJECT EXHIBITS BARBARIC MIMICRY OF UNKNOWN FLESHFORM. FUNCTION THEORY: EMPLOYED BY GREY BIOMORPHS TO LURE SIMPLE-MINDED PREY.



FLEP: 81EXC

DELICIOUS FLEP ESSENTIAL FOR CRUSTENATING A PLOOB SHLOID. ENHANCES THREAT CAPACITY IN VIOLENT CONFRONTATIONS.



GREB LEBLER: 44EXC

THE FLAVOR AND NUTRIENT OFFERINGS OF A SLEB LEBLER WITH ONLY HALF THE GLARTCH.



UNKNOWN FUNCTION: 1EXC

INORGANIC FLEXIBLE DOME COLLIDES ANTERIOR PROTRUBERANCES WITH MANIPULATION OF FLAGELLUM. RADIATES IMPORTANCE. FUNCTION THEORY: RITUALISTIC ITEM.



INK SAC: 100EXC

PHYSIOLOGICAL AUGMENTATION ENABLES EMERGENCY EXPULSION OF OPAQUE FLUID AND RETREAT FROM HOSTILE BIOFORMS.



INFOID LARVUS: 97EXC

CEREBRAL SYMBIONT PROVIDES INFORMATIONAL ASSISTANCE. SLIGHTLY USED, ESTIMATED 75% FUNCTIONAL CAPACITY.



OOLD POLLEP: 55EXC

BIOMATRIX GERMINATION NODE INITIATES IMMEDIATE RECONSTITUTION ON LOSS OF BIOFUNCTIONALITY.



INERT CORPUS: 1EXC

COVERED IN A FIBROUS KERATIN LAYER. BELIEVED TO REPRESENT INTERMEDIATE STAGE BETWEEN GREYMORPH "BABBY" AND "ADALT."



SWARL CLISTER: 87EXC

DELICIOUS CLISTER EXUDES SWARL FLAVORING. NOT FOR OTTOMAN CONSUMPTION: EXTREME VOLATILITY PREDICTED.