>TALK A FING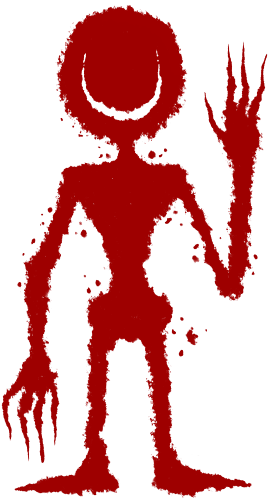 >That's Bloodstain! Tell bloodstain you made friends with the biobag.

U:

FRMBBREBB EPF BWAGHHAGH!



IT BLODE STAN:

Huh, whaddaya know? Weren't 'spectin ya t'actually answer, given mosta yer' kin. Intrestin' dialect, that!


>Ask if Bloodstain is aware of the strange things in Bloodstain's room.

U:

GGHHHHOOOOM FENGGGH??



IT BLODE STAN:

Can't say I am, reckon 'yer sorts can perceive some danged intrestin' layers!


>Ask if Bloodstain has ever heard of the parliament at all.

U:

HERBLE PLAMAMANAMAMNANTCH?



IT BLODE STAN:

Parliament? Parliament...heard some whisperin's, sure, not so much the details.


>Ask if Bloodstain knows where the good green lady is.

U:

GREHMM LERKTCH EGGHEGK HURGH?



IT BLODE STAN:

Ain't the foggiest, sorry! Not that I'd share anyone's whatabouts with a stranger were I even privy, a'course. Nut'n personal, y'know, just courtseous!


>Ask if Bloodstain knows about the mean blue man.

U:

EMMMMBLEHMEMS?



IT BLODE STAN:

....Aw, TICKS, that rotten clot's still a-prowlin'!? Listen, if ya do catch up to lil' green miss, and ya' ain't tryn'a unexist'er, you tell 'er ta stay the heck away from that one. Shoulda been patched up and dumped back where he came from by now...but the docs keep forgettin' what they oughtn'ta, right?

Course, sometimes they remember what they oughtn'ta. Lotta bad juice around the hospital a'sudden.

Place might not be long 'fer the range...


>Ask what Bloodstain knows about the other doctors and patients.

U:

WHAGHWOWF ABWAGHH DORKKDORMMMFWEMPS???



IT BLODE STAN:

Mmmm, welp, if I were one'a you sort I'd stay outta the doc's way, any doc, ya ain't 'zactly spos'da be here. As 'fer my fella' patients, ain't sure they'd be any help to ya neither. Some're gettin' sicker n'sicker n'they ain't really all there upstairs. Awful lucky I'm functionin' so flawlesslike myself, otherwise a hoop crably with a sideways ingestion, know what I mean?


>Ask if Bloodstain can read your book for you.

U:

UHZZUH CREEBD ABBWEKTH?



IT BLODE STAN:

...Aw, shucks, sure can do lil' tater!