>AKS ABOUT THING
OK OK WHAT IS THING???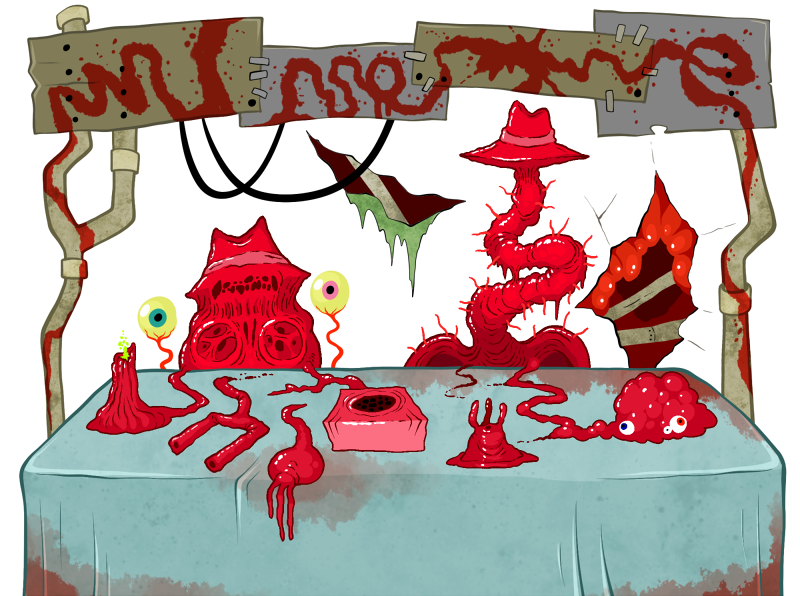 ???:

AHAAA! What a TRULY a perceptive customer to notice that, YES, we do indeed have EXCELLENT GOODS AVAILABLE FOR IMMEDIATE PURCHASE! And like ALL beings of the n-wait, have I been saying new? The REAL flesh, right?! Like all beings of THE REALM OF THE REAL FLESH, we accept payment in the form of waste credit, total meat weight and EVEN equivalent trade! My, what a FINE layer to ALL be AUTHENTIC entities of the FANTASTULOUS PARLIAMART'S realm of the RIGHT FLESH!!!! WOULDN'T you AGREE!?!


???:

Nyerrrrherherherherherher



???:

YES!!! OF COURSE!!! BOTH OF US ARE TRUSTWORTHY INDIVIDUALS! As you can see, friend, my compatriot here is VERY observant and correct! Much like your own BRILLIANT self!

And for a limited range only, we're currently stocking such EXCELLENT object matters as:


THE, UH, UHHHH....SKWUUNG!:

YES, FOLKS! THE SWUUNG! AN ASTOUNDING MARVEL OF MODERN FLESHNOLOGY, capable of...FEATS!!!!


A, ER??? OH! OBBLER!:

WHEREVER would fleshkin be without the helping hand of OBBLER!?!? Render yourself ALL BUT INVISIBLE to entities of the non-flesh for an ENTIRE layer, ALMOST ALWAYS!


THIS ONE IS A...AN...EEVLORP!:

YEAH, THAT'S RIGHT, AN EEVLORP!!! Tired of NOT knowing what BEINGS OF THE PRIOR FLESH are cognitating!? Well, now, you can KNOW THAT VERY THING!!!


THIS IS CALLED A FLORMGER:

And that's ALWAYS been a REAL THING, LADIES AND GENTLEMEN! With the incredible, inedible FLORMGER, a being of the flesh can immediately detect what is PROBABLY USUALLY the best or most interesting course of navigation! POSSIBLY guaranteed!


KWUUUUHHHHH....KWUNKUB!:

Sick of having to drag your matter ALL the WAY back to your previous spawnpoint!? With the KWUNKUB, you can SQUIRT YOUR MATTER strrrrraight back to where it last recongealed with A POSITIVE DEGREE of RELIABILITY!!!


THE INCREDIBLE BLUNGUS:

Oh, the BLUNGUS! WhyEVER would you leave your hometubes without it!? Well, you NEVER COULD until our INNOVATIVE PORTABLE BLUNGUS! NOW YOU CAN BLUNGUS ON THE GO!


???:

....aaaaaaaAAAND DID I MENTION that for a LIMITED TIME, these amazing indispensable one-of-a-kind items we have DEFINITELY and THOROUGHLY tested are available for the LOW, LOOOOOOOOW PRICE of ONLY ONE, YES, A MERE TRIFLING ONE thousand WASTE CREDITS or ANY SINGLE ITEM TRADE! ONE TRADE PER CUSTOMER!!!

DON'T let the deal of a fleshtime slip you by! ONLY entities of THE REALM OF THE BEST FLESH are even capable of PERCEIVING such FLESH-DROPPING DEALS!!!!