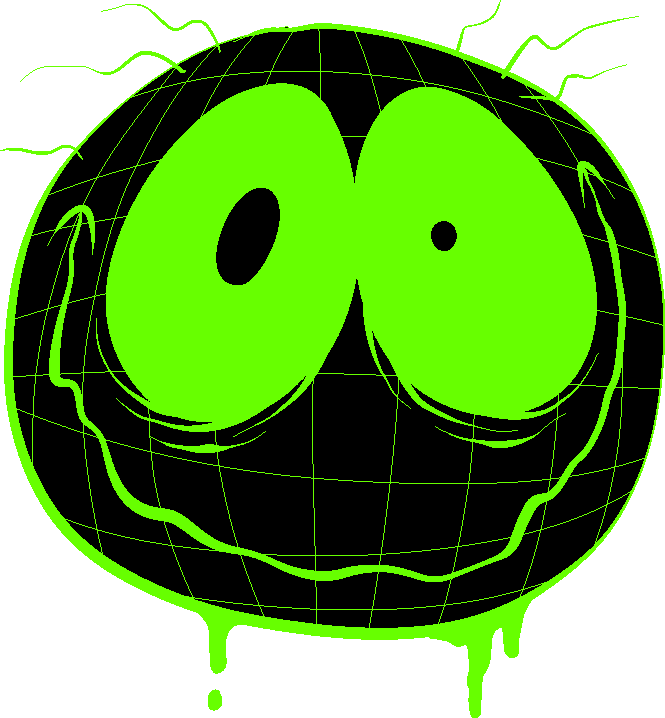 CRASH:

I'LL TAKE YOUR INEFFECTUAL PANIC AND CONFUSION AS A "SURE, YES, CRASH, WE WILL GLADLY LISTEN," SO, LET ME TRY AND EXPLAIN SOME THINGS IN TERMS YOUR TINY HEADMEATS CAN FAINTLY PRETEND TO GRASP: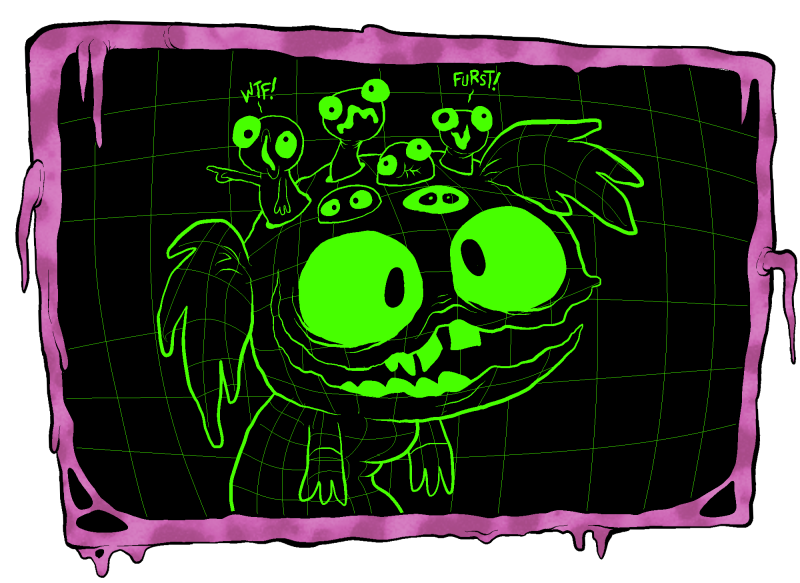 CRASH:

THIS IS FERN. FERN'S EXISTOSPHERE IS SO HORRIBLY CONTAMINATED THAT JUST ABOUT ANYTHING CAN GET IN, LIKE YOU, AND YOU KEEP BORING SO MANY HOLES IN THE POOR GAL'S CONCEPTUAL PARAMETERS THAT EVEN BIGGER THINGS CAN GET IN, LIKE ME. THANKS FOR BEING DUMB ENOUGH TO COMMUNICATE WITH ME DIRECTLY BY THE WAY, IT'S LIKE YOU OPENED YOUR BACK DOOR TO SCREAM AT ME AND DIDN'T EVEN KNOW HOW TO CLOSE IT. ADORABLE.

I'VE BEEN RIDING ALONG WITH YOU EVER SINCE. AT LEAST, PART OF ME HAS. NOBODY YOU KNOW, OF COURSE, I'VE KEPT QUIET, BUT I'VE HAD AWFUL EASIER ACCESS TO ANOTHER BEING'S PERCEPTUAL STREAM THAN SHOULD EVER BE POSSIBLE, SO AGAIN, I MUST EXTEND MY SINCEREST GRATITUDE FOR YOUR CATASTROPHIC IGNORANCE OF HOW THESE VERY BASIC THINGS WORK.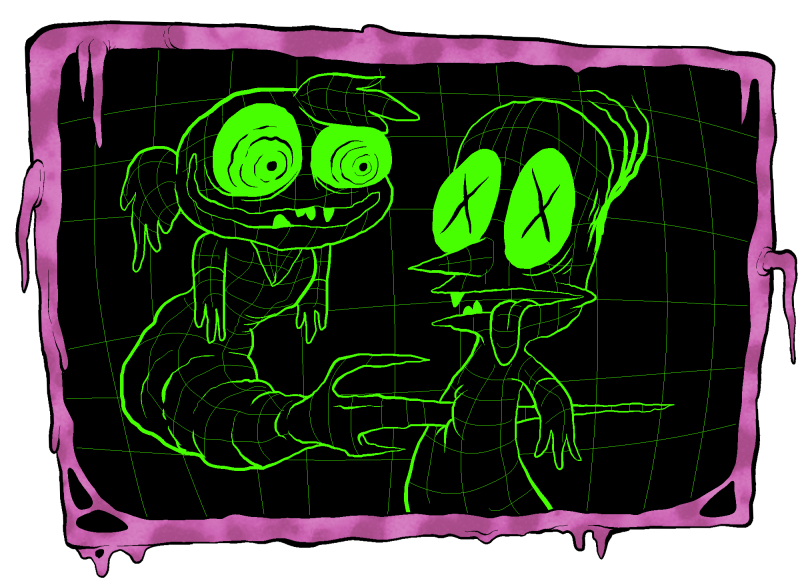 CRASH:

THIS IS FERN AND HER BESTEST BOSOM BUDDY JAY. JAY'S INNER LAYERS WEREN'T SO EASY TO PROBE, BUT ONCE I HAD YOU GUYS, I ONLY NEEDED OUR VESSEL TO COMPROMISE JAY'S BIOSTABILITY AND LEAK US INTO HIS SPHERE. MY ASTRONOMICAL BRILLIANCE COMBINED WITH YOUR KNEE-JERK BLOODLUST PRETTY MUCH TURNED US INTO A FAIRLY NASTY INFECTION AND THE LITTLE LADY INTO ONE BIG DIRTY HYPODERMIC.

YA LIKE RIDING AROUND IN THAT STUPID, BLUE HEAD FOR A WHILE? I SURE DID.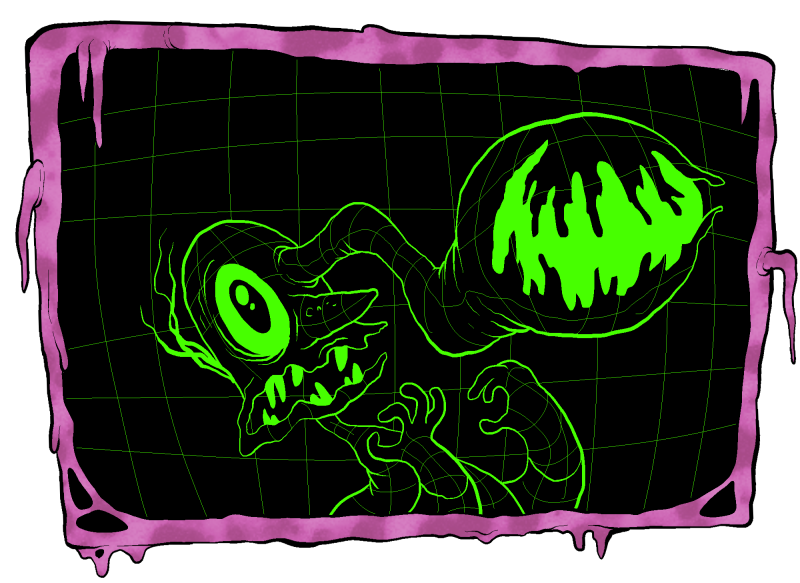 CRASH:

OOH, THIS IS MY FAVORITE PART. THE PART WHERE HIS EYE EXPLODED. NOT JUST BECAUSE I GOT TO WATCH WHILE HIS EYE EXPLODED, MIND YOU. AS YOU KNOW, WE ALL GOT FRONT-ROW SEATS TO THE INNER WORKINGS OF THAT THERE "OLD FLESH," WHICH BRINGS US TO THE REAL POINT OF ALL THIS.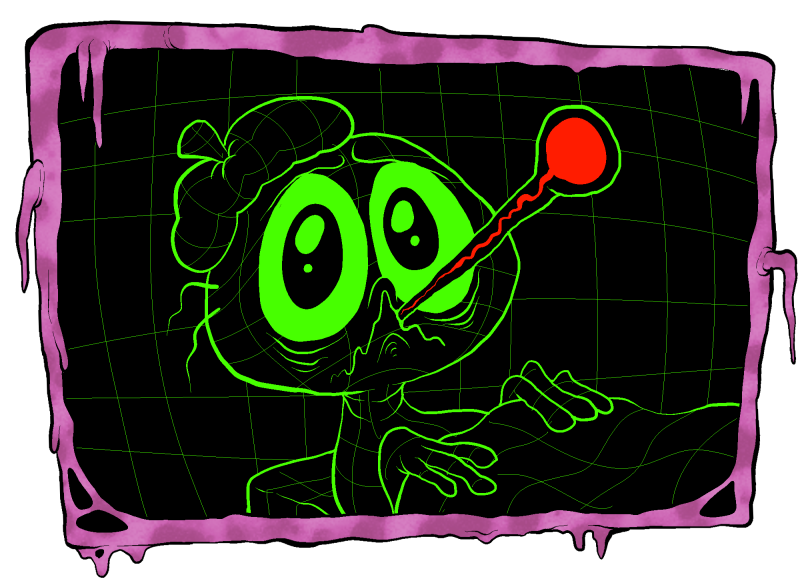 CRASH:

...YER OL' PAL, YER OL' CHUM, THAT PRECOCIOUS RASCAL CRASH, WELL, HE'S BEEN...*HACK*...HE'S BEEN SICK. REAL SICK. AND I DON'T JUST MEAN THE LOVABLE ANTICS YOU ALL FELL IN LOVE WITH.

IT SHOULDN'T EVEN BE POSSIBLE FOR THE SAME ILLNESS TO ACHIEVE CROSS-CONCEPTUAL-CONTAMINATION THIS ABSOLUTE, BUT IT LOOKS LIKE THOSE PARLIAMENT CHUCKLENUGGETS FOUND A WAY. CAN YOU EVEN BEGIN TO GRASP HOW POSITIVELY NUTSO THAT IS?

RHETORICAL QUESTION. OF COURSE YOU DON'T, YOU HALF-BRAINLESS VERMIN.

...BUT, TO DESCRIBE IT IN WORDS YOU MIGHT FIND SUITABLY ALARMING, IMAGINE IF YOU COULD "CATCH" AN AGGRESSIVE CANCER AS EASILY AS YOUR "COMMON COLDS."

GOT THAT? GOOD, NOW IMAGINE IF YOU COULD CATCH IT JUST AS EASILY FROM YOUR NEIGHBORS, A PINEAPPLE, A PICNIC TABLE OR THE SOUND OF A TROMBONE. THAT'S WHAT WE'RE DEALING WITH HERE. AT LEAST, THAT'S WHAT THE PARLIAMENT'S SHOOTING FOR. THE OMNIVIRUS. THE ALPHA MALADY. THE HOSPITAL IS THEIR PETRI DISH.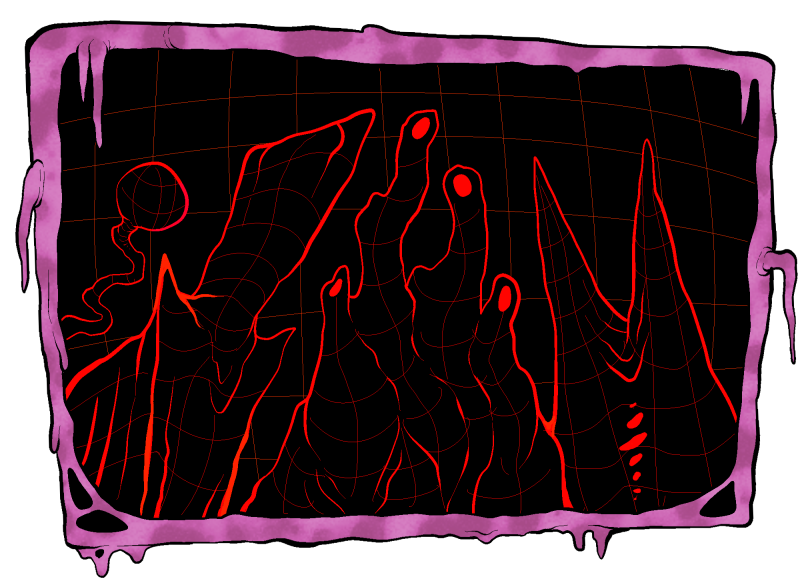 CRASH:

SO, LEMME LET YOU IN ON SOMETHING: THE PARLIAMENT SCARES THE EVERLOVING BAZONGUS OUTTA ME. I'M BIG ENOUGH TO ADMIT THAT ONLY BECAUSE I KNOW IT WILL SCARE YOU SO MUCH WORSE, IF YOU KNOW WHAT'S GOOD FOR YOU.

NEEDLESS TO SAY, I NEED OUT, BY WHICH I MEAN OUT OF EVERYTHING. OUT OF EXISTENCE. NO BIGGIE, I'VE SEEN IT ALL BY NOW, AND I DON'T INTEND TO COLLAPSE INTO AN IDIOT SINGULARITY WITH IT. YOU HAVE FUN WITH THAT.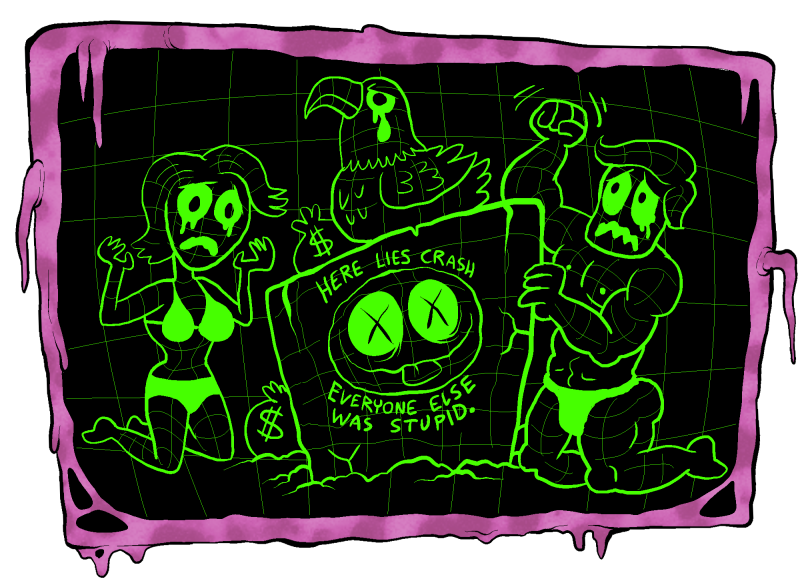 CRASH:

....I KNOW, I KNOW, YOU LOVE ME SO MUCH I HARDLY EVEN HAD TO ASK THAT FAVOR, BUT I WOULDN'T HAVE TO TURN TO YOU THINGS IF THERE WASN'T A CATCH. I'M AN INTEGRAL SYSTEM OF THE HOSPITAL, Y'KNOW. IF I GO DOWN, IT GOES DOWN, AND VICE-VERSA. "PLAN A" WAS TO PICK OFF THE STAFF UNTIL THE PLACE COULDN'T SUSTAIN ITSELF, BUT THAT WAS A LONG SHOT AT BEST.

THE ONLY ALTERNATIVE IS A TOTAL CONCEPTUAL TRANSPLANTATION. THAT IS, MY CORE WOULD HAVE TO BE EXCISED FOR SOMEONE ELSE'S CORE TO BE PLUGGED IN. SOMEONE ELSE WOULD HAVE TO BECOME THE NEW COMPUTER SYSTEM.

THE HOSPITAL'S TOO CHICKEN TO RISK A PROCEDURE THAT MIGHT COLLAPSE THEIR OWN EXISTENCE AND TOO "ETHICAL" TO DUMP SOMEONE ELSE IN A SICK BODY EITHER WAY, SO, YOU'RE GONNA DO IT. YOU'RE GONNA USE THAT SHINY I.D. CARD TO APPROVE THE PROCEDURE ON THE DOWNLOW, LINE UP SOME SUCKER TO FILL MY SHOES, AND FIND A WAY FOR GREENBEAN TO DO THE PROCEDURE. WORST CASE SCENARIO, I BITE IT MID-OPERATION AND TAKE YOU ALL DOWN WITH ME. PRETTY WIN/WIN/WIN FROM WHERE I'M SITTING.

ANY QUESTIONS?