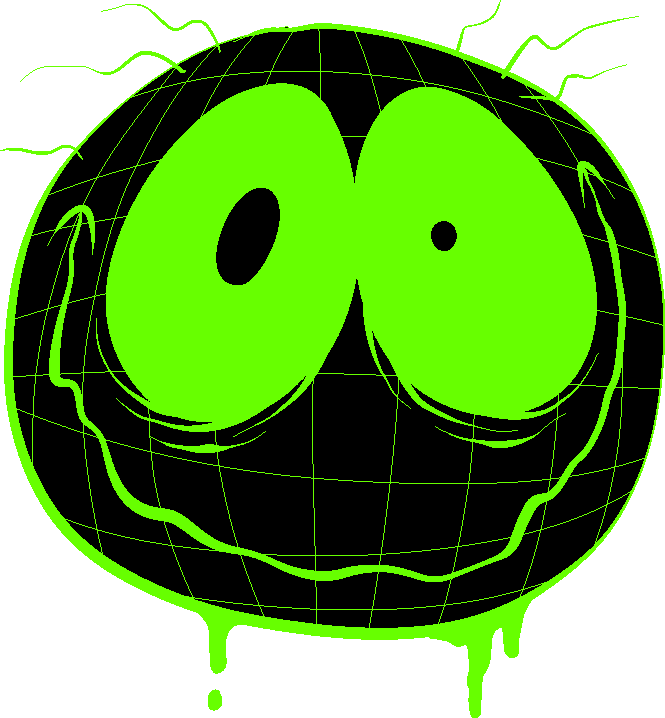 >What happens if we refuse to help you?

CRASH:

JAYJAY GETS UNFROZEN FIRST AND KNOCKS 'ER BLOCK OFF, OBVIOUSLY. HE'S IN THE MIDDLE OF A GOOOOD SWING RIGHT NOW, I TOLD HIM THIS MIGHT BE HIS ONLY SHOT WHILE SHE'S "NAPPING." HE'S PUT DOWN SOME DAMN TOUGHER SLOBS THAN THE EYEBALL KID, TOO; HE'LL BURY THEM BOTH AND YOU'LL HAVE NOTHING ELSE TO DO BUT WATCH THEM ROT FOR THE NEXT THOUSAND LAYERS.



>And if we DO go along with all this?

CRASH:

I PUT YOU BACK IN THE LIMA BEAN, I LET HER GO IN ONE PIECE, AND I GET OUT OF YOUR HAIR FOR GOOD. EVERYBODY WINS.

IN FACT, LEMME SWEETEN THE DEAL: BEFORE I FIZZLE OUT COMPLETELY, I'LL LEAVE IT UP TO YOU WHAT WE DO WITH THE BLOOFUS. OBVIOUSLY I DON'T NEED HIM ANYMORE.



>How exactly do we find your replacement? What will really happen to them?

CRASH:

I DON'T CARE! c:



>Are we supposed to put you in their body?

CRASH:

UGH, NO. JUST PULL MY CORE OUT AND LET IT DIE. I TOLD YOU, I AIN'T STICKING AROUND AND YOU CAN'T MAKE ME.



>Where is Doctor Tori right now?

CRASH:

BOOKED SOLID IN THE CRITICAL PROCEDURE PIT, HOPELESSLY HACKING AWAY AT A CERTAIN PATIENT OF INTEREST. SHE'S PRETTY MUCH RUNNING ON AUTOPILOT, EVEN HER BIG OL' EYEBALLS ARE OPERATING BY INDEPENDENT INSTINCT AT THIS POINT.



>So what's Fern supposed to do, exactly? She's, uh, not exactly trained in surgical procedures, as far as we know.

CRASH:

IT MAY BE AN EXTRAORDINARILY DANGEROUS OPERATION, BUT THAT DON'T MEAN IT'S ACTUALLY HARD. IT'S PRETTY MUCH LIKE CHANGING A REALLY BIG BATTERY.

SHE WON'T EVEN HAVE TO DO IT HERSELF. "TORI" CAN JUST GIVE THE ORDERS.



>Are they really going to believe Fern is Tori?

CRASH:

OH, DON'T WORRY, I WHITTLED HER STAFF DOWN TO ONLY THE DUMBEST OF THE STUPIDEST. THEY'RE INFINITELY MORE LIKELY TO BOTCH THE OPERATION ANYWAY THAN REALIZE THEY'VE BEEN DUPED.



>...You're not worried about that?

CRASH:

ALL I WANT IS TO NOT BE A THING ANYMORE. I GET THAT EITHER WAY. YOU'RE LUCKY I'M NICE ENOUGH TO OFFER ANY VERSION YOU MIGHT GET TO WALK AWAY FROM.



>So what do we tell Fern, exactly?

CRASH:

YOU LEAVE THAT TO ME, BUT YOU'D BETTER PLAY ALONG ONCE YOU'RE BACK IN HER SKULL. NOW THAT I'VE BEEN IN THERE MYSELF - AND THANKS AGAIN FOR MAKING THAT POSSIBLE - I CAN ALWAYS FREEZE HER UP AGAIN, AND TRUST ME, YOU REALLY REALLY WOULDN'T LIKE MY PLANS "C" THROUGH "Z."



>...And where, exactly, would we start?

CRASH:

TORI'S OFFICE IS JUST UPSTAIRS, THE RED DOOR WITH ONE OF HER FAT PEEPERS ON IT. WITH THE CENTRAL TORI KEEPING SO BUSY, FERN SHOULD BE ABLE TO WALTZ RIGHT IN WITH THAT CARD IN HER HAND, SO LONG AS THE EYE DOESN'T ACTUALLY SEE FERN TAKE THE CARD OUT. PRETTY SURE I EXPLAINED THAT BEFORE.

ONCE YOU'RE IN, YOU'LL NEED TO APPROVE THE PROCEDURE WITH TORI'S PERSONAL STAMP, WHICH OUGHTA BE IN HER DESK. I'VE GOT NO MONITORS IN THERE - SHE LIKES A "LOW TECH" OFFICE SPACE, GROSS, I KNOW - BUT THE ONLY POTENTIAL OCCUPANT WOULD BE EASY ENOUGH TO DEAL WITH. YOU CAN BASICALLY JUST STEP ON HIM.

ONCE SHE'S DONE THE PAPERWORK, SHE'LL NEED TO COME BACK DOWN TO THE SURGICAL FLOOR, RIGHT ACROSS FROM US, AND PULL SOME MORE CARD TRICKS. REMEMBER SHE CAN ONLY GO THREE PAGES LAYERS IN A ROW WITH THAT THING BEFORE SHE TAKES A BREATHER, PREFERABLY OUT OF SIGHT. ANY OTHER DETAILS ARE YOUR PROBLEM. YOU'VE MANAGED SO FAR, HAVEN'T YOU? HAH.



>Are we on a time limit?

CRASH:

NO, OF COURSE NOT, TIME IS YOUR IMAGINATION. YOU'RE ON AN EXTREMELY TIGHT LAYER LIMIT AND THAT'S COMPLETELY DIFFERENT FROM EVERYONE'S PERCEPTION BUT YOURS. TRAGIC, REALLY.

...I SUPPOSE I CAN GIVE YOU A FEW LAYERS TO DINK AROUND IN. HEY, WHILE YOU KNOW WHERE HE IS, WHY DON'T YOU POKE AROUND THE JAY-CAVE? MIGHT PUT A THING OR TWO IN PERSPECTIVE FOR YA ;)



>Is Anime Real?

CRASH:

ONLY THE ONE YOU HATE MOST ^wO