>Talk to Willis.
Wait...how did you know his name was "Willis?" Is it the things in your head or is it the card you're holding? You don't know how to measure a "layer" but you were told you shouldn't hold the card for longer than three of them...and it looks like you're not fooling this little guy anyway.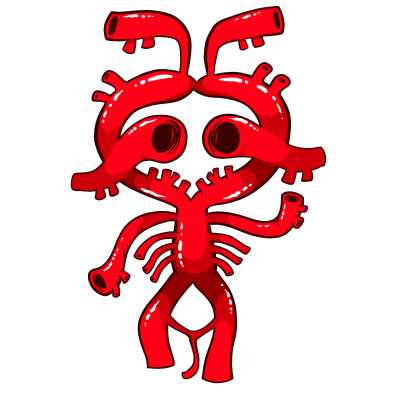 FERN:

...Um...I'm sorry....No, I'm not your mom. I am a mom, I mean, but....er...Willis, right?




WILLIS:

Oh, hey, you know my name and I have no idea who you are. That isn't creepy at all.




FERN:

Oh, gosh, I'm sorry! That's really rude of me! My name is FERN. I'm a PATIENT here, at the hospital, where your mom works. There is something very important that I need in this office, just some papers, and then I'll go.




WILLIS:

Lady, I'm six and a half spiralings, you don't have to talk to me like a dummy.




FERN:

...Okay, sorry, but if it makes you feel better, I guarantee I'm the biggest dummy here.




WILLIS:

You're funny.




FERN:

So it's okay if I just look for those papers?




WILLIS:

Aw, heck no, you don't wanna know what they'd do if they found out. I just don't really care is all.




FERN:

Err......oh....thanks?




WILLIS:

Mm. What are you doing, anyway?




FERN:

Um...it's...complicated.

...And...I guess I don't actually know.




WILLIS:

...Huh, maybe you are mom.




FERN:

That doesn't sound like a very nice thing to say, Willis.




WILLIS:

You haven't met her, have you?




FERN:

Well, no, not...formally.

But as far as I know, I might not even be here without her. She seems to be working very hard.




WILLIS:

Yeah. I know. It's all she cares about.




FERN:

...I'm sorry...I'm sure it's just because the Hospital is so...




WILLIS:

Messed up. Yeah. Real messed up. They don't even know.




FERN:

...Don't know what?




WILLIS:

...A lot.

...You'd listen???



You've gotten so used to so many strange things, haven't you? The tiny being feels like any human child you might talk to back home...but that's exactly what's setting off some serious alarm bells.

...And not because of Willis, either.



FERN:

Well...I would like to, because I need to know all I can about this place, but... Willis, I am a strange grownup to you, and if I were your mother, I'd be very, VERY upset. It's really very wrong of me to be talking to you this way, and you should never feel like you have to talk back to anybody you don't know and trust.

Please be more careful, Willis. Even I say I'm not, you can't know if I'm dangerous.




WILLIS:

Sure I can. You don't pulse like the blue guy at all.




FERN:

The blue g-you met him?!




WILLIS:

Met him? I drank him and he cried like a squeendj!




FERN:

You, er, what now?




WILLIS:

You thingys sure don't got a lotta blood.

Or is it just the blue ones?

You have way bigger parts. Do you have more blood, Fern??




FERN:

Um...no. I don't.

...You know what, I actually have a LOT of questions.