...Too late to back out. At least, you're pretty sure it is.

You hand the papers to the weird, talking surgical scissors...how are they holding them? You're surprised you still care about these questions, but you do.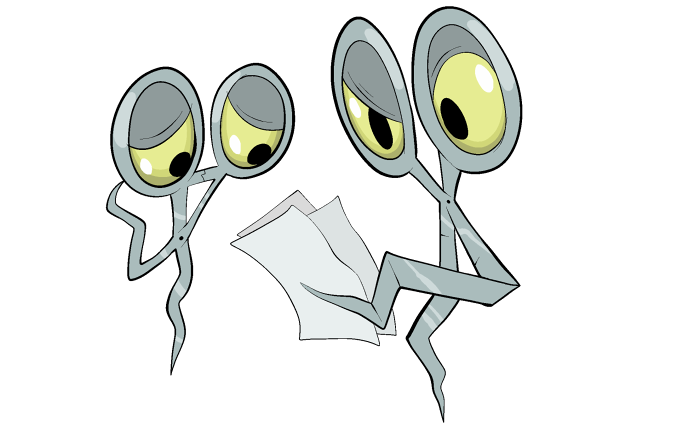 SCISSIE:

Hmmmmmm......HMMMMMMMMM ......huh..... Uh???? ......MMMMHMMMM!!!!




SCISSANE:

...Bit...peculiar... isn't it?




FERN:

.....P...Peculiar?




SCISSIE:

Say, yeah!....

Just who IS this ...."Crash"....character?




LIGHTS:

...The computer system, Scissie. You know, the one you never learned to use right.




SCISSANE:

....Sh...she can use it...she just doesn't need to.




SCISSIE:

RIGHT, right, I don't need help from some "commuter" just to chop a few appendages off! If he were critical to the Hospital, he'd already live here, right?




LIGHTS:

...comPUTER, Scissie, not "commuter."




SCISSIE:

Oh, what's the difference!?!

It's his business if he wants to croak himself.




FERN:

Wait....."croak?"




SCISSANE:

...He's specifically requesting no recipient vessel, right? Nothing comes back from that.




FERN:

Wait...really?




SCISSIE:

Errmmm, yes? I mean, you would most certainly most definitely know how your own system works, Miss Tori.




WILLIS:

Er, mom's...just testing you guys, you know how she is. Can you, uh, tell me how that stuff works really simple-like?




SCISSIE:

OH! Right, right! Of course!!

WELL, Willis, when a perceptoid decides for whatever personal reasons that it doesn't want to be anymore, it can have its core separated completely from its perceptual vessels, effectively reverting it from an anchored, conceptualized exist-o-being to raw concept and ceasing to exist as a conscious entity on all continual layers throughout the zonal range.




WILLIS:

...HUH!??

Why would somebody do that??




SCISSANE:

It's not for us to judge, Willis. Sometimes...someone just doesn't enjoy being. It's their choice.

I mean...if I didn't have Scissie...




SCISSIE:

...Focus, Sciz, Tori said no more distractions.




SCISSANE:

R-right...




SCISSIE:

...So, I'm sure you know, Miss Tori, in accordance with your own procedures and whatnot, that you can override a one-way core extraction should you personally deem a patient unfit to have made this particular choice for itself.




FERN:

Annnnd...er...do I usually do that?




SCISSIE:

...You consider the procedure itself gravely unethical...but not as gravely as defying a patient's autonomy.

Under unusual circumstances, of course, you can always authorize a schroding.




WILLIS:

Oh, yeah, mom here knows exactly what that is...but I don't!!!!




SCISSIE:

Hah, children! Well, Willis, a schroding is when we just aren't really sure what to do with a patient as of yet, so we schrode it off to a hypothetical zone where it can simultaneously exist and not exist is a paraconceptual state of being.

If your mom decides, say, that we should hold off on fulfilling this "Crash" guy's request until it can undergo full evaluation by the medicouncil, then the operation can be quasi-completed and left essentially reversible.




FERN:

Okay...maybe w...maybe we...uh...



A wave of nausea rips through your body as the stolen identification card - the reason they believe you're Doctor Circula Tori - THROBS in your hand.

How many "consecutive layers" is that now? Two? You don't even know how to measure this. You're going to have to trust your...whatever they are, in your head. Your core. Whatever.