>Check on Willis.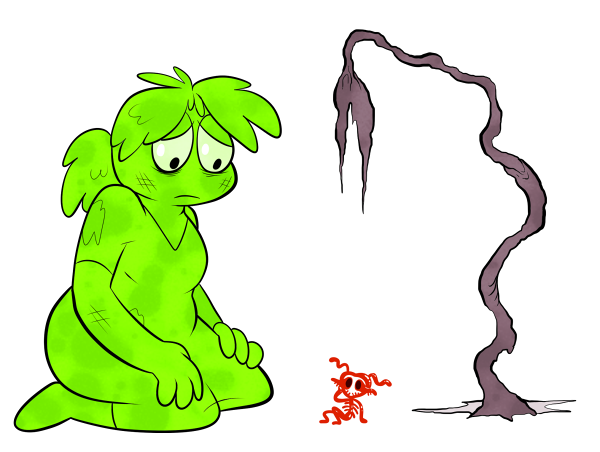 You hear the tiny, wet "plop" of Willis as the remains of Crash - and the titanic thing that was once Jay - rapidly shrink and gray, like a flower wilting on fast-forward.


FERN:

Hey...you okay?




WILLIS:

Y-yeah...pretty scary though.

And sad...




FERN:

Yeah...maybe sometime we'll be able to help Crash, like everybody else.




WILLIS:

He was always mean, but...I think he was just scared. I remember being scared when I was that little...I remember when he was new.




FERN:

...W-wait? "That little?" N...newer than you?




WILLIS:

He hasn't been around a lot of layers. The "high ups" mom complains about sent him, but none of the doctors really liked having a computoid.

Maybe if I played with him he wouldn't have been mad all the time...but he scared me a lot.

...Am I a bad person?




FERN:

.....No, Willis......you couldn't know what kind of help he needed, or even if anything could help at all. Some people can be mean, and it's true that sometimes it's because they've been hurt a lot and needed a friend, but you just never know that for sure. It's not your fault if you're afraid of them and don't know how to make them happy...it's most important that you be safe and take care of yourself too.

It was wrong of Crash to treat people that way, but it was also wrong that nobody was there to teach him right, or even listen to him when he got sick. The Parliament, or somebody, might be sabotaging the whole hospital.




WILLIS:

...Can we stop them?




FERN:

...We'll try.




WILLIS:

...o..okay.

...I think I smell them finishing up.

You better get mom's card again.