>Give Them the Card, Continue Conversation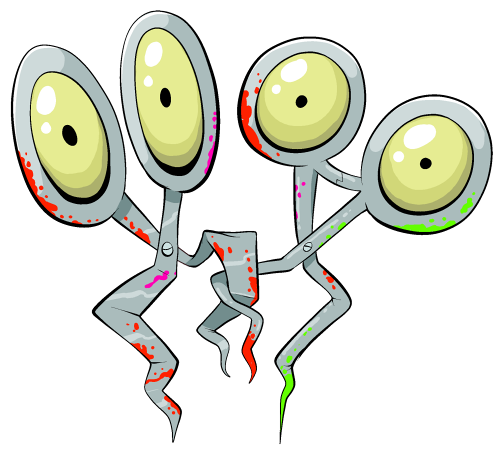 So they saw through your disguise all along...and pretty much used you. You can't be too upset, considering you were more or less doing the same.

ITEM RELINQUISHED: TORI'S IDENTIFICATION CARD

They've asked for it back, and you're in no position to argue...




WILLIS:

...I'm sorry, Fern. I really thought it would work!




SCISSIE:

Oh, sure, it might have worked on some other set of snippers, maybe on Scissane or myself all alone, but together...we're hardly dull enough to confuse our own boss with our best patient!




FERN:

Your...what now?




SCISSANE:

We told you, we've been practicing this sort of thing! No way could we pull off a transfer this delicate if not for you!




SCISSIE:

Oh yes, we can't thank you enough for all that imaginative dying of yours!




FERN:

...Wait...

You? You're the ones who keep..."fixing" me?




SCISSIE:

No charge, of course, it's the least we can do!




FERN:

Um, thanks...

...So... were you the ones fixing Jay, too?




SCISSIE:

Eh?




FERN:

Jay kept...changing. He'd turn into this red thing, and then he'd wake up again, good as new, only to turn into another one. I guess there's a bunch of these things running around now that used to be...like...different versions of him?




SCISSIE:

That's...peculiar. We're the only ones assigned to recombobulation jobs this cycle, but we definitely never dealt with the Jay-Thing before. In fact, it didn't come with any surgical records.

...It had to be someone with surgical clearance, though.

You didn't see anything, Lucy?




LUCY:

Nobody's been surgering but you guys and Tori...at least not in any of my units.




FERN:

...Sounds strange...though pretty much everything around here is strange to me.

Is Jay..."safe"...where you put him? I mean, are they safe with Jay there? What about Crash?




SCISSIE:

Well, we did detect some conceptual abnormalities in those two, but no mechanism of contagion, so they shouldn't pose any hazard to anyone else so long as they're under containment. At least now we can resubmit them for official examination...once things have calmed down, at least.




FERN:

Right, about that... what DO you know about whatevers going on? We know some staff are missing, but I've heard from other patients that the hospital itself is "wrong" somehow, and Crash seemed almost terrified. This is kinda my first time here...as far as I know...so I'm not too hip to the details.




SCISSIE:

Well, to be honest, it's not our job to think too hard about these things, but some bizarre new existohazard is par for the course around here. We can't count how often the Hospital has scraped itself back from a quasi-meltdown by the skin of its tubes.

Granted, I can't recall deterioration of this magnitude, or the bosses ever this flustered, or the local rippleglimps ever thiiis gelatinated, but hey, first time for everything. We're either totally doomed or we're not...what else is new? At least the snack machines are working.




FERN:

I...ssseee...so you wouldn't know anything about this, uh, "parliament" would you? And what about this...maze thing that keeps growing? Crash said it was eating into the Hospital, swallowing rooms and stuff.




SCISSIE:

...Hng? Sorry, didn't catch any of that.




FERN:

...Some of the doors here, they just open into these...wooden halls. They apparently keep getting bigger, and Jay - or somebody - was stashing a lot of bodies in there...

I think it has something to do with something called "The Parliament."




SCISSIE:

Haha! You know it!




FERN:

...What?




SCISSIE:

What's what!? Listen, do you have any more questions, or are you just gonna keep standing there making weirdo sounds!?




WILLIS:

...Told you, Fern...the doctors only understand pieces...




SCISSANE:

Ha, kids! Where DO they get this stuff?!




FERN:

*sigh*...okay...just...what if I know where a lot of patient bodies, maybe some staff, are currently "buried?" What was that about bringing you samples?




SCISSANE:

Patients...are probably best left in stasis until the staff is in order. We'll be no help to them in our current state.

It's not your duty as a patient to help us with this, but, if you happen to run across any Staff biomaterials...we'll gladly take them off your hands.




FERN:

Alright, well, I've got one at least...




ITEM RELINQUISHED: CREEPY MONSTER FINGER






SCISSANE:

Oh, Cathy...that explains a few things.

We should have her up and running again soon enough, thanks for taking care of her. Any more you find, just talk to that new computer system you helped us install. He seems pretty happy already.




FERN:

Gotcha, glad he's doing alright. There's, uh...one more thing bothering me, before I forget...

...You say you're the ones who keep, uh, "recombobulating" me...but I thought for sure that was Tori?




SCISSIE:

Eh!? No offense, but you're not nearly high profile enough for Tori's attention at this point, not now that she's wrapped up in an ongoing XK operation with hypermorbid triple-S potential...yeesh!




FERN:

I...I don't know what any of that is.




SCISSIE:

Oh, you really didn't know! Well, you didn't hear this from us...but all this weirdo nastiness we've been talking about seems kinda like it's tied to some other little gray-zone thing! We dunno if it's the catalyst or just another symptom of whatever's got the eggheads so scrambled, but it's one NASTY case, for sure!




WILLIS:

Fern......is that-




FERN:

...Nobody, Willis...it's nobody.

H...how "nasty" are you talking here..I mean...I'm just curious...



...If they're talking about your son...this might be a rare opportunity to hear the straight truth...

SCISSIE:

Hoo boy, JUICY nasty! From what I've heard, it's demonstrating exponential autobranchination without an external trigger, sprouting abnomalous interzonal conduits faster than even Tori can hack 'em off! Can you imagine what would happen if that thing breached the biohorizon!?




SCISSANE:

Come on, Scissie...don't scare her, she's only a grey...




SCISSIE:

Sorry, sorry, it's just, I mean...from an academic perspective...WOW! None of that should be possible! I heard it branches and re-branches even in existovoid, can't be schroded, transplanted or reconceivulated and it's contaminating streams with no common conceptoroot! We're probably far past the point of reversal if you ask me...I don't know what the doc's thinking, but hey, what do we know, right?




FERN:

...I...I see...

Um...which "doc" do you mean?




SCISSANE:

...Okay...just from what we've heard, mind you... most of the staff agree that we should terminate the poor thing...for its sake as much as the rest of us...but there's some kind of communication error, and it hasn't - or can't? - consent to unexistence.

Phage alone has authority to override the autonomy of a patient whose continued existence manifests a cataclysmic hazard to the existence of others, but he's never exercised it, and he's adamant he shouldn't have to...even with every known alternative exhausted.




FERN:

Iiii...I see.....So, this patient...they're here? In surgery?




SCISSANE:

Oh no, I should hope not! Just a projectoid of the subject's core - a remote manifestation - like what Scissie and I were just working with. The patient itself is on heavy lockdown in an emergency subzone of, I believe, the maternity ward.




FERN:

So...how does someone get into the maternity ward, anyway?




SCISSIE:

You don't. Not right now, anyway, without clearance from Phage...and I don't think he'd even let Tori through without his constant supervision.




FERN:

Alright...so...is there any way to find out, um, how that patient is doing?




SCISSIE:

Not the patient proper, but we could check out Tori's progress...Lucy?




LUCY:

Yeah, be right back!



For one highly disconcerting moment, "Lucy" suddenly ceases to remind you of a pair of eyes. Try as you might, your mind can interpret only a pair of emotionless, electric lamps...

...And just like that, she "comes back."


LUCY:

...She's still slowing the growth, but only slowing. There's definitely more mass than they started with.




SCISSIE:

Yikes...what's Phage waiting for?!




FERN:

...Please...I...I really do need to know EVERYTHING I can...it's, er...it's from my "zone," right? Isn't there any way I can help??




SCISSIE:

Sure...you can convince Phage to pull the plug, that'd help plenty.

Otherwise, I'm afraid we've told you all we know...and already stretched the limits of our authorization level as it is. If you don't mind, we really need to get back to our job, but I'm sure Chip can fill you in on a lot more than we can.




FERN:

......Al...alright....I... guess I'll be seeing you...