>Check up on Chip
You creep up the stairs and cautiously open the door to the computer room...half expecting the Crash-slob to bite your head off.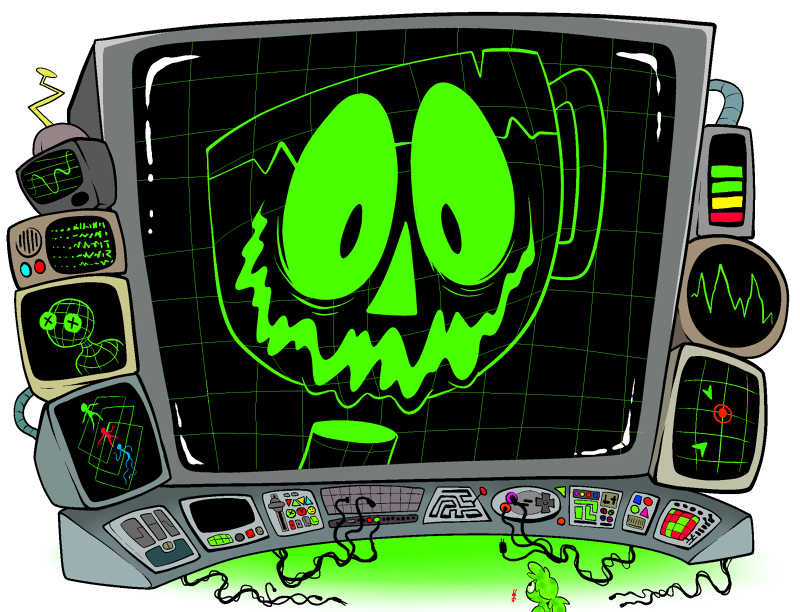 FERN:

Um...hello?




CHIP:

Oh, h-hey there! Th-thought you'd be dropping b-b-by!




FERN:

Chip? Er...how's it going?




CHIP:

H-heh, not bad!! C-can't believe miss t-t-tori finally approved my t-transfer....wink, wink!




FERN:

Oh...you're onto us too, huh?




CHIP:

Well, I d-do have access to my some of my p-p-predecessors memories...at least the ones that were b-backed up and not sc-scrambled. I've g-gotta thank you, really, even if you were p-pretty much manipulated into it...this c-c-computationating b-business is certainly q-quieter than the c-cafe.




FERN:

Well, I'm glad it worked out...but I'm sorry I meddled with stuff I didn't totally grasp. I kind of followed the directions of Crash and, er...these little voices?




CHIP:

Oh, b-buzzers? Not the worst thing you c-c-could be listening to, by my c-calculations (I've always wanted to s-say that!) yours would p-p-probably have access to a lot more information than your-s-self.




FERN:

Ah, good to know. Say...if you have some of Crash's memories, can you tell me anything he might have been hiding from me?




CHIP:

Unfortunately whatever he kn-knew about you and your k-kiddo seems to be encrypted without a k-key. Likewise his observations of this p-p-parliament b-business, besides what he t-t-told you in your final enc-c-counter.




FERN:

So all that stuff about the "singularity" was true, was it?




CHIP:

Y-yep, looks like these folks intend to collapse all c-concepts into one m-manifestation. P-personally no b-biggie for me either way as long as I don't have to serve c-c-coffee again, but st-stinks for a lot of other percept-t-toids. Anything you need, I'll be happy to b-be of ass...ass...ass....ass

....isstance.




FERN:

Erm...kay, well, you're the computer system...is there ANYTHING you can do to get the hospital working better? Or, I don't know, maybe unlock a few doors for me?




CHIP:

Unfortunate-ate-ately, C-crash was an experimental new s-system. His connection to the hospital root network - and c-consequently my own - was left incomplete, and I seem to be even less compat-atible still with the hospital's c-current state of decdec-decay.

P-presently I can offer you ongoing informational assistance as I complete re-b-branchination and access older f-files. I should be able to c-contact you through t-terminals throughout the zone, but any other functionality I may have had is under susp-p-pension until further n-notice.

Still feels p-pretty good, though. Go ahead, ask me for a l-l-latte! T-try it!




FERN:

Uh...can I get a latte?




CHIP:

N-nope! Heehee!!!