>See What Willis Has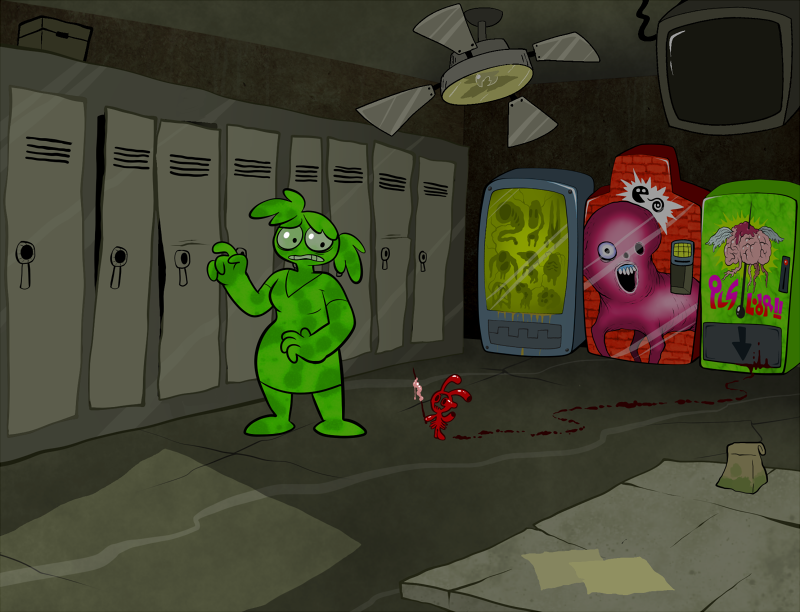 WILLIS:

You GOTTA try the lleeptch, they got a diagonal flavor!!!




FERN:

Um...you're sure that's something safe for you, right? Can I check what else you have?




WILLIS:

Awww...fine.



You inspect the other "snacks" Willis has somehow purchased...at least you assume he purchased them...from the vending machines, and reach a predictable conclusion.

FERN:

Willis...I have absolutely no idea what any of these things are. I'm just gonna have to trust you that they're safe for you to have, but I'll be VERY upset if you're not supposed to...eat?...This stuff. How about you just finish that leep thing and save the rest for later.




WILLIS:

...Okay miss Ferns.




ACQUIRED: DRINKABLE GRULTCH

The package reads "Side Gelled Grultch Now as Fluid Does!"




ACQUIRED: FLUBBLUB

Smells like motor oil, and you swear it emits a continuous little sighing sound. Willis urges you to "lick its glaps." You do not.




ACQUIRED: SHPOOMF

It's oily, and something sloshes around inside. The slightest squeeze straightens out the rubber tube dangling off one end.



SIDENOTE: Willis knows what these things are and what they're good for. He will use them of his own accord when necessary!
>Investigate the Box Atop the Lockers

ACQUIRED: LENGTHY BLACK CABLE

Well, that's almost disappointingly mundane...but you feel like you can always use a strong cord for something.



>Give Willis the Blacklight

EQUIPMENT TRANSFERRED: BLACKLIGHT

Willis wanted it, and he knows this world better than you do. You hope this isn't tantamount to giving a child a gun, or something.



>Investigate the Locker Again
You're loathe to do so, but you reopen the locker where Jay had you stash Cathy, and root around a bit with your "sword." All you really find is purple, wet mush...possibly slobs?...until you strike something solid...

ACQUIRED: RUSTED FORCEP FRAGMENTS

You take a moment to mull over the fact that these are, presumably, the remains of a "person."

...The more madness you get used to around here, the more you don't.