>Chat a Little, Claim Your Free Drink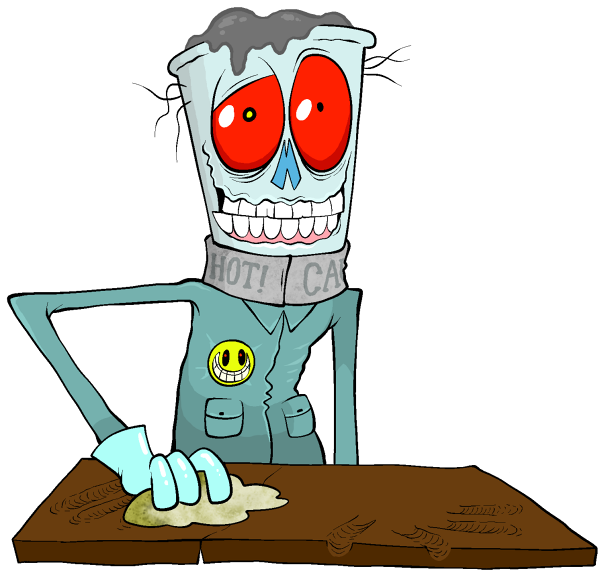 FERN:

"Joe," was it? How, um, how've you...been?




JOE:

THAT'S...AN ODD QUESTION. TO ASK SOMEONE YOU JUST MET. FOR THE FIRST TIME EVER.

BUT HEY. THANKS FOR ASKING. COULDN'T BE BETTER.

VOMIT AND DIE.




FLAIR:

You know she has to order first, Joe.

...I do apologize for our latest trainee, meat form. He may be a looker but there isn't all that much upstairs.




JOE:

COME ON, FLAIR, DON'T YOU EVER GET THE URGE TO JUST...NNNNNGGGGG...JUST....CUSTOMERS....I DON'T KNOW, JUST, JUST RRRRRIP 'EM IN HALF?!




FLAIR:

Well of course, but it's unfortunately proven...unprofitable. Work before fun, sugar




FERN:

Okay...should...should I maybe just come back la-




FLAIR:

Oh my, no! Not without that free drink we promised you last visit!




FERN:

Errr, okay...I...something's telling me I could use whatever "sleepy beverage" is?




FLAIR:

Certainly! Knocks you right out, guaranteed! Joe???




JOE:

COMING! RIGHT! UP! CHOKE TO DEATH FOREVER!!



"Joe" fidgets around behind the counter without breaking eye contact...or blinking...and almost instantly produces what you're told is a beverage.

ACQUIRED: "SLEEPY BEVERAGE?"

The cup overflows with a blue froth, thick enough to jiggle but never quite spill. It has a burning, piney stink and merely smelling it makes you tired. You stash it in your bag.




FERN:

Alright, so, thanks, I'll be seeing y-




FLAIR:

Now, wait a moment, we ARE running a special promotion you know.......Joe?




JOE:

SAY, THAT'S RIGHT!!! FOR A QUASISPIRAL ONLY, EVERY DRINK INCLUDES A COMPLEMENTARY SAMPLE OF OUR BRAND. NEW. HOUSE FLAVOR... MY VERY OWN SPECIALTY.




FLAIR:

It was his idea!




JOE:

IT WAS mmmMMMMmMMyYYyYYYYY IDeEeEEEeeAAaaAAAaa!