You could swear you hear a "CLANG" against the door behind you...but only silence follows. It's not really the same door now, is it? A single door apparently opens into every possible one of these...rooms...?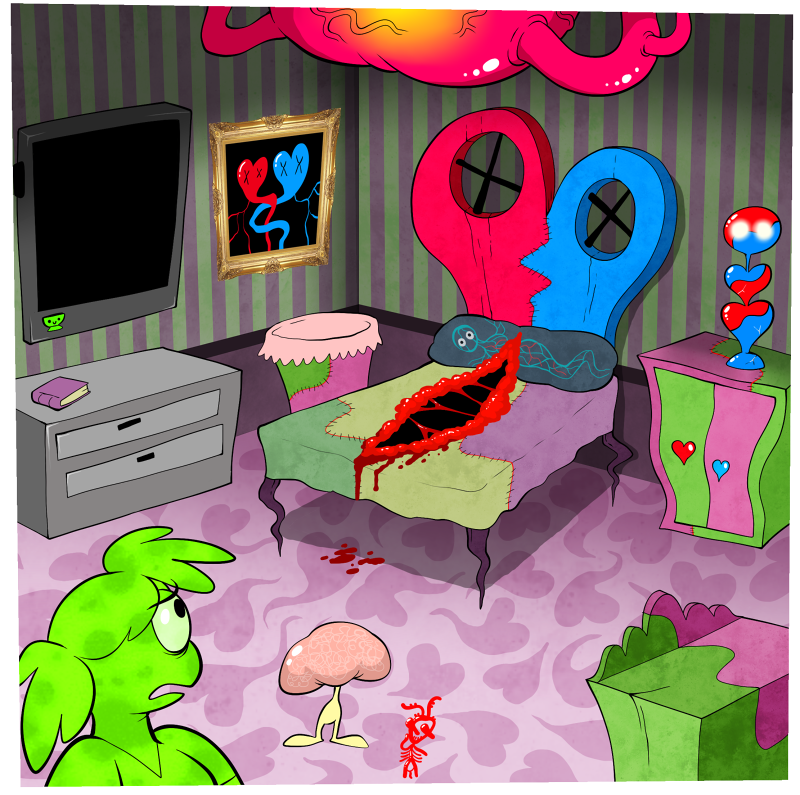 FERN:

First of all...can't he follow us? Second...why the hell isn't MY room this big?!




WILLIS:

...He prob'ly don't know what room we're in, but the door only comes back out the same place. I seened him wait a pretty long time for a untruder to come out...

Mom made special rooms cause she says surgery is scary for some things, she says they gotta be comftorble.




FERN:

...Guess I've seen worse places to be stuck in a while...

...

Wait, do I...know you?




OPEN WOUND:
Ohhh, hey there! Washn't exshpecting vishitorsh...and it'sh the green thing! Gosh! I thought you might've gotten a
little tired
lishtening to me ramble on and on about my catsh and whatnot, who are doing
wonderful
by the way, tootshie jusht had her kittensh! Sheventy four and a half of them! I named the firsht one Fleckle after my ma because he'sh mottled black and purple, I named the shecond one Tibblesh, that'sh a girl and both her tailsh are red paishley, third one's Shashafrash and she'sh-

RAMBLIN' EVIL COLORECTAL POLYP:

Whoa, whoa, back up...you ain't the colon gal. Isn't this room 123?!




OPEN WOUND:

...Yesh? Jusht been little old me though.

...Shmells like shomebody shtood you up, little guy.




RAMBLIN' EVIL COLORECTAL POLYP:

GAGFLEMMIT, again!?




FERN:

...You did walk right up to a total stranger and solicit something I've roughly surmised was pretty graphic. I don't know about colon monsters but where I come from, a fake number is a pretty reasonable response.




RAMBLIN' EVIL COLORECTAL POLYP:

Yeah, okay, fair's fair.

Little old for me anyway.




OPEN WOUND:

That'sh funny...I alwaysh give out my real number and I shtill never hear back...




RAMBLIN' EVIL COLORECTAL POLYP:

Ouch.

It's probably because you're so freakishly tall.




OPEN WOUND:

Hey!!!




FERN:

.......




WILLIS:

...Miss Fern?? Are you okay?! You're staring funny....




FERN:

Oh, y-yeah, just...sometimes... it suddenly hits me all over again how effing weird my life has gotten.