>TAKE ALL ITEMS, TURN ON MONITOR
For now, you add everything you've found to you and Willis's inventories, and press the green coffee-cup button in the corner of the huge flat screen. You'll be sure to check out the book later.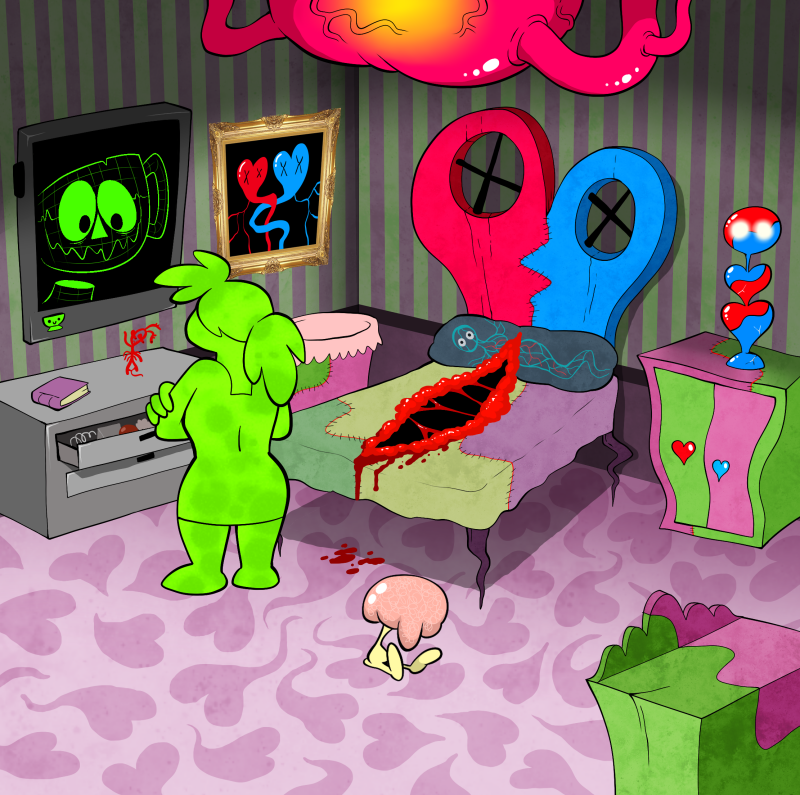 CHIP:

Oh, F-F-Fern, how g-goes it?! File decryption progress stands at 12%

One (1) recovered f-f-files will be ready for your perusal with-with-with-within eight (8) layers.




FERN:

Thank you, Chip. Right now we're in a bit of a jam...do you know if Doctor Mizer is still outside?




CHIP:

The ind-d-d-dividual in que-question is p-presently entering room codes one b-byby one. He has r-roughly sixty three and one half (63 1/2) surgical patient quarters remaining before y-your door opens.




FERN:

How much ti...how many "layers" is that?




CHIP:

Imprecisely determinable...b-but I c-calculate app-p-proximately the duration miss L-lacey will require to complete her ver-ver-verbal catalog of f-felidae in her c-care.

How's my j-j-jargon?? I'm r-really enjoying this c-c-computerizationing b-business.




FERN:

Um, it's fine...but what do we do? Can't you re-route our door to exit someplace else, or something?




CHIP:

Re-re-regrettably patients may only ex-ex-exit to an instance of the lo-lobby for security p-purposes. The doctor p-presently occupies every instance compatible with your ph-physiology.

There is an alternative a-avenue I can p-plot with an at least 21% higher sur-survival rate for yourself and 100% for your c-current companion(s).

Unfor-fortunately you're n-not going to find it a p-pleasant one in any c-case.




FERN:

...What else is new? At least there is another way out.



Lacey continues to rattle off her "cats"...

LACEY THE OPEN WOUND:

...and then there'sh shally, the tortoisheshell, she shpensh mosht of her layersh retracted but comesh out when she smellsh purple, her favorite! Loafush is the mosht shpherical of her shiblingsh, but Clobbush ish the mosht antishpherical. They don't get along unlessh Gertie ish around to link their shocketsh. Aurelia is the long haired hairlessh, and likesh to shtay enschyshted in her older brother, Fibula. Shpiny is the invershe shide of her shishter Tina, and shometimesh she just doeshn't want to invert until she'sh had a foam bath, which tina hatesh by the way! Zermillion is already on her fifth head, but she won't let me reschycle the resht. I don't even know where she keepsh hiding them! Wafflesh got hish name becaushe he wash born wafflesh, but he conschept-o-corrected by the time he wash done nurshing. There'sh alsho the four green-line shiverersh, who refushed to be named until they shtop sharing a vesshel. Prinschessh Crabbo exshploded when she realizshed what a table really wash, but the vet shponged her up and she'sh gotten pretty comfy in her shpongeform. Her brother Thomash washn't sho happy about it, shince it was hish favorite shponge we had to ushe, but I got him a new window to shtare out of until she getsh bored and deschidesh to properly sholidify. The shpotted shishter, Shquamoush...well...we don't talk about her right now, but we can talk about Vischeroy, that'sh the short-hairlesshed haired...