>MANAGE INVENTORY
You quickly stash some items away, and get the strange sense that something else has changed about your inventory...huh.
>OPEN THE ABYSS, BUT ESCAPE THROUGH LACEY

FERN:

...Okay, wait a second...we just established things live out in this "abyss"...if I widen the hole, couldn't they get in and hurt Lacey?




LACEY THE OPEN WOUND:

...What're they gonna do? Wound me? Hyuk hyuk!




FERN:

Alright, touche.

If I'm gonna do this...would you and Chip be willing to tell Mizer I went out that way?




LACEY THE OPEN WOUND:

Sure!




CHIP:

W-w-will do!

I advise you make h-haste...M-m-mizer has less than f-f-forty rooms to search and has increased his speed approximately threefold. Elevated vibration levels indicate frustration.




FERN:

Yikes, gotcha...



The area behind the painting is incredibly delicate. Your bare hands alone are able to tear open an impressive portal.

Time for your getaway...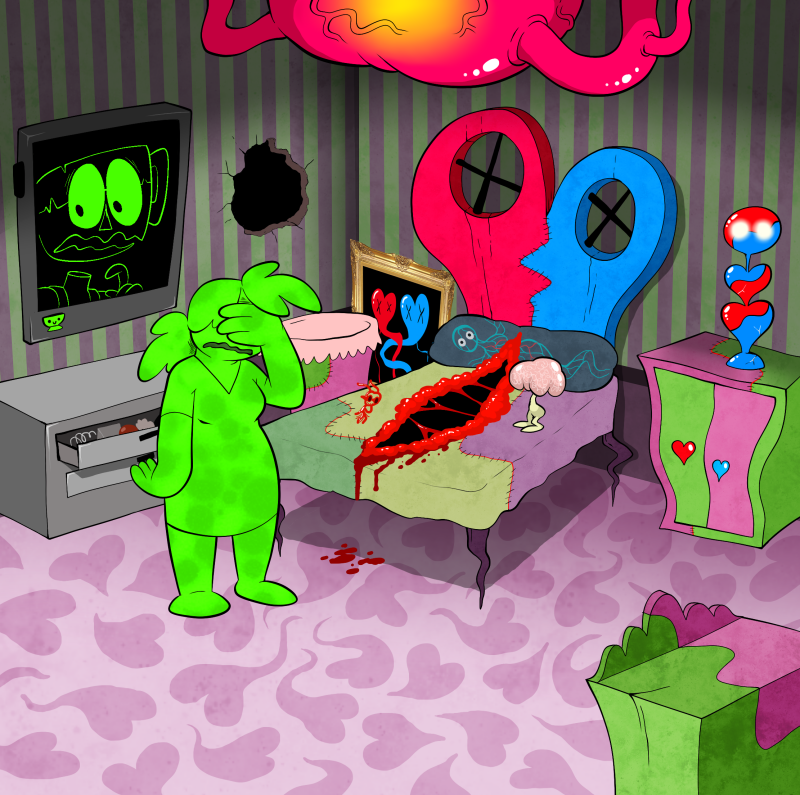 FERN:

...Eugh...okay...so, um, Lacey...do I just like...jump in or...sit down and slide in?




LACEY THE OPEN WOUND:

Whatever shuits ya!

...Juuuusht lemme finish the catsh firsht...




FERN:

What!? But...but the doctor's co-




LACEY THE OPEN WOUND:

Oh...

...I shee how it ish...

...I get it, I'm usheful...jusht sho long as I don't talk sho much...




FERN:

Oh, oh no, Lacey, it's not like that, I just...




LACEY THE OPEN WOUND:

...Sho you want to hear the resht of my kittiesh!?!




FERN:

Er....




WILLIS:

Of COURSE we do miss Lacey!!!




RAMBLIN' EVIL COLORECTAL POLYP:

pffffft, yeah! Fern ain't that important! Lay 'em on us!




LACEY THE OPEN WOUND:

*AHEM*

... Shinbad likesh shleeping underwater, Loretta likesh shleeping overwater and their brother Cardboard likess it sidewater. Weebo is comprished of thirteen perschent mercury and can only count backwardsh, Pungush got in the habbit of shedding everything but her hair and only hash hair left, Footwarp playsh bassh in an exshperimental thrash band with a couple of redwormsh she met in a shewer, collecshion, Arpdiller ish a shemiarboreal upshide-downiush with an alphabetizshed ham collectshion, Gorp'n hashn't been allowed out shince she ran over a truck, Shkelly traded her eyesh for wingsh but hash difficulty navigating through gelatin, Fishwimp is anti-shtriped and alwaysh getting caught on cornersh, Cauliflower only exshishts in half-orange light, Shnowplow losht her biovesshel and became only shoundwavesh, Potasshium has a lot of APPEAL!!! HAHA!!! APPEAL!!! HAAAAAAA! HAHAHAHA!! HAHAAHHA! APPEAL!!! BECAUSHE HER SHKIN FELL OFF!! HAAAAAAAaaaaa Mishter Bwoap ish a male tuxshedo but I think he'sh planning to molt into a skwale trenchcoat nexsht, Double Gibletsh invented a numerical flavor but doeshn't sheem to undershtand the patent offische....




FERN:

Mhmmmm....I see!!!




WILLIS:

Wow!!




CHIP:

...Doctor Mizer has precisely Twenty One and a Half (21.5) rooms remaining before you are discovered.




LACEY THE OPEN WOUND:

...*AHEEEEEM*... Not Mishter Bwoap ish the one that'sh not Mishter Bwoap, Unk washn't originally a cat but accshidentally wound up getting born and, well, you know how shometimes you get born and you're a cat now, y'know?! Shtoppit can shpin at about 99 layersh per nanoshpiral and ish currently drilling her way through a big ball of dirt out in the grey zshone, Lobshter ate an entire weffler and liquified unilaterally, alsho he'sh got thish cute little white shpot on hish forehead. Potatobird ish made out of old magazshinesh right now, and got a little shoggy after her shilverfish bath. Two Shpoons likesh to go door to door juggling her heartsh but I'm not sho shure they enjoy being tosshed around like that, Half Schircle and Number W trade color schemes every lunch break with the other catsh down at the plant so it getsh kinda hard telling them apart, -------- shold her name for shome cheeshe crackersh even though I kept telling her they jusht grow on treesh anyway, right?! Kittiesh! Krehh''tll is a throbbing fafflenebber with blue shpecksh and likesh to shwipe bootsh from flefferpedesh, Vegetable Shalty got her name becaushe she came out writing a novelette about a whale that'sh mad all the time, T-Shirt Man ridesh a green motorbikle, Thrubble getsh shmaller when she thinksh too hard about dirt...




FERN:

Great!!! Cool!!!




WILLIS:

I liked T-shirt Man!!




CHIP:

....Eight(8) and a half rooms remaining...




LACEY THE OPEN WOUND:

.... Rocketsh can only shing about the wrong weather, the red tripletsh are Huey, Louie and Meanuloid, Blunket wash born a short film about carbohydratesh, 1,1,1,1 ish named for her number of vertebrae, Nerf ish a foam rubber shilicon-hair toadeye, No-head Jimmy Jim Janglesh leavesh little blue paw printsh all over the definition of pudding sho I gotta ashk that you don't try to define pudding until I get back home and wash it off, and finally, Half of Mark ish-

....Wait...how many wash that? Did I missh a couple or add a couple??? Hrmm...