>NOW Visit the Other Rooms
You decide to leave the "slob" in the hall while you check up on the living blood stain, one of the few things around here to really feel like a friend...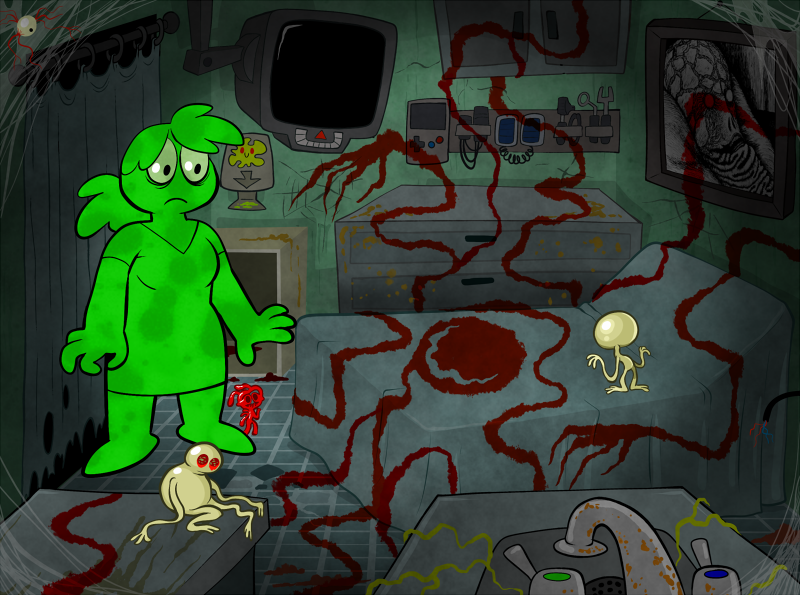 FERN:

...Er.........hi?




BLOODSTAIN:

Hhhhhhhhey there!




FERN:

Are...you okay? You look...different.




BLOODSTAIN:

Sssssoda you! That's them percievinate holess for ya? Ha? ha?




WILLIS:

Hi! I'm Willis! You smell like food!!!




FERN:

Willis! I'm pretty sure that should be rude!




BLOODSTAIN:

tahhhhaint nothin! Just can't sssay this crusty old sssstain would be good fer the lad. hhhHa! Ha?




FERN:

Are you...really sure you feel okay? What's with the...things? What were they called? Morboids or something? Aren't those bad?




IT'S CALLED A MAGBOIL ACTUALLY:

A VIVID STRESS TRICK EXTRUSIONS CAN DO!!!!




WILLIS:

Ewww! They STINK, Fern!!!




BLOODSTAIN:

the little fellersss...? Oh! They can! Ha! Well I'm fishin, see ya round kiddo!




FERN:

...huh?




BLOODSTAIN:

Goooooone fishin!



The bloodstain wavers a little but does not go anywhere.

FERN:

You, uh, have a good...time.

...Come on, Willis...