>Wake Up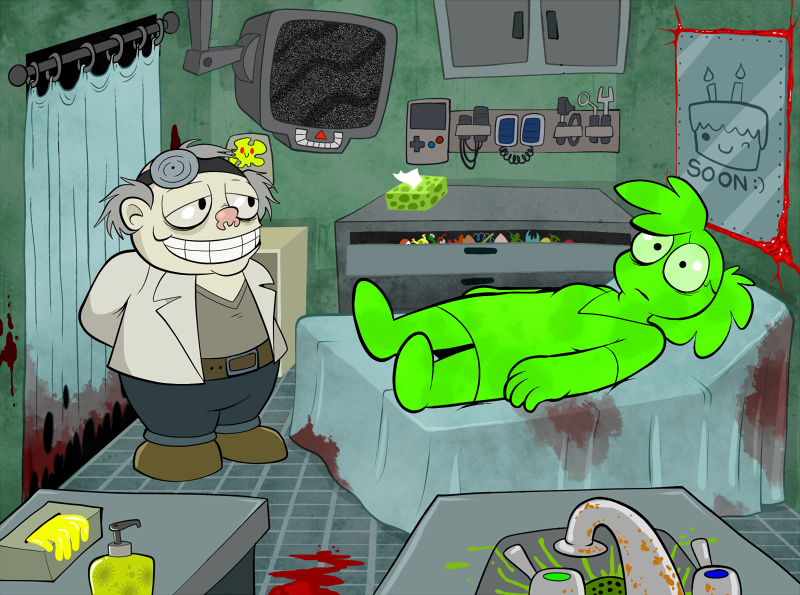 FERN:

...W...what ha...



DR. MAN:

I hit you, Fern. What did you think would happen, charging me with a weapon in hand?



FERN:

...You KILLED ME!?



DR. MAN:

No, Fern, I did not. You were at least partially correct in your assertation that I was not at this time willing to go to such an extreme.

I very easily could have, however. I could have from the start. I chose to temper my full capabilities as you provided me valuable data.

Had I been any of the other staff, I could have also ensured you would not return here in a form that could continue presenting a possible security threat.



FERN:

Where's...



DR. MAN:

I asked that your companions wait outside the room while we spoke. Whether the ex-human understood the request or merely prefers to remain with young Willis, I am not certain.



FERN:

...So, what, we do this all over again?



DR. MAN:

...No.

You were also correct that I would not withstand another strike from any two of your party. You were ultimately victorious...but I felt it pertinent to demonstrate the precariousness of your ongoing success.

I could at this very moment initiate a simple purge, flushing your concept from the Hospital to reconstitute itself in whatever state of existence remains beyond this one.

Or, having already done my part for my place of work, I can look the other way.

Given a number of factors, I am choosing the latter.

...This time.



FERN:

...I really don't know what I'm doing, do I?



DR. MAN:

Many would tell you that you have been..."lucky"...thus far. I for one have observed enough of the perception range and its peculiar algorithms that pure chance has become the least rational explanation to default to under most circumstances.

A part of your progress is owed heavily to outside help, as we have established.

It is highly unlikely however that very much of this assistance has been visible to you.



FERN:

You're saying something's guiding me...and not just the little voices we talked about?



DR. MAN:

Our altercation confirmed as much.

My method of deduction is not one you are equipped to comprehend, I am afraid.



FERN:

Zone stuff.



DR. MAN:

Ha. Ha. Zone Stuff. Quaintly encapsulating.



FERN:

Could it be the pa...

...The thing I tried to tell you about? That you couldn't process?



DR. MAN:

That I was able to perceive even the implication of an influence, as a matter of fact, rules out that possibility. Whatever has been following and manipulating your activities at such a scale is not something that desired to hide itself entirely from medical staff.

Perhaps its interests conflict with this other party you are referring to, or perhaps both have had a hand in your...adventures...thus far.



FERN:

So I'm just some chess piece.



DR. MAN:

At this...time...it is not unreasonable to speculate that we all are, Fern.

Of what, and why, is the unknowable.



FERN:

...What do I do.

What do I do if finding him is only going to make him worse. Make everything worse.



DR. MAN:

I do not know. Perhaps you must prioritize a search for answers over an immediate reunion with your child. Perhaps you really are the only being capable of unraveling those answers for the rest of us.

Faced, as I have been, with equivalent options, with action versus inaction, it is up to you to press forward or not. As I said, I will make no further attempts to obstruct you.



FERN:

What's it like through that door, Doctor?



DR. MAN:

As of the quarantine order, I am no longer cleared for manifestation outside this dwindling admissions ward and the still relatively healthy surgical ward. I can, however, observe that which escapes our other sectors.

It is my professional opinion, Fern, that what you have experienced thus far of the Hospital represents its healthiest and safest remaining conditions.



FERN:

That's, uh...that's not good.



DR. MAN:

No, Fern, it is not good. You and your neighbors, the last few new admissions before our lock-down, are likely enjoying a fragile oasis of near-normalcy in the midst of what this Hospital has become.