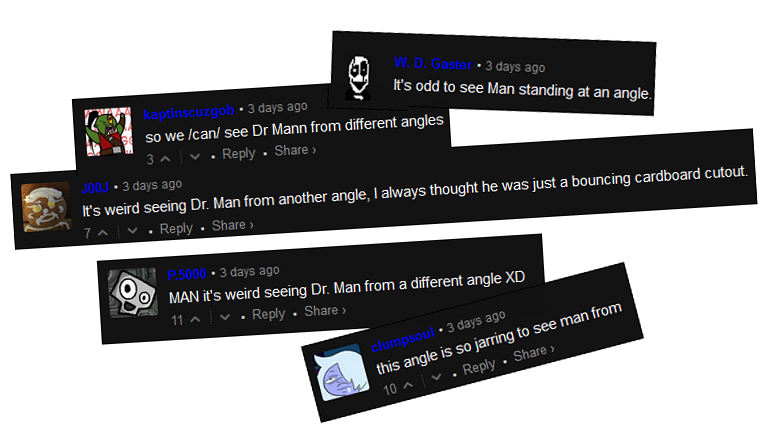 DR. MAN:

Ha. Ha. How rude of me.

...Is this more to your tastes?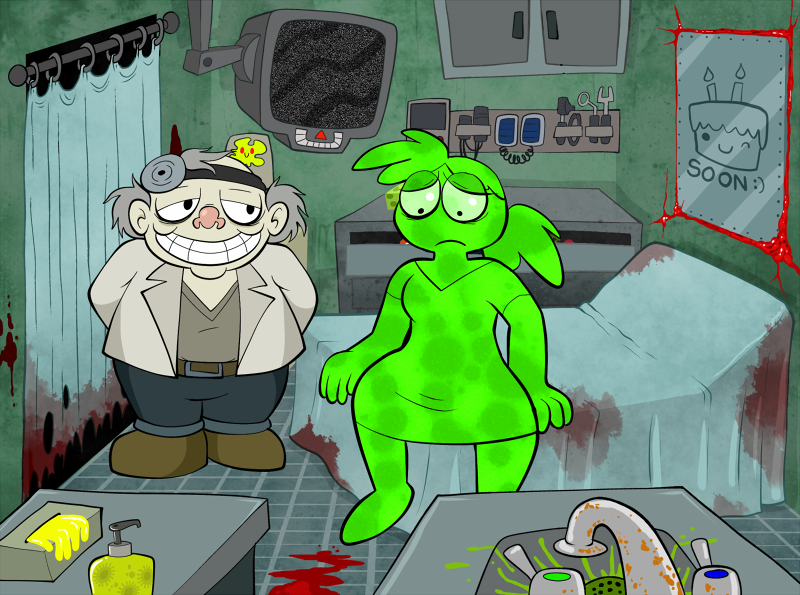 FERN:

...Did you say something?



DR. MAN:

Ha. Nothing.

..."Zone Stuff."



FERN:

...You know I still can't completely trust you, or anybody...or anything for all I know...

But, assuming I can...will you answer some more questions for me?



DR. MAN:

I will do my best to answer appropriately.



FERN:

Alright, first of all...what should I know about the maternity ward, other than the fact that it's not "healthy" right now? What does that mean for my son?

If "grey zoners" aren't usually patients here...what even passes for "maternity?"



DR. MAN:

As a matter of fact, many concepts remain relatively constant throughout the range. Whether by womb or spore or frothglommous, most perceptoids are capable of replicating both biovessel and conceptual core into a new, distinct entity, an offspring, and the process can be fraught with complications from the biological to the paraconceptual.

Infant cores, in particular, are quite vulnerable to predatory pseudozones, parasitic protoconcepts and George, to name but a few hazards they may blunder their way into before even their base definition has hardened.

As a matter of fact, an average of four gloobtuple new cores per quad-spiral de-manifest themselves out of sheer ignorance by their eighty-flemped layer. A victimless tragedy, considering the retroactive erasure of their very conception, but we can infer their antipresence from...

...Well...I suppose I'm getting a tad technical.



FERN:

That's okay, I get it. Babies will be babies, even if they're also spleen people or food monsters.



DR. MAN:

Succint once more.

Now, then, assuming the ward's subcore remains intact, it should be under the supervision of our doctor Gynnie. Not one with whom I am overtly familiar, but her compassion and patience are considered exceptional among the staff, as is her resistence to zonal instabilities and concept-corruption; necessary attributes for such a delicate field.

If any of our doctors can still be counted on for reliable functionality, Gynnie is surpassed perhaps only by Tori.



FERN:

Tori, from what I gather, is actually working on my son as we speak.



DR. MAN:

Ah. Yes. As Tori tends to the abnormal outgrowth of his concept-core, it would be Gynnie's duty to monitor and stabilize his biovessel.



FERN:

Find her, find him?



DR. MAN:

Ha. Well. Yes and no.

It is highly unlikely that she would knowingly allow the parent direct access to a child whose condition she cannot properly identify. Our staff will stand by safety protocols to the death if they must...and I believe we have established whose death that would be, Fern.



FERN:

Right...

That reminds me...just how much danger is Willis in, following me around like this?



DR. MAN:

Mmmm. Well. There is little I am aware of that the offspring of our surgeon could not contend with, but that being said, you are yourself already aware of forces successfully evading my perception. It would be difficult to ascertain the threat these forces pose to a juvenile core, even one of Doctor Tori's formidable flesh and blood.

It, ah, most unfortunately cannot be helped. He is likely to follow you, with or without your knowledge, whatever you demand of him. It may in fact be safest to continue tolerating his assistance, lest he wander under still less supervision.



FERN:

And the...thing? You said I wouldn't like your "theories" about it?



DR. MAN:

Never mind them. There is no sense troubling oneself with a hypothesis lacking in hard evidence. I would be cautious of the entity, but perhaps its ongoing cooperation will prove advantageous.



FERN:

The, uh, voice thingies also want to know about the..."bandages?"



DR. MAN:

Ah. Well. His previous vessel...turned. He has had no difficulty adjusting to a replacement, as you have done innumerable times yourself, though he found your tactics...distasteful...and has articulated...colorful...opinions of your character.



FERN:

Oh, um, you can tell him I'm sorry?



DR. MAN:

I will relay the sentiment...though it is unlikely he will change his mind on my proposal.



FERN:

Proposal?



DR. MAN:

Pardon the cliche, Fern, but you will certainly require whatever assistance you can feasibly procure. If I cannot discourage your activities, I can at least impart upon you some assistance.



MINION ACQUIRED: ANTIBIOTIC OINTMENT

Hi! I negate malady-type combat damage to an assigned party member. Malady-based opponents may sustain recoil damage.



DR. MAN:

I would suggest, Fern, that you take your personal defense and strategization more seriously from this point forward. What you are most likely to face beyond the door has little fear of simple brute force.

Now, then, my apologies for cutting our discussion short...but there is much that I must attend myself. Perhaps we will have further opportunity to exchange information before one or both of us ultimately cease to be.



FERN:

Very encouraging. Thanks.



DR. MAN:

You are most welcome.