>Manage Inventory, Unlock the Door
You think to yourself a while as Dr. Man's heavy, plodding footsteps fade down the hall outside. You quickly shuffle a few items around and step outside where Willis and the...thingy...are waiting.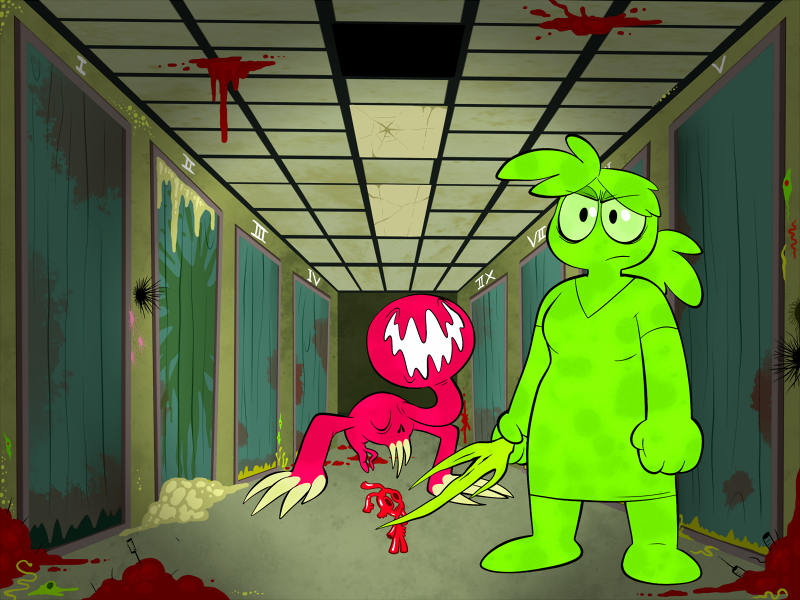 FERN:

Hey...Willis?



WILLIS:

Hi Fern!!....What's up?!



FERN:

...Thank you. I'm really sorry you keep having to do these things because of me.



WILLIS:

Aww, Fern, it's hardly nothin! You oughta see some of the things I drunked when mom would let me outta the zone...you know...before the stupid old quaramtimes.



FERN:

Right, right...

...Did...did Doctor Man say anything? While I was...out?



WILLIS:

...Huh?

...I ain't seened that guy since the fight.



FERN:

......Huh.

...Well...I want you to promise me something, Willis, and it's very VERY important.



WILLIS:

Okay Fern!!!



FERN:

I'm serious, Willis. Extremely serious. If you break this promise...we can't be friends.



WILLIS:

...Oh....um....okay...?



FERN:

If this happens again, I mean, if I get hurt and leave you behind, or we get separated...you need to run away.



WILLIS:

But-



FERN:

No, Willis...I know you're tough, I know you can see things I don't see, I know I've needed your help even though I'm the grown up here...but PLEASE, the moment anything happens to me...I need you to drop EVERYTHING, immediately, and just get away. Come back here and wait for me if you have to, and if it isn't safe here, then I need you to get back to your mom's office.



WILLIS:

...Okay, Fern. I promise.



FERN:

...And if I ever tell you to get away, or stay put, you will, right? You won't secretly follow me?



WILLIS:

...Yes'm.



FERN:

Thank you, Willis.

You're a really good kid.

...Now I guess we need to get a move on...