PERIPHERA III:
Jay Meets Doctor Man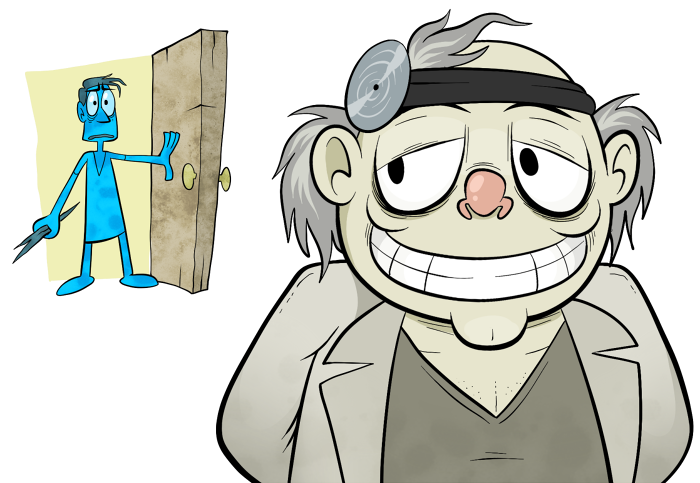 JAY:

H...Hello?




DR. MAN:

Ahh. Yes. There's the word. Hello. Heh.




JAY:

You're...human?




DR. MAN:

Ha, haha. Who isn't.




JAY:

...Is that a joke?




DR. MAN:

Oh. Yes. That was it. Jokes. Certainly. Mmmm. What seems to be the problem, Jay?




JAY:

...What ISN'T the problem!? Where am I?? What the hell is this place!?




DR. MAN:

Mmmmm, calm yourself, start from...

...the beginning? There's the word. Heh. Heh.




JAY:

I...okay...I...I was sick...puking my guts out...everything goes black, and when I wake up I'm in a hospital bed, only...

...I don't even know...

...I don't even know if this is real, if you're real, if I'm real. I keep seeing...things.




DR. MAN:

Seeing "things," you say? If capacity for vision alarms you so, we can certainly rectify that. Heh. Heh. Doctor jokes.




JAY:

...I'm not joking...everything looks wrong, like it's...I don't know how to describe it. Fake? Like a cartoon or something...and...well...you're the first thing I've seen that looks anything like a person.

I woke up to like...I don't even know...it was like a BUG, a huge bug with spider legs or something, babbling about my "branches" and "layers." I got the hell out of there, and I've been lost for hours now. Nothing's making sense...




DR. MAN:

Oh, my. Straight from the grey. That's most certainly...a pickle. A pickle most indeed.

I do apologize, sir, if our facilities appear unconventional to the sensibilities of one such as yourself.




JAY:

...Unconventional? Look...either I've seriously lost my mind or part of a skeleton tried to sell me something back there.




DR. MAN:

Ah, you've met Angus. Fine chap. Long winded. What's he been dealing in? Teeth, again?




JAY:

FINE CHAP? That's it? No comment on the fact that it looked like a damn monster to me!?




DR. MAN:

Now now, Jay. There are those who might be similarly distressed by your own physiology.

Remember your blood pressure. Breathe. Relax.

Reality simply is not as you knew it. There is more than the world you understood, the perceptions you were limited to. You have been..."brought" here? No...

You have been shown that there is a here, this Hospital, because the nature of your illness has fallen under higher jurisdiction. Your condition is beyond the capacity for medicine as you would understand it.




JAY:

...Are you saying I'm too sick for my own universe?




DR. MAN:

Ha, ha, no, there is no "universe," my boy.




JAY:

W...What!? Make SENSE damn it! WHAT'S WRONG WITH YOU!? WHAT'S WRONG WITH ME!?




DR. MAN:

That, friend Jay, remains to be determined. Rest assured, our fine staff will do everything within its capabilities to understand and meet your needs. I advise that you return to your examination room and cooperate with our procedures. Our track record for treating such perceptoids as yourself is technically favorable.




JAY:

T...technically?

How many...uh...real people come through here?




DR. MAN:

Hm. Well. Peculiar choice of vocabulary, but if I understand your query, I can say that more than zero patients in your position have...persisted...in acceptable to preferable being-states.




JAY:

............

......How...many.




DR. MAN:

Mmm, well, I'm afraid number is among those phenomena less static than you may be accustomed to. Perhaps it is four. Perhaps it can be said to be four billion. It's a matter of perception, give or take layer bleed.

Rest assured, Jay, your odds of existual persistence are highest in our care.

Whatever the matter-state, they will make every effort to persist you.

Assuming, of course, that this does not prove problematic for their persistence.

Trust them, Jay. Trust us.




JAY:

.....W..w..wait...

I....

...Did I tell you my name?




DR. MAN:

"Tell?"

Oh, ah, how rude of me...I do forget you little things share thought through the vibration of particles. Novel. Heh.




JAY:

...Okay...

...What are you...




DR. MAN:

A fellow humble herman beam, Jaything.




JAY:

...not a person...




DR. MAN:

Hmph. There's that word again.




JAY:

YOU'RE NOT A PERSON!!!