PERIPHERA II:
Emergency Lunch Meeting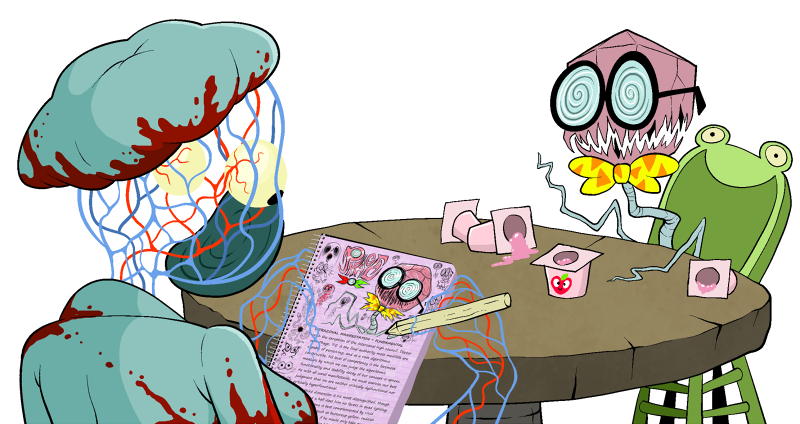 DOCTOR H.M. PHAGE, T.E:

Miss Tori! Our most beloved only top surgeon! What a pleasant surprise!




DOCTOR CIRCULA TORI

Well, doctor, you did schedule this meeting.




DOCTOR H.M. PHAGE, T.E:

And you arrived this time! Surprisingly pleasant indeed!




DOCTOR CIRCULA TORI

Doctor, I'm certain you're aware of how busy I've been.




DOCTOR H.M. PHAGE, T.E:

of course, of course! The rest of the staff is just, well, increasingly concerned by this...what did you call it again?




DOCTOR CIRCULA TORI

...a critical biohazardous protoconceptual feedback loop with SSS-class cataclysmic restructuration potential.




DOCTOR H.M. PHAGE, T.E:

MONDAYS, am I right!?




DOCTOR CIRCULA TORI

...what's a monday?




DOCTOR H.M. PHAGE, T.E:

What's a what? Use REAL words, Tori! We've talked about this!

Now, about this...teensy setback of ours...how did you describe the phenomenon again?




DOCTOR CIRCULA TORI

...er, well, as you know, an aberrant grey-range case has repeatedly necessitated total matter-form reconstitution at a steadily increasing rate of severity concurrent with our manifestation sphere's escalating degree of logic dysfunction.




DOCTOR H.M. PHAGE, T.E:

Mhm. Mhm. Go on! I understand all of those words!




DOCTOR CIRCULA TORI

Oh, of course. So, I hardly need to explain why prioritizing the continued perpetuation of the subject in question, monitoring the safety of our other patients and conducting investigation into these recent abnormalities has begun to compromise the surgical ward's performance levels, destabilize my own conceptual algorithm and interfere with progress on our other patients with no observable improvement in the subject's original affliction.




DOCTOR H.M. PHAGE, T.E:

oh, Tori, is that all?! Why don't I put you in for a nice vacation? I hear the cubeo-baritone void well is on its fourth glutination this spiral! I'm told the echoes taste like vermillion.




DOCTOR CIRCULA TORI

with all due respect, doctor, and this is only my professional hypothesis, mind you, but I believe a vacation could, in fact, only exacerbate my difficulty fulfilling scheduled functions.




DOCTOR H.M. PHAGE, T.E:

I suppose you're not ALWAYS wrong about these things, just as I'm not always the ideal amount of right, if you can believe it! What would you propose?




DOCTOR CIRCULA TORI

The way I see it, we have two choices.

One, we can allow the subject to enter a permanent biotermination state and hope that its condition is one that will unexistiate, rather than exponentiate, with the dissipation of its host's existosphere.

Two, you can clear me for emergency instance plurality until our complications have been mitigated.




DOCTOR H.M. PHAGE, T.E:

...you're suggesting manifestation simultaneity in your own endosphere...




DOCTOR CIRCULA TORI

....yes. If I could operate several concurrent perception nodes in the same layer, I-




DOCTOR H.M. PHAGE, T.E:

You know I can't authorize such a risk to your core, Tori. We have tried this before. The destabilization rate of existopheric overlap-




DOCTOR CIRCULA TORI

....saved us once, didn't it?




DOCTOR H.M. PHAGE, T.E:

...once. Yes. At incalculable cost to the stability of health-concept throughout the range. We can't even know what was lost. There are only the void-pockets still adrift in the channels to suggest anything missing, and once those close, or, Nurgle forbid, something else fills them in... we won't even remember it was ever a concern.




DOCTOR CIRCULA TORI

Better an unknown degree of damage than absolute dissolution, doctor. Besides, that was an extreme case. I'm not asking for an infinite manifestation loop...just an extra iteration or two. They needn't even be up to date. I'll train them myself.




DOCTOR H.M. PHAGE, T.E:

It's still a conceptohazard, at least to yourself, and we still don't know the extent of what we're dealing with. Please, let's try to carry on as we have been while we continue our analysis. I'm already prepared to unexistalize the small one if it comes down to it, but the associated consequence potential remains just as ambiguous.




DOCTOR CIRCULA TORI

...fine. I'll keep rebuilding the thing, but at least consider an experimental quasi-plurality, won't you? If it makes you feel better, I'll have my peripheral staff interact with it for me.




DOCTOR H.M. PHAGE, T.E:

....very well. I'll *consider* it...but I can't make any promises. If the benefits appear to outweigh the risks, I can agree to test the waters with a fringe instance. Don't be surprised if this other you shows up and barely knows how to meld a gel chute.




DOCTOR CIRCULA TORI

It's better than nothing.

...Can you turn a little to your right a moment?