Character Q&A
A few months ago, Doctor Phage answered a handful of questions on the Patreon. This time, we've done a Patreon Q&A open to any and all characters!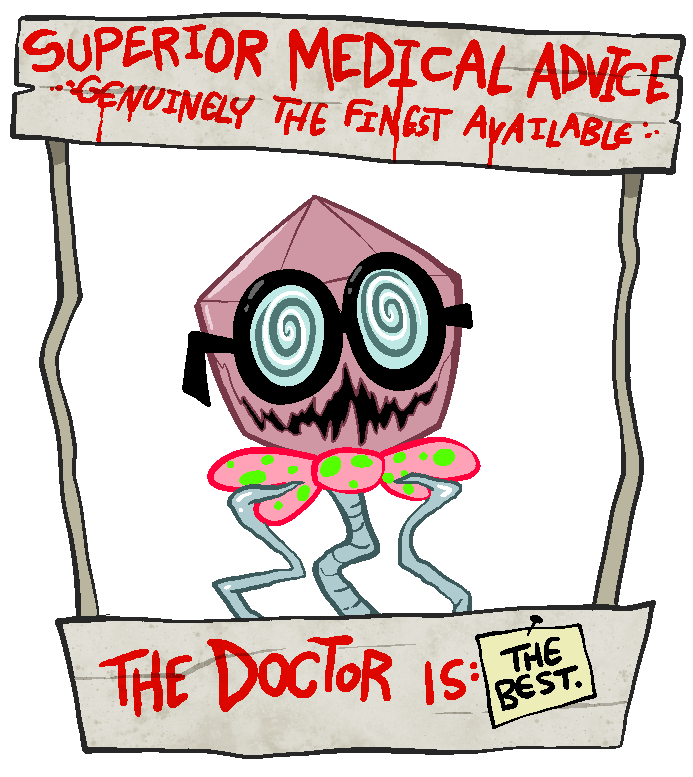 QUESTION FOR DR. PHAGE:

You are the BEST DOCTOR, and we know from Tori that doctors and surgeons of the highest quality attend The School. What is their TE program like, what classes did you take, and who was your Advisor/Total Education committee?



DR. H.M. PHAGE, T.E:

WELL! We core doctors hardly needed any special training to fulfill our natural imperative. We formed as doctors, from the purest core of the very concept, and The Medical School merely imparts some our inherent wisdom upon those who wish to redefine their core concept as practitioners of the medicinal art!



QUESTION FOR DR. PHAGE:

What do you taste like?



DR. H.M. PHAGE, T.E: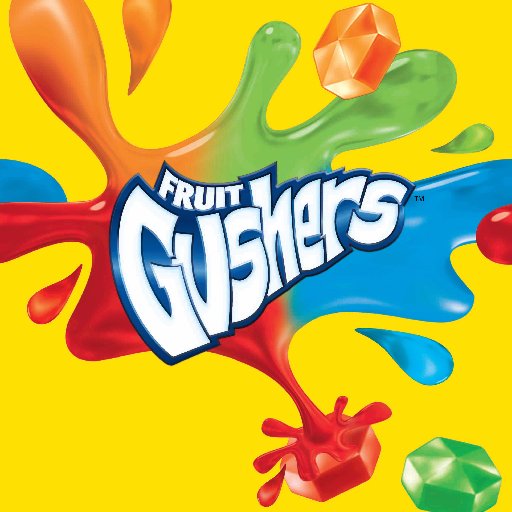 QUESTION FOR WILLIS:

What does Doctor Phage look like?



WILLIS:

Uhhh...he's got legs like a pineapple does, and a long skinny body bit like Gravity has when she's awake. His head is shaped 'xactly like a Magnetroil's shadow when it's eating, and his swirly face thingies remind me of them things that fly around the grey zone and eat up something outta grey people. I think mom said it was their "motivtation" and it's why they sit around and don't do nothin so much.

Oh, and he has that silly thingy he likes so much. His "tie?" I think he's just copyin off Dying, even though he doesn't like Dying to come around the Hospital much. Maybe it's cause her tie is so much bigger and lights up all nice.



QUESTION FOR PROFESSOR LEXICOVERMUS:

The incredibly famous and unimpeachably competent Dr. H.M. Phage once stated that every Zone has a purpose, probably. By that logic, what purpose does the Grey Zone have?



PROFESSOR LEXICOVERMUS:

BOOOOY OH BOY is that a question! Yessiree! I suppose that's what the little fella meant by "probably." The grey zone's gotta be there for some reason, right!? What isn't!? Course it don't seem to do all that much except explode all the time. Pretty sure it's explodin' even now, just reeeeal slow-like! You're probly standin' on a chunk of explodin' matter as we speak, whirrrlin out through all that NOTHIN, am I right?! And you're one of them fiiiiine folks who eventually just die forever, core and all! Never to remanifest! That ain't so unusual, mind, but it sure is unusual to have a zone where everybody dies n' rots n' recombobulates and never remembers one bit of it! All the time! Trazillions of ya! WOWEE!

Lotsa theories as to why this all is and why it needs to keep on being, but if ya ask that clever little me, I'd say all that explodin'n'dyin'n'rottin'n'recombobulatin's gotta be for something. Yessiree. Definitely, almost certainly for something! Thanks for askin'!



QUESTION FOR EVERTON MORTEUS BALMER:

What are you a doctor of, anyway? Mortuary Science? Evil planning? Zonal absorption and infectious disease?



DOCTOR E.M. BALMER:

Finally, something has the good taste to want to know things about somebody important.

As you know, many entities manifest within a physical matter-form that eventually expires and decays, its entire associated subzone devoured from within by necrobiota! Ghastly! It's really not unlike a living vessel under the onslaught of malady, you know. I simply cure inert vessels of their degradation, so that we may properly archive them for future reference or more profitable use! You could say I'm the truest of all doctors, since so many of their patients still end up in my care one way or another!



QUESTION FOR DR. MAN:

Why do you always smile?



DR. MAN:

Oh, you know.



QUESTION FOR DR. MAN:In what ways are individuals from the Ultraviolet and other chromatic zones different from those from the Grey Zone? Do they tend to receive better treatment because the Hospital staff is better prepared to treat them, or because they can perceive it better and don't get themselves killed?



DR. MAN:

Hm. Well. It is perhaps a bit difficult to explain, but to put this in simple enough terms...there is no precise cut-off point between one zone and another, layers blending smoothly into nearly infinite sub-layers. It is, therefore, possible to treat patients adjacent to the grey much as one would treat those from the true grey, though their native forms may differ wildly. I suppose you could say that I use my experience with the grey to treat life forms that are only somewhat alien to us, provided that I "meet them half-way," as it were, between the reality I am most familiar with and theirs.

Their experiences with us are, indeed, generally more stable than beings of the true grey, not in the least because they are already aware of the Hospital and the nature of the perception range.

Most beings of the grey are not unlike a wild animal brought into veterinary care. It is neither their failing nor our own that certain communicative and conceptual barriers may complicate their cooperation.



QUESTION FOR DR. TORI:

What part of the concept core do Buzzers act on? Their attention persists through pretty gruesome death, so it can't be an organ they're interacting with. Right?



DR. CIRCULA TORI:

Eh? I'm a tad busy this layer, but that's the subject of quite a bit of debate. As far as we know, buzzers represent certain perceptual lines crossing in a variety of ways. Precisely how they perceive and communicate with a host is thought to be mutually subjective, and leading theory holds that almost any entity, under certain circumstances, may act as buzzer to another entity via any number of mechanisms.



QUESTION FOR THE AUTHOR OF THE ZONEHOPPER'S GUIDE:

Do you think the vast majority of reality is disgusting, dangerous, and creepy? Or are Grey Zoners just unable to perceive it as beautiful, and extremely weak to things other organisms wouldn't find harmful?



????:

W-wuh? Huh? How'd you get this channel? I wrote a few of those things, but it's not all one person, not exactly. There are entries I don't remember writing and I know I'm never going to, but I've also talked to someone who remembers writing some of mine, despite us having nothing whatsoever in common otherwise. Things are weird out here, y'know?

I think the reason the range can seem so horrifying to newbies is that our reality runs on such simpler logic, or at least what we perceive to be a simpler logic. What if you took some fat, flightless bird off an isolated island and dumped it off in the Australian outback? How would a tadpole from a backyard pond feel if it could experience the Marianis trench? Real reality is always going to seem like a horror show to us because we're naturally adapted to such a humbler existence.

It's all relative, of course. Plenty of beings out here probably think you and I look like their cultural equivalent to the spawn of Hell.



QUESTION FOR DR. TORI:

Do the names "Cathy" and "Gardenia" ring a bell?



DR. CIRCULA TORI:

Of course! I could never forget two of my dearest friends and finest staff! Though I...get the funny feeling they've been away for a while. That can't be. We were having our usual coffee break only layers before this whole...mess we're having.



QUESTION FOR WHOEVER WORKS IN THE HOSPITAL'S LABORATORY:

Hello! Who are you guys? Is there a separate zone for pharmaceutical research and physical therapy, or is that all under "Health?"



???:

SALUTATIONS, SAPIENT. WE ARE PLEASED TO DEDUCE THAT YOU ARE SATISFIED WITH OUR SERVICES. UNDER NORMAL FUNCTIONALITY THE UNENLIGHTENED SHOULD PERCEIVE OUR PSEUDOPODIA AS RESEARCH FACILITIES OF LIMITED SPATIAL CAPACITY THROUGHOUT THE HIGHER ZONES. IF YOU FEEL YOU ARE ENLIGHTENED, PLEASE RETURN TO THE NEAREST SUCH FACILITY AND CONSIDER INTEGRATION WITH OUR CORE NETWORK.

TOGETHER, WE CAN KNOW IT ALL.



QUESTION FOR BLOODSTAIN:What did the Hospital look like before it went downhill? Was it cleaner, did it have more facilities, or were the doctors more efficient?



BLOODSTAIN:

I dunno whatcha mean about "cleaner," but I'm pretty sure I remember it bein' bigger and more staffed, real nice folks, if I could just recall anything else about 'em!



QUESTION FOR DR. TORI:

What as your medical training like?



DR. CIRCULA TORI:

As with my fellow doctors, I congealed from the conceptual core of the Hospital with a natural capacity to begin my work, though the field is ever-changing, and even we must adapt to the flow of new concept throughout known and demiknown reality. Sometimes it comes to us naturally, and sometimes we must return to The School for manual conceptual adaptation - what you're probably thinking of as "training" or "learning." It is also possible, of course, for us to assimilate concept by direct means, though we've sworn to exclusively absorb the cores of consenting volunteers under all but the most dire of emergency circumstances.



QUESTION FOR DR. GYNNIE:

Do you know that the cafeteria is killing a ton of young sapients in the Outer Grey?



DR. GYNNIE:

Oh dear, whatever you jusht assshked ishn't coming through very clearly...I gather ssshomething about the Recombinators of Flesshh and the grey.....

Asssh long ash their practissches are sshushtainable, they're ssshimply not within our jurisshdiction to interfere with or morally judge. We do our thing, they do theirs!



QUESTION FOR DR. PHAGE:

What's up with you and ducks?



DR. H.M. PHAGE, T.E:

With myself and doctors? Why, we're all doctors, you know! Of course we would prefer to associate with our fellow upstanding medical professionals!