"Aahh!! Real Monsters" and Mel Birnkrant's "Creatures"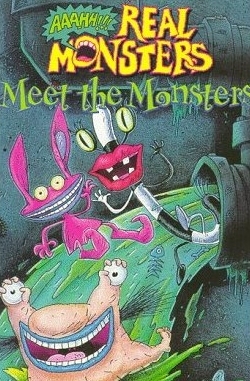 "Aaahh!!! Real Monsters!" debuted on the children's network
Nickelodeon
in October of 1994 and was
the fifth of their original animated series or "Nicktoons." The show revolved around the daily lives of
three young monsters, Ickis, Krumm and Oblina, who attended an underground academy where the
short-tempered Gromble taught his students how to startle, nauseate and generally terrorize humans.
The cartoon put Klasky Csupo's lumpy, ugly art style to its most logical use to date, and was packed
with imaginative creatures in a surprisingly vivid world of garbage, sewage and slime.

Only a year later, a line of twelve different action figures were released by Mattel: Ickis, Krumm, Oblina,
the Gromble, and eight mysterious characters who had never appeared in the cartoon show, and never
would. Though it's not necessarily surprising that a toy line would invent its own characters, this isn't
quite what we're looking at here. Originally, these distinguished monstrosities were pitched along with

scores
of others as their very own, self-contained property by legendary toy designer Mel Birnkrant, the
sort of toy property I collect in my happiest dreams: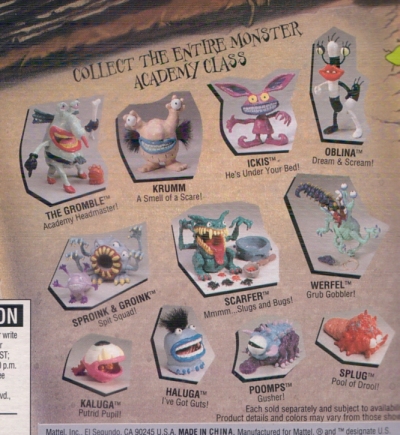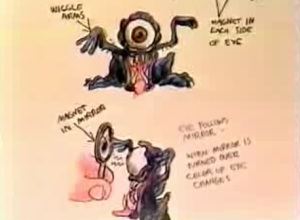 Unfortunately, most toys from the eighties and onwards are only manufactured with regards to a
"pre-sell;" a film, video game or television show that has already proven commercially viable. A line-up of
completely original, never-before-seen characters can be quite a gamble for even a giant like Mattel,
and after they purchased the rights to this marvelous idea, it was faced with the question of how to sell
it. Birnkrant was kind enough to answer a few of my questions himself, and tells a tale quite typical of
how the toy industry functions: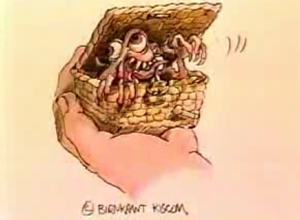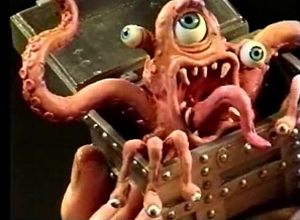 "When Batman sells a hundred million, Star Wars 500 million etc. Kenner really can't afford to introduce
an unknown property. The other problem was what were they? My best attempt at a solution was....
You've heard of the Bride of Frankenstein, the Son of Frankenstein, the House of Frankenstein, The
Ghost of Frankenstein .... These were the "Pets of Frankenstein".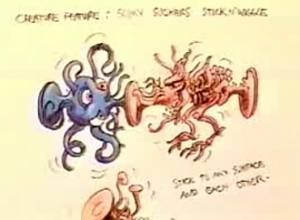 ...Mattel dove into the project just as it had been presented , but all along they were rightfully concerned
that there was no pre sell or TV backup. They actually completed the line and showed it at toy fair. It
was fairly well received but didn't set the world on fire, so when Real Monsters came along, at the last
minute, they grabbed it and we found ourselves in an arranged marriage.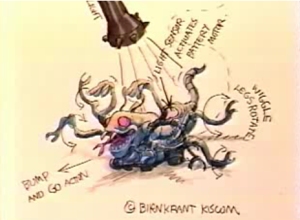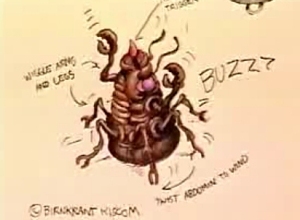 "Overnight, Mattel whipped out some additional items based on the main Real Monsters and some of my
original monsters were repainted in a lame effort to make them match the line. To me they stuck out like
a sore thumb, but I was satisfied to thumb a ride on the Real Monster royalty band wagon.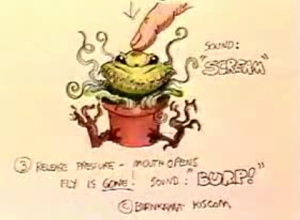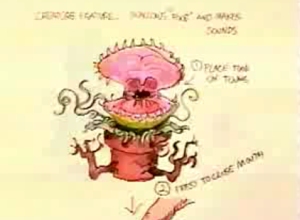 It's a pity that more of Mel's designs weren't produced and an even greater pity that the market for
children's playthings can be such a hostile environment for an imagination, but all us monster nuts
should be thankful for what
was
produced - still some of the coolest little creature toys to ever hit the
market! While I certainly have a soft spot for Ickis and his classmates, the
pets of Frankenstein
were
conceived for a spotlight all their own, and that's what they're going to get at least this once.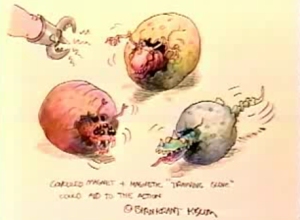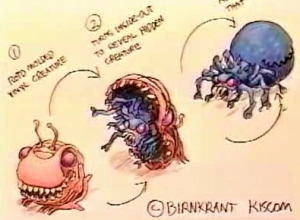 The original series pitch included a
gnarly
little reptilian beast that could be flipped inside out to reveal a
spider-like form. Ultimately, this evolved into a pair of very different monsters, Kaluga and Haluga.

Haluga, looking very much like the "Real Monsters" art style, can be flipped into a blob of
trash-encrusted guts - a power actually used by several of the cartoon's monsters, particularly Oblina.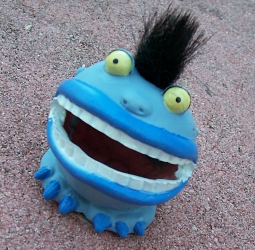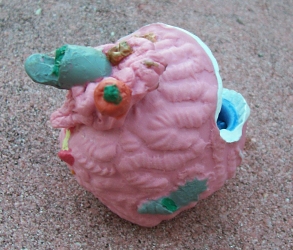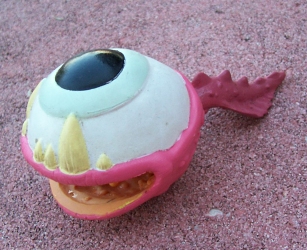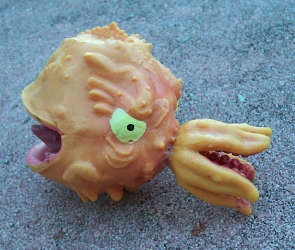 The other transformer,
Kaluga
, is closer to Mel's original style and was immediately one of my all-time
favorite toys; a fanged, tadpole-like eyeball that can morph into an angry squid.

Eyeball, squid. Eyeball, squid. It's as if my very subconscious was realized in plastic.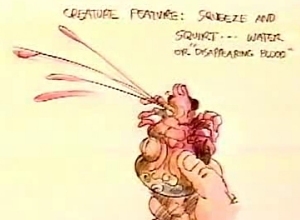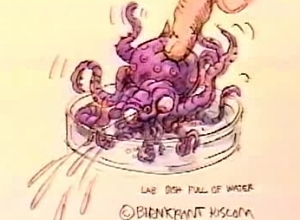 Three monsters were created as simple water-squirting toys, but only two were shown on the back of the
final packaging. Though it's a little disappointing we didn't get Mel's octopus idea, the three produced
squirters are some of the most interesting monster toys I have ever seen: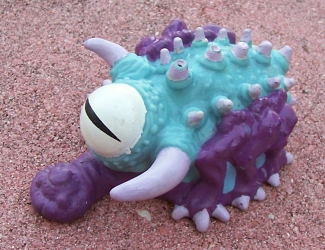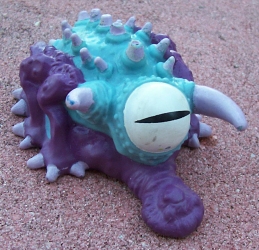 The insect-like
Poomps
was the first of these monsters that I actually bought, and one that I'm still fond
of. I actually have five or six of him now, and cut open the bottom of one so I could hook him on my
bedroom wall (you know,
for the ladies
).

Rather than the single, straightforward stream of most squirting toys, Poomps spurts out of the first two
spines on his back. Though his whole warty, crabby, louselike design is striking, my favorite detail is the
fleshy, fly-like proboscis.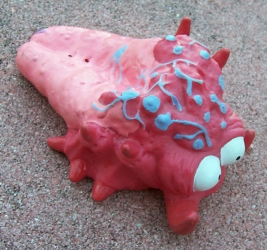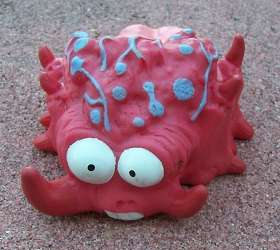 Splug
, designed to "drool" from his back, is perhaps the most gruesome of the line and another that I
just keep scarfing up whenever I can find one for cheap. A hybrid between creepy-crawly and severed
tongue, his packaging captions him with "POOL of DROOL." I love the whole makeup of this freaky thing,
even its quirky little gopher-teeth.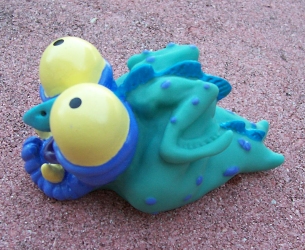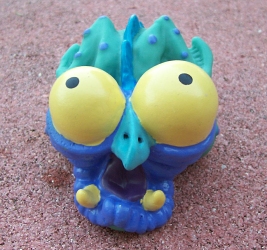 The third and final water-squirter of the line was
Snarfle
, and the only monster absent from the photos
on the back of the package - even his own! He was designed to spew water out his nostrils, or "blow his
beak" as the instructions call it. He must have been crying at his poor treatment.

Snarfle is easily just as cool as his bug-like brothers, combining the esthetics of a slimy fish and naked
chicken with ABSURDLY gigantic eyeballs!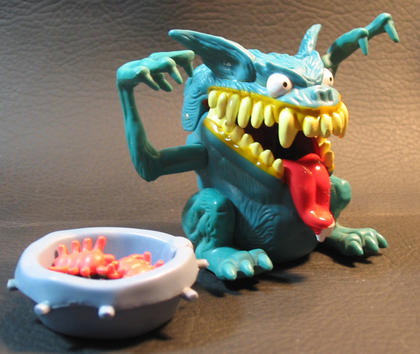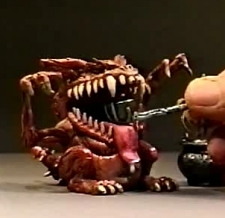 Birnkrant conceived of this toy as a Godzilla-like dinosaur, but an artist at
Hasbro reworked it into this crazy, menacing beastie without changing its
play features. Scarfer came packaged with a plastic pot, "bugs" and
magnetic spoon, which repelled the magnet in his upper jaw to "feed" him
the tiny bugs.

Now, you could easily just tip him over and dump the bugs back out, but
then you would miss out on his delightful
bonus feature
; Twist his little
foot, and he voids his bowels through a trap door in his bottom. For extra
fun, you can do this right over his bowl and start anew! Our wasteful
society could learn a lot from Scarfer.

This duo is taken straight from Mel's first pitch, though Sproink was given a somewhat different face to
better fit the look and feel of
Real Monsters
. When loaded into Groink's sucker-like gullet, he could be
launched pretty far by a good squeeze, a feature seen in a number of other rubber toys throughout the
ages. Little Sproink's original jagged jaws might be a little cooler than the produced version, but Groink's
sculpt thankfully got by unscathed and makes one really weird, wicked monster.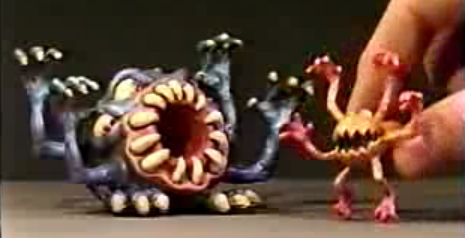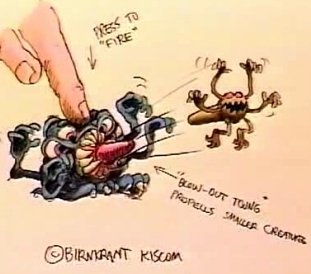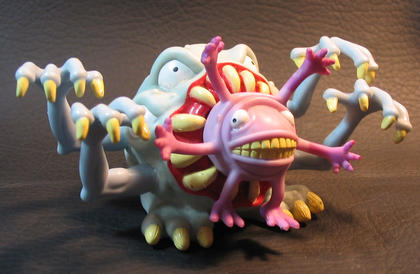 Still, you can see what Mel means by the relatively lame paint jobs. That metallic flesh is too cool!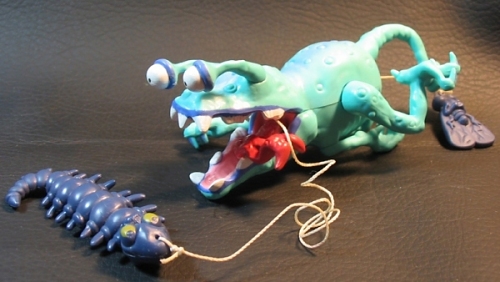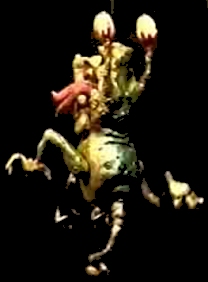 Last but not least, we have this incredibly fun little bug-eater. Two strings extend from either end of
Werfel's body, one ending in a fly and the other in a big, fat millipede or maggot. When either end is
pulled, Werfel zips along the cord with his legs whirling frantically.

With his crazy eyes, snaggly teeth and drooping tongue, he reminds me a lot of Ed Roth's
Rat Fink
,
though much moreso in his prototype version, which had a gorgeous swampy color scheme and
gruesome, bloodshot eyeballs!

All prototypes and artwork you see above are taken straight from the original pitch and archival videos,
which you can view in their entirety on our friend's own youtube account:

Between the two, there are several times as many critters as we've seen on this page, so if you're into
this sort of thing - and you certainly should be if you've read this far - I highly recommend checking
these out along with his other videos, a fun and educational tour of a fascinating artistic career.

Mel's
own website
is also must-read for anyone with a love of toys, their design process, their history
and a wealth of other engaging input from a master of the art, including more un-produced characters
and gorgeous artwork you'll find
nowhere
else.

Mel is also father of the legendary
Outer Space Men
, the first line of "action figures" (before the term
even
existed
) to feature a cast of all-original creatures!

Some images of the "Real Monsters" toy line come courtesy
Collin David's
page at collector's quest.
Check out his amazing artwork at his own website,
resonantfish
!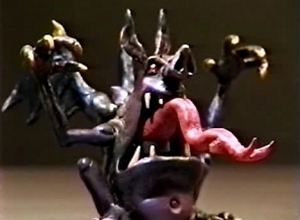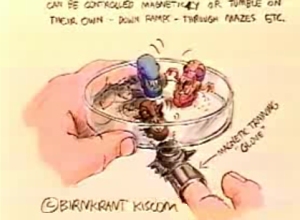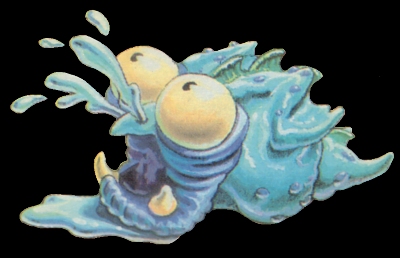 "I pretty much liked the four "real" Real Monsters Mattel added literally overnight, all this was
happening during the toy fair week. As I was getting half the Real Monsters royalty I gladly helped
the young lady who had just been hired to design the plush line. I also set about supplying Mattel with
numerous sketches for additional items, but as it turned out the line didn't do well enough to merit
growing."